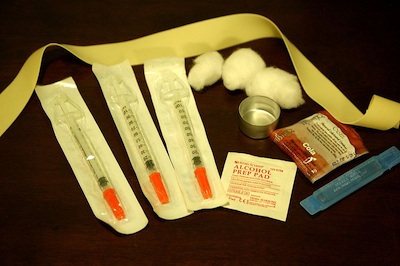 Cambridge City Council's East Area Committee on the 19th of August 2010 was told of problems of drug use and drug dealing in the area around the York Street playground.
Police Sergent Kay Stevens painted a picture of dealers running rings around the police and astonishingly reported there was: "constant chat and banter between the lead dealer and a PCSO on the neighbourhood policing team". Sgt. Stevens told councillors and the public that while the identity of the lead dealer was known to the police they were finding it hard to get the evidence required to arrest them.
The playground at the centre of the drug problem has recently been refurbished and had been re-opened by the Mayor. At the opening contractors told councillors about the drug dealing and drug use which had been occurring on the site while work was in-progress.
City and County Councillors at the East Area committee meeting unanimously made dealing with the drug related problems in the York Street area police priority. Sgt. Stevens gave the clearest explanation I have heard in a number of years of observing police priorities being set across Cambridge of the effects of councillors setting a police priority; however no clear strategy for bringing the dealers to justice was outlined.
Detailed Report
The drug use and dealing was first raised during the "Open Forum" section of the meeting by member of the public Catherine Slack. She said she wanted to raise residents' concerns about drug taking and drug dealing of class A drugs in the East Area. She asked if she needed to go into details, or if councillors were already aware of what was happening. Councillors indicated she should continue and she explained her knowledge of drug dealing and use in the York Street area came from her membership of two neighbourhood watch groups and her attendance at the Petersfield Area Community Trust (PACT) annual meeting where she had heard concerns from local residents about drug dealing. She told the committee that she had herself personally witnessed drug deals and drug taking in broad daylight and was concerned as she was aware of other crime associated with the drug use occurring. She said she was aware some action was being taken as a CCTV camera had been put up in one location where dealing had been taking place, which she had been told would be in place for one month. She asked if this had pushed the problem to someone else's street and questioned what the council and police's properties were for the future. Her remarks concluded with her alerting councillors to the fact children were finding needles in play areas.
Discussion of this point was deferred to the police priority setting element of the meeting, (the obscurely titled agenda item called "Safer Neighbourhoods").
Abbey Cllr Adam Pogonowski asked that the Thorpe Way area of his ward be discussed at that point too, saying there were similar problems there.
When it came to the police priority setting the police recommended setting a new priority of :
Anti-social behaviour in the York Street playground and adjacent streets linked to drug misuse
Sgt. Stevens said that even before complaints from members of the community started to come in PCSOs and Neighbourhood Policing Team officers had been aware of the problem and had been: "disrupting activity though both high visibility and plain clothes patrols; including stop and search of both subjects and vehicles". The police sergeant added: "It isn't as simple as just tackling those using drugs, it is a societal problem, the dealers are very careful and in what they're prepared to do with the drugs if approached well [put it this way] they're taking huge risks themselves", she explained that as a result of the care with which the drug dealers' practice their activities the police were left with "limited options on fines and enforcement".
I think the Sergeant ought to have gone further and set out any loopholes in the law which are being exploited by the dealers so that councillors and the public can lobby to address them. I am worried that the police may consider that just because an individual is caught with less than the prescribed amount of a drug which if present a court would be required by law to assume was being carried for supply then they cannot, if other evidence is offered, be charged with the offence of supplying a controlled drug. If the problems are with police policies, or with the CPS, then we need that information to be released to so those matters can be addressed. Similarly the Sargent should, I think, have explained why even if a dealer swallows drugs, or hides them elsewhere inside their body that poses an insurmountable challenge to the police and prevents them from charging them and putting them in-front of magistrates.
The committee were told that the CCTV camera which has been installed near the York Street playground had indeed caused displacement into surrounding streets.
Sgt. Stevens explained to councillors why it would help if they made the issue a local priority, she said that currently a lot of the information on the drug dealing was anecdotal and there were very few formal reports from residents. By prioritising the matter councillors were told this would enable the police to encourage reporting (the committee wasn't told how).
Interestingly the sergeant revealed that by setting the priority the response received by those calling the police to report instances of drug dealing in the area would change; she said that with a priority set "callers should get a better response from control room when reporting drug dealing in the East of the city". This raises the question in my mind of what happens now when reports of drug dealing are received – are they not recorded? not acted upon? – councillors didn't ask.
Member of the public Catherine Slack spoke again, she asked Sgt. Stevens about the resources the police had available to them to tackle the drug dealing problem in the York Street area. She spoke in a measured manner, making clear that she had a good relationship with local police officers, but questioned what would would change – pointing out that as reported by the sergeant: "the main dealer is running rings around the police". Catherine Slack explained to the sergeant that she was "concerned you don't have enough of something". She also suggested that: "rather than repeatedly chasing one person – there must be a different approach".
Sgt. Stevens reported that if councillors set a priority then she would be able to bid, on a daily basis, for resources from the police's "reactive teams" and other additional local and central resources to be directed to address the problem. It was suggested that a priority would also help ensure City Council outreach teams engaged with the drug users, and would mean the police's own engagement team would be able to "talk to users while they're awaiting to receive their delivery". (Are these police employees or police officers who will be tasked with chatting to those waiting to buy class A drugs? What do they do when a dealer arrives? – again councillors didn't ask questions)
The final thing a priority would enable reported Sgt. Stevens was a: "regular first thing in the morning litter pick" to clear up needles.
Councillors noted the recent increase in the numbers of needles being found in the streets, not just in the York Street area but in Romsey and at the Coleridge Rec and in Abbey. They asked if this was a growing issue reflecting a growing prevalence of class A drug use in the city. Neither the police or the council's officers working on "community safety" had any response.
As it had not been answered Cllr Howell asked the question again, asking: "Do we have data on the number of active drug users and how that is increasing?" He said "Clearly we know or at least suspect who the dealers are; do we know who the users are and do they have access to rehabilitation?"
Cllr Howell's question wasn't answered. Labour Councillor Tariq Sadiq interjected with a rather silly "declaration of a personal interest". He said that when living on York Street he had been burgled by a drug addict. Cllr Sadiq reported that while the culprit was caught he never got his playstation back. Cllr Herbert jokingly asked if that was when he became a councillor.
Right at the last minute, after all councillors who had indicated their wish to speak on the matter had done so, new Liberal Democrat councillor for Petersfield Sarah Brown insisted on being given the opportunity to add something important before the vote. Cllr Brown appeared to me to be making the astounding argument that taking action on the drug dealing was essential to save the Liberal Democrat council embarrassment. She told the committee that the playground in question on York Street had just been redeveloped and was opened by the Mayor just a few weeks ago and stressed how this was a high profile, flagship, project in the area. (The implication I took from that was that she thought that it reflected badly on the council that it was now being rendered unsafe due to the drug use and dealing).
Cllr Brown reported that councillors at the opening had been told by the contractors who had been working on the project that drug use and sales were occurring on the site during construction; she also revealed to the committee that the CCTV had intentionally been deployed in an effort to displace the drug dealing from the new, prestigious, playground.
Tackling Drug Dealing in Abbey
Cllr Adam Pogonowski queried if drug dealing was classed as "anti-social behaviour" as he sought to amend another policing priority for Abbey Ward which the police had proposed ought read:
Youth-related anti-social behaviour and criminal damage in the public areas of the Thorpe Way estate and Jack Warren Green.
Cllr Pogonowski's amendment was to add drug related problems involving people of all ages, to the priority. Sgt. Stevens initially argued against this amendment on the grounds it would leave the police unsure of which element of the priority councillors were asking them to focus on. The committee supported Cllr Pogonowski though and the chair, Cllr Herbert, argued that the priority was acceptably narrow by virtue of being tightly limited geographically.
Cllr Pogonowski suggested that drug dealers operated throughout the city and opined that tackling the problems in these areas of his ward would have a beneficial knock-on effect elsewhere.
Labour councillor for Abbey Cllr Hart made an an odd and rambling contribution apparently in the style of a speech by John Prescott. She said:
I want to investigate a new priority. I'm an Abbey ward councillor and am grateful for the updates on ASB and I support the continuation of youth related. I want to ask on process. If it is a resource issue how can the committee help on resources? Basically if you are aware and have intelligence that a certain house; that you have reliable evidence a person is dealing drugs at an address and have known about it for some time you obviously have to prove it is happening, prove witnesses are reliable, and it has to be evidence based. If for example in Thorpe Way you were aware of a house and had all the evidence…
Sgt. Stevens replied to say: "If you do have that sort of evidence, do pass it on. We do need a certain amount of intelligence and items to put before magistrates and we are doing more address warrants now but I only have a certain amount of officers and can only do so many things.
Cllr Wright another Abbey councillor spoke to support what Cllr Heart had said. She said it takes the police many years to close down known crack houses in Abbey, she said the problem was not so much the number of such houses in the ward but the degree of impact on the immediate community and impact she said was much more significant than other crimes that might be taking place.
As usual I have made my best efforts to make this an accurate report of the meeting; any corrections either by email or in the comments are welcome. Especially useful would be confirmation of the spelling of Catherine Slatt's name [Update 16.20 20/08/2010 I have been informed by email that it is Catherine Slack and have amended the article]