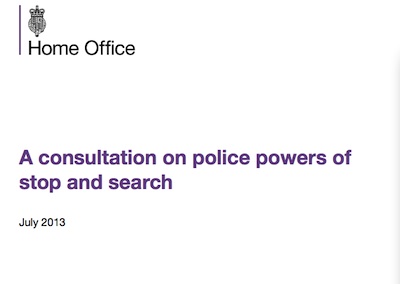 The Home Office are currently running a consultation on UK Police stop and search powers.
I have responded to say:
Police Ought Be Clear and Honest About their Powers
Following the Home Secretary's announcement of the launch of the consultation in the House of Commons MP Julian Huppert asked:
Does she agree that when the police do ask people for information, such as name and address, they should make it clear whether compliance with the request is a requirement or purely voluntary?
The Home Secretary's response was positive:
I can assure my hon. Friend that we will, of course, make it clear where information is required and where it is voluntary.
I would like to explicitly submit this commitment the Home Secretary made in Parliament to the consultation process to ensure it is not overlooked.
I was encouraged by the Home Secretary's assurance and hope that action following the consultation includes taking steps to ensure that the police are clear about the extent of their powers when stopping or stopping and searching someone. I think it is particularly important for the police to be clear on if the individual stopped is required, or is merely being asked, to provide information such as their name and address.
Where information is demanded (rather than requested) the police should be clear about the basis in law for the demand, along with any relevant grounds for the stop and search.
I am concerned about the police misleading people as to the extent of their powers in relation to stops and stops and searches and more broadly.
To maintain policing by consent, to keep a good relationship between the police and the public I think it is important that the police do not routinely lie, mislead, or misrepresent their powers, when dealing with the public.
For the police not to mislead people as to the extent of their powers they will have to know what their powers are themselves; this will probably require better training of police officers.
Modification of the PACE codes following this consultation should in my view be used be an opportunity to make improvements requiring the police to ensure the public are in no doubt as to the extent of relevant police powers during interactions.
If modification of the PACE codes is the route chosen to strengthen safeguards for those being stopped and stopped and searched then the requirement for the police to follow the PACE codes should be re-stated.
Where police lying can be justified I think it ought be carefully regulated and overseen. I don't think the police should ever lie about the extent of their powers while carrying out a stop and search.
A Stop and Search Ought Not Include Searching Electronic Devices
I would have liked to see the treatment of electronic devices during searches considered as a major part of this consultation.
People are increasingly carrying around large amounts of personal, often very private, information, primarily on phones but also on laptops, tablets, cameras and other devices and storage media.
Information held on devices in the possession of someone to be searched may belong to others, eg. their friends or employers.
Devices may also hold login details enabling those in possession of the device to access information held online.
I think it's important to ensure any searches of electronic devices are proportionate.
My own view is electronic devices should not be searched without a warrant, or unless the individual in question has been arrested, ie. electronic devices should not be accessible by the police when carrying out a stop-search.
Police officers need to be trained, to ensure they are aware they cannot demand access to, or deletion of, material held on electronic devices during a stop and search.
Phones and other devices should not be confiscated for the purposes of examination as a result of a stop and search.
Confiscation of phones and electronic devices following a stop and search can result in significant, often disproportional, impact on the individual who is stopped and searched, and potentially others.
Cease Routinely Recording Ethnicity and Nationality of Those Stopped and Searched
You'd Describe Yourself as a British White Male. Yes?
I would like to see the police cease routinely asking those stopped and searched about their nationality and ethnicity.

I have watched enough Police Stop Camera Action Interceptor Wars and the like to know the ethnicity and nationality questions wind people up. They prompt people of all ethnicities and nationalities wonder to what extent the police action was based not on specific individual grounds but on their apparent ethnicity and nationality.
I would suggest ethnicity data ought only be recorded where those overseeing the police have requested it. What is collected and recorded should in my view be tailored to any specific local concerns.
Abuse of Stop and Search to Harass Ought Stop
Recently, in relation to the policing of some lakes in Cambridge the police stated they were making use of the site uncomfortable for people through carrying out drug searches. Such use of powers to stop and search should be stopped.
HMIC Concerns About Operation of Stop and Search Ought be Addressed
Her Majesty's Inspectorate of Constabulary (HMIC)'s report: Stop and Search Powers: Are the police using them effectively and fairly? raises many concerns about the police use of Stop and Search including:
27% of 8,783 records examined did not contain sufficient grounds for Stop and Search
37% of 391 people stopped and searched were not told the reason for their stop and search
In 51% of 391 stop searches the police officer did not identify themselves.
Research was cited saying only a third of stop and searches were recorded despite the law requiring all to be.
Only 15% of those stopped and searched said they were treated with respect
I think these concerns all ought be addressed by the Government's changes to the way stop and search is operated following this consultation. There needs to be better compliance with the law, PACE codes, and relevant guidance by the police.
Don't Move Away from Requiring Individual Grounds for Suspicion to Justify Search
A suggestion has been made to my local police force that they should stop and search people in crime hotspot areas even if the officers have no specific grounds for suspicion in relation to an individual. The idea is if the police move their justification for a stop and search away from factors relating to an individual to factors relating to a place they will be in a stronger position to defend themselves against claims race is a factor in their decisions on who to stop and search.
I don't want to see groundless searches extended to all crime hotspots. Crime hotspots generally correlate with where there are large numbers of people. City centres for example are areas where crimes occur at a higher density than the city suburbs. I don't want to see the police conducting ground-less searches in city centres, shopping centres and the like. I don't want the police given the powers to stop and search me just because I've entered an area they've defined as high crime area.
I think people being stopped and searched by the police without specific individual grounds will feel that they have been unjustly and unfairly targeted for a search.
I think if the practice was to be extended to become a routine policing tool those subjected to stops and searches just for being in a crime hot spot area would feel the police action unfair and unjust; I think stop and search without grounds has the potential to antagonise people and damage the reputation of, and the public's relationship with, the police.
Prevent Stop and Searches On Illegal Grounds Occurring
The recent report by Her Majesty's Inspectorate of Constabulary (HMIC) published titled: Stop and Search Powers: Are the police using them effectively and fairly? showed officers are recording illegal grounds for searches eg. just "crime hotspot"; oversight procedures need to ensure such cases are identified and all possible is done to prevent recurrence.
Electronic Recording of Stops and Searches
Validation of form responses on electronic recording systems may make it impossible to, for example, enter illegal grounds for searches. Misleading statistics could be produced if different forces use systems with different validation tolerances, or default options, for entering information.
Perhaps electronic recording systems could be programmed to alert police officers when they are attempting to use illegal grounds for a search?
Electronic systems could remind police officers of their powers as well as serving to create a record stops and searches.
Monitoring and Oversight
There needs to be routine, public, monitoring of police performance statistics, including on stop and search. This is something which was done by Cambridgeshire Police Authority which we've lost with our transition to a Police and Crime Commissioner. I have urged our local councillors to step up their scrutiny of the police via their relevant scrutiny committee; perhaps this is something they could take on.
Police forces making data on stop and search public would enable all those interested to monitor how the powers were being used and to act if the powers are being used inappropriately.
Local police priority setting groups (who were I live in Cambridge are elected local councillors) should be able to request data on how stop and search is being used in their areas; to set priorities including on stop and search practices, and to hold the local police to account for their performance against those priorities.
See Also