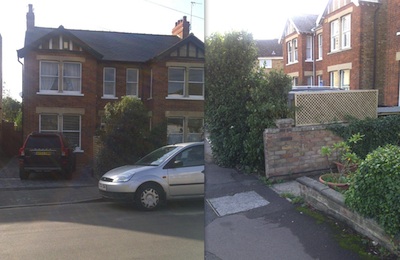 102 Hartington Grove, Including the Cycle/Bin Store
A planning application has been submitted to Cambridge City Council for a bike shed and bin store in the front garden of 102 Hartington Grove.
Comments are currently being sought on the application's webpage.
As it is a retrospective application the structure in question is present in the image associated with this article.
I have submitted the following:
I support this application.

I think that the requirement for planning permission for this structure is bonkers. I think it is state interference in people's lives gone bananas.

The structure is much less intrusive than many parked vehicles could be.

To encourage cycling in the city I would suggest the council ought find a way of permitting this kind of cycle store without the bureaucracy involved in gaining planning permission.
This is the second case I've seen recently where retrospective planning application has been submitted to the City Council for bike storage along these lines in a front garden. While walking around the city it can be seen that such structures are relatively common (though you have to actively look to see them). If we want to encourage cycling people need secure and dry places to store their bikes, especially if they are decent bikes for practical everyday use. I think this kind of minor modification to a home ought be generally permitted to let people adapt their homes to suit their lives.
I wonder what has prompted this application and wonder if city council planners have too little to do as housing development has slowed, and/or perhaps they are seeking new sources of revenue (there are charges for making planning applications).
It appears the structure is relatively new, so a little stark in terms of colour due to the new wood; but that could easily be sorted with some staining, or simply waiting a year or two.
I understand my comments have gone beyond the scope of the consideration of this individual application; I wonder though if something could be done, perhaps during next year's review of the local plan, to make installing unobtrusive cycle parking in-front of homes in Cambridge possible without the excessive bureaucracy.
Cycle theft is a major problem in Cambridge and I think the council should be encouraging, not working against, those taking action to secure their bikes.