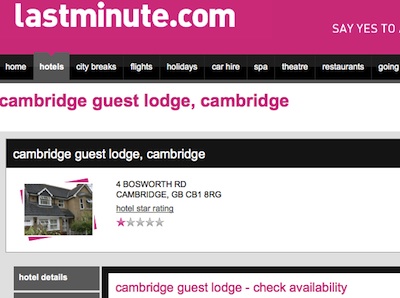 4 Bosworth Road on LastMinute.com
4 Bosworth Road in Cambridge is a property currently being used in a rather unusual manner; as a commercially let shared house which one can book some of the rooms in on an ad-hoc basis via the Arnies Guest House (Cambridge Guest Lodge) website.
The use of the property in this way is currently illegal as the required planning permission is not in place. On the evening of Monday the 5th of March 2012 I observed City Councillors at Cambridge's South Area Committee vote against asking their officers to take any enforcement action.
The committee took their decision even after hearing from the owner of a neighbouring property who attended the meeting in person to tell councillors how he had been affected. He explained how he bought an adjacent house, unaware of the activities going on next door, and had subsequently been forced to move out, along with his partner and young baby, due to the way 4 Bosworth Road was being used. He told the committee he was now renting out the property he had bought as a family home and was himself renting alternative accommodation elsewhere as a result of the illegal use of the property.
One of the problems he described was people regularly approaching his home, looking in through the windows, and knocking on the door at all hours of the day and night apparently as they tried to locate the property in which they had arranged to stay.
Bosworth Road is opposite Cherry Hinton Hall, to find number four you have to turn immediately right off Bosworth Road as you enter it down a path/drive which isn't very obviously a road leading to a series of properties.
Late Application
Councillors at the South Area Committee on the 5th of March were told by their officer that a last minute planning application to seek retrospective planning permission had been received just hours before the meeting. This came as a surprise to the meeting's chair, Cllr Taylor, who told the committee that it hadn't been mentioned during her briefing.
All councillors on the committee, except Cllr McPherson, took the view that taking enforcement action would be inappropriate given the fact an application had been submitted and they voted against doing anything.
My view is that this is yet another example of people doing dodgy and illegal things running rings around our weak councillors. My interpretation is that, as happens all too often, our councillors have again been outsmarted.
The application, cynically submitted at the last minute, will buy those running the property more time. The online record isn't particularly clear but appears to suggest an invalid application form was sent into the council on the 1st of March 2012 and following patient handholding from a council officer the required information was obtained over the next few days enabling the application to be formally acknowledged on the 5th of March 2012.
History
The council received an application for the property to be used as a Bed and Breakfast in 2006 which they refused. Permission for a HMO was sought but not granted in 2011 and a further application was made to the city council but withdrawn.
On the 19th May 2011 someone complained to the City Council about the illegal use of 4 Bosworth Road, this prompted action leading to a Planning Contravention Notice being served on the 24th of August 2011 as a pre-requsite to formal action.
Councillors on the 5th of March 2012 were being asked to authorise the council's head of legal services (Simon Pugh, Salary £70,263 / year) to issue an enforcement notice requiring the return of the property use as a dwelling house, but they voted against doing so.
Attempt to Prove Established Use
In November 2011 D Mapplebeck wrote to the council using a letter head describing himself as being from "UK Law Consultants Co". seeking to prove the property had been used for more than 10 years as a HMO and B&B he included a pack of evidence including online booking records and statements from individuals.
If Mr Mapplebeck had been able to show the property had been used for the period he would have been entitled, under S191(2) Town and Country Planning Act 1990 which was introduced via S10 of the Planning and Compensation Act 1991, to a certificate of lawfulness for the existing use on the grounds it was established.
The council rejected the claim that planning permission was not required as the use of the property had been established over ten years.
The Applicant
The applicant currently seeking retrospective planning permission for the property is a company called Worldwide Financial Solutions Limited; which has given an address in Edgware, London, on the application form.
The record for Worldwide Financial Solutions Limited (Company No. 06856171) at Companies House shows it was incorporated in March 2009 but has never filed any accounts; this led to proceedings being started in December 2011 to strike it off the register of companies. The record also shows that David John Mapplebeck is a director of the company, other companies David John Mapplebeck is listed as a director of include:
HOME FURNISHINGS CORP LIMITED incorporated on the 3rd of October 2011 giving 4 Bosworth Road, Cambridge as the registered office address.
AUTOMATIVE COMMERCIAL PARTS LIMITED incorporated on the 27th of September 2011 giving 4 Bosworth Road, Cambridge as the registered office address.
LEATHER FASHIONS LIMITED incorporated on the 14th of September 2011 giving 4 Bosworth Road, Cambridge as the registered office address.
IMPEX INTERNATIONAL CORP LIMITED incorporated on the 4th of October 2011 giving 4 Bosworth Road, Cambridge as the registered office address.
GLOBAL ELECTRONICS IMPEX LIMITED incorporated on the 3rd of October 2011 giving 4 Bosworth Road, Cambridge as the registered office address.
DOMUS INTERNATIONAL SOLUTIONS LIMITED incorporated on the3rd of October 2011 giving 35 FIRS AVENUE, LONDON N11 3NE as the registered office address.
DUBLIN CONSTRUCTION LIMITED incorporated on the 14th of September 2011 giving 4 Bosworth Road, Cambridge as the registered office address.
UKHAULAGECO LIMITED incorporated on the 5th of May 2011 giving 1st Flood, 2 Woodberry Grove, North Finchley, London, N12 0DR as the registered office address.
UK Law Consultants Co, the "organisation" Mapplebeck used to make the application to the council to recognise the established use of premises doesn't appear to be a UK registered company at all; the letterhead gives an address in Edgware London, and in a manner reminiscent of the "Paris – New York – Peckham" painted on the side of Del Boy's Reliant Robin lists associated offices : Dubai – New York – New Delhi – Beijing.
Sale and Value
The property was sold on the 8th of April 2003 for £410,000 (Corrected 12 June 2012 -RT)
The application form for the current planning application lists the owner (or person with 7 or more year's of leasehold left) as Hugh Young, 16 Bernhart Close, Edgware, London.
Reviews
The reviews, on the Bed and Breakfast business' own website, are astonishingly poor. They include:
filthy is an understatement.
the first thing that struck me was the smell, not unlike a tramps vest or so I'm told. The T.V. in my room failed after an hour, the electric shower worked for a minute and that too gasped its last. Toilet paper was in short supply but lasted til day three, kitchen, bathroom hall and lounge all dirty and generally untidy. Not so much guest house but a doss house for students.
The guest house was noisy during the night….We left as early as we could and went and had breakfast somewhere nice.
No one to greet us on arrival, no enough space in bedrooms, breakfast was cold, room didnt feel secure enough, hard to find, no staff present.
My room was next to the kitchen which can be used by guest in the evening. Suffice to say, people cooking and chatting at 11.30 at night was not very considerate. In all this was a poor experience and one i would not wish on anyone else! Go elsewhere!!!!!!!!!!!
It was a bit troublesom to find as there are no signs nether on the road nor the house itself.
The house spread an atmosphere of a shared flat in an poor condition.
Checked in had to move room due to mites and the same happened in the next room. Got bitten as did another guest and we packed and left within a very short time (so did the other guests)..
Reviews on TripAdvisor paint a similar picture:
Was more like a place where homeless people get put up. *
This was a bedbug infested dump. I fled prematurly; my body covered in large itchy lumps. The 'full breakfast' consisted of a few packets of cereal with dirty plates and utensils. The floors were sticky with dirt.
More like a student house sharing than a guest house; Over crowded, constant noice and music from kitchen and other rooms; poor general cleaniness; lingering smell of cooking; bed sheets and towels not changed on regular basis;
Any Objections?
One big flaw in the planning system is that old objections and comments are not automatically carried forward. If an applicant is submitting a series of applications; or makes and withdraws applications, objectors have to be persistent to ensure their view is heard if an application ever makes it to a committee.
Comments, including objections, to the current application can be made via the Cambridge City Council's online planning portal.
Given the history of this property I'd like to see the proposal for enforcement action on the agenda for the committee meeting which considers the retrospective application so that if councillors refuse permission they can move straight to enforcement without any delay.
Not Just Planning
This is far from just a planning matter. I think a typical bed and breakfast, or a typical shared house, would pose no problem in this location. The issue is the way this particular property is being run. While some planning conditions could be imposed, for example requiring a prominent sign for the property if it is to be used as a B&B I don't think that would go very far towards addressing the problems.
I would have liked to see the whole range of public sector bodies with responsibility for regulating the use of this property to have got together years ago. The police, fire service, Cambridge City Council planners, Cambridge City Council tourism officers, and trading standards officials from Cambridgeshire County Council along with ward councillors should have all taken a co-ordinated interest in tackling the problems being caused by the use of this property.
As so often one of the roots of the problems appear to be poor councillors who have failed to either push for action in this specific case, or failed to put the general processes in place to tackle these kind of matters as they arise.
The City Council's planning department, headed by Patsy Dell (Salary £70,263/year) also has some explaining to do, and ought be more proactive and speedy at tackling those causing a nuisance while flagrantly breaching planning law.
Background Papers