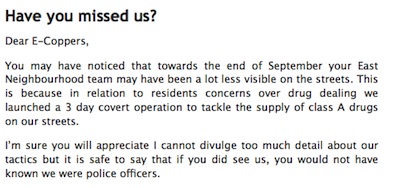 Cambridge City Council's East Area Committee is to meet from 19.00 on December the 15th 2011.
Among the agenda items is the policing report. Councillors will hold the police to account for their performance over the past period and set the priorities for the upcoming few months.
Members of the public can use a public speaking slot at the meeting. Typically the public are able to ask questions or make statements during the policing item. If given the opportunity I will seek raise the following point:
Around the 12th of October 2011 East Cambridge Ecops subscribers were sent a message with the subject: "Have you missed us?". It described how the local police team had been working covertly for three days to tackle drug dealing.

Were PCSOs deployed covertly, in plain clothes during that period?

If PCSOs were being deployed in plain clothes I'd like to ask about what happens when they encounter members of the public. Do they identify themselves? Do they explain they have no powers when out of uniform?

I note that North Cambridge residents have been assured by their neighbourhood sergeant Jason Wragg that he would never use PCSOs in plain clothes as that is out of line with what they are intended for. Why is the position different in the East Area?
| am hoping the answer will be a simple: "No PCSOs in Cambridgeshire are never used in plain clothes".