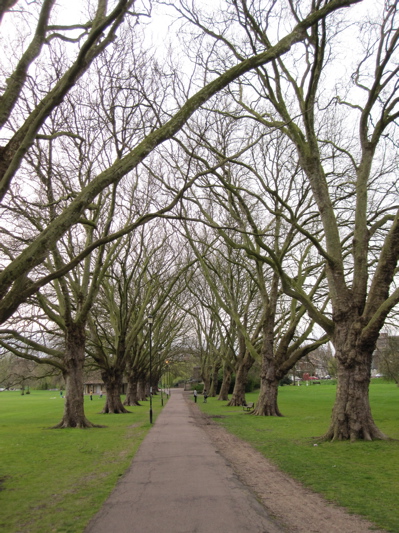 The plane tree avenue on Jesus Green, where on the 16th of April a 31 year old pedestrian was seriously injured in a collision with a cyclist.
On Friday the 16th of April, under the plane tree avenue on Jesus Green, a man was knocked over by a cyclist and suffered serious head injuries. While the Cambridge-News ran a story apparently based on a police call for witnesses two key facts were not covered:
Paramedics took about half an hour to gain entry to Jesus Green, they initially refused to leave their vehicles and walk onto the green.
The incident happened in an unlit section of the path where the streetlights have been out for many weeks.
I was made aware of the incident the morning after it happened by David Smith (Avaragado) who sent me a tweet saying:
@RTaylorUK Do you know why ambulances wouldn't have keys to Jesus Green gate? Friend with head injury had to wait ~30min for medics.
I replied saying :
The current situation, as you found out today, is that ambulances do not normally have access to Jesus Green.

This fact came to public notice when Cllr Colin Rosenstiel obstructed an ambulance entering the green when the gate was open last year in his "defence" he said that usually the ambulance would not have had access so he didn't in fact make the situation worse.

The fire service do [appear to] have a key they use regularly when they practice accessing the river to obtain water / practice with their boat.
In February 2009, in my article on Cllr Rosenstiel's antics, I wrote:
The case also draws attention to the question of how emergency vehicles can access Jesus Green when required. If they do not have keys then I think they ought to
Both when replying to Mr Smith and back in February 2009 I mentioned other problems with ambulances accessing parts of Cambridge particularly the pinch points; last year Independent Councillor John Hipkin noted at a West / Central Area committee a delay caused by an ambulance crew not being aware of how to access the part of Windsor Road beyond the traffic calming device which is too narrow for an ambulance.
I also noted my personal observation that in Cambridge ambulances, with blue lights on, often slow down for speed cameras and that this may be related to the fact when ambulances get caught by traffic cameras the drivers personally have to complete mountains of paperwork to justify and explain their actions. On the subject of access for ambulances I also covered the fact that the ambulance service were seeking a total, unqualified – paper work free – exemption from the traffic control measures to be installed on the new Addenbrookes access road.
There appears to be a lot which local councillors could do to make things easier for ambulances in the city, but it's a case of persuading them they can and should take action.
Having heard David Monk, the Ambulance Service manager for Cambridge speak at the Cambridgeshire Transport commission, and seen a number of his other public contributions I'm aware he's a very sensible, competent and straight talking man with loads of common sense – as you'd hope for someone in such a responsible position. I suggested David Smith might want to seek his views, as well as those of Cllr Julie Smith the Executive Councillor responsible for Green Spaces on what happened on Jesus Green. I also suggested making the Jesus Green Association aware of what had happened.
Having consulted others present on the night David Smith did then write to the ambulance service, Cllr Smith, and the JGA; he copied me into that correspondence which revealed:
The injured man sustained serious head injuries and is currently in the Neuro Critical Care Unit at Addenbrooke's.
A fast response car arrived quickly, but had no keys to the gate, or bolt cutters. The paramedic said he couldn't leave his car and walk across the green.
An ambulance arrived, also without keys or bolt cutters, none of the paramedics were keen to walk across the green but instead wanted to wait for the fire service to open the gate. Eventually friends of the injured man persuaded them to walk across and after that the fire service opened the gate, allowing the police and ambulance access.
Mr Smith is seeking answers to questions about the arrangements for emergency vehicles to access Jesus Green.
Following this incident I asked Mr Baxter, the chairman of the Friends of Midsummer Common what the arrangements were for access to the common – which is adjacent to Jesus Green. Mr Baxter responded to say that the gate to the common is currently left open so often that it wouldn't usually be a problem. He said he had been told the emergency services have keys to the locks if they are in use, but expressed doubts about how the keys are distributed and kept up to date. Mr Baxter said whenever questions are asked council officers give assurances that appropriate procedures are in place but his tone did not exude confidence.
On Midsummer Common there are tentative plans for a new access system at the Fort St. George gate. At the Midsummer Common 2010 AGM an idea for a new solar powered, self closing, gate was discussed. I have previously expressed my view that: "If access controls are to be introduced to Midsummer Common clearly there too emergency vehicle access needs to be enabled".