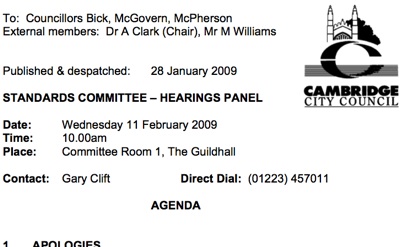 A complaint against Cambridge City Councillor Colin Rosenstiel, in which it is alleged he obstructed an ambulance responding to a 999 call on Jesus Green, is to be heard by a panel of the council's Standards Committee on the 11th of February 2009. The panel is made up of councillors Bick, McGovern, and McPherson along with external members: Dr A Clark (Chair) and Mr M Williams.
Full details of the complaint, including transcripts of interviews with both the ambulance man and Cllr Rosenstiel are available on the City Council's website in a report by the council's standards officer.
Cllr Rosenstiel has suggested that the complaint may have arisen partly as a consequence of the complainant realising he was involved in a previous incident where he was filmed slamming the doors of a van which had parked obstructing the cycleway on Downing Street in Cambridge, a video of which is embedded at the bottom of this article.
The events resulting in the complaint currently under consideration took place on the 2nd of June 2007, the complaint was not made until October 2007 and the hearing is to be in February 2009. I am a strong believer in the sentiment: "justice delayed is justice denied" and think this is far too long. This problem, where due process is delayed, is not unique to local government but pervades the justice system and the public sector in general in the UK. It is something which needs to be fixed.
Another element of procedure which I think ought to change is the ability for the panel to suspend an elected councillor for up to six months*, I do not think any group other than the electorate who put them their ought be able to remove an elected representative. I do think that in certain cases such as convictions of serious crimes, or serious findings of misconduct then a bye-election ought be held with every elector being made aware of the nature of the findings against their representative.
It is worth noting that what Cllr Rosenstiel is accused of is an offence under the Emergency Workers (Obstruction) Act 2006 and is punishable with a fine. The Act came into force on 20th February 2007. The police were aware of what was alleged but took no action other than to give Cllr Rosenstiel stern words of advice when he was still remonstrating with the ambulance driver after he had treated his patient.
The case also draws attention to the question of how emergency vehicles can access Jesus Green when required. If they do not have keys then I think they ought to (clearly the fire service who regularly train on the river from the green have keys). If access controls are to be introduced to Midsummer Common clearly there too emergency vehicle access needs to be enabled. On the subject of access for ambulances Cllr Hipkin speaking at a recent west/central area committee noted the need for ambulance drivers to be aware of the location of pinch points used to calm traffic in the city which are too narrow for them to drive through.
* In Cllr Rosenstiel's case this is three months due to the period having been increased to six months only for complaints made after 8th May 2008.
Video – George Galloway suspended from Parliament
Video – George Galloway suspended from Parliament