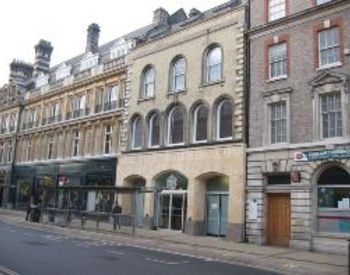 On Monday the 12th of August 2019 I attended Cambridge Magistrates' court to observe proceedings, with a view to reporting on them if anything newsworthy took place.
I was not able to obtain information which I understand I was entitled to and which I felt I needed both to decide which cases to observe and to ensure any reports were full and accurate.
The information I was not able to obtain is that generally described as the "full" court list (as opposed to the "noticeboard" list).
My understanding is the full list contains information on defendants such as their ages / dates of birth and addresses – which enable reports to unambiguously identify individuals in question and avoid defaming someone else with the same name. The full list in my experience also includes details of alleged offences, this enables reporting accurately on allegations and making decisions on which cases to observe.
I was able to speak to a court clerk who stated they were not surprised that I had not been provided with a copy of the court list. They suggested that the information requested would only be provided if a decision to release it was made, and that decision would depend on my providing my identity and who I am. I cited the law, Rule 5.8 of the Criminal Procedure Rules and stated my understanding that in the case of, for example, details of "each alleged offence and any plea entered" should be provided to the public on request, and the provision of such information ought not be subject to a decision being taken as to if to release it, or not, in response to a request.
Without easy access to the full court list our courts are not in my view effectively operating in public. The doors being technically open for anyone to walk in don't provide for public justice if its not possible to find out information on cases which are scheduled, so people can choose which cases they are interested in observing, or find out if, and when, a case they want to observe is due to be heard.
I think we need an effective, public, open, local justice system in order to tackle many of our society's problems. Deterrence, and justice, is enhanced by the public operation of our courts. Tackling this problem and getting our courts operating openly is in my view key to making our society safer and fairer.
Full Details of What Happened
Over a number of weeks I considered attending my local magistates' court to observe, and report on, a case which had been mentioned in the local press. I thought carefully about if it was something I was prepared to do, and how I would approach attending and reporting.
I sought to do all I could to ensure my attendance went smoothly.
I decided to take nothing with me other than a folder containing a blank notebook, and paper, a copy of Rule 5.8 of the Criminal Procedure Rules, some cash, my keys, and a packet of tissues. I didn't want to take journalistic notes in case they were searched, I didn't want to take electronic devices such as a phone in-case I was accused of breaching a rule by having them, or having them be held by security.
I also decided to wear a suit. I am aware that some people often make decisions based on appearance and it appears to me that the justice system is a part of a society which is disjointed from wider society and perhaps still judges people based on what they look like – something I think wider civilised society is moving away from. I thought the establishment might react more pleasantly to, or be less panicked by the presence of, someone who was dressed like them.
The court building opened at 9am. I was outside at 0910, I thought that would be a good time to go in. Early, promptly, but not right on the dot of the opening time. My expectation at the time was I'd go in, find out when cases I was interested in were scheduled for, and come back out before returning, later to observe them.
I approached the court building, entered and went through the security procedure. I placed my keys and folder in a tray, and walked through an arch. I was asked to stand with my arms up as I was scanned with a probe, presumably a metal detector. I then picked up my items. I was asked for my name by the security staff. I said only that I was a member of the public and they let me though.
I suspect the security staff were asking for people's names to be helpful and to direct them to the right court but it would be best if they explained the purpose of their question and informed people if they had to answer it.
I climbed the stairs to the courts which are on the third floor of the building. The stairway is narrow and foreboding. I am not claustrophobic but it felt like an enclosed and unsafe place, rather like some staircases at multi-story car parks. There appeared to be only be one way in and out of the labyrinthine complex for the public though green emergency exit signs indicate the presence of other routes which would presumably, hopefully, become accessible to all in an emergency.
On the level containing the court rooms there was a noticeboard, there were A4 lists posted under "Court 1 and Court 3″. These lists contained only a time, the defendants name, an unlabelled column perhaps showing who was prosecuting (generally the police), and a case number.
I found that a case I was interested observing was listed as the second case in court number 3, with three cases all listed for 10am being listed for that court.
Someone approached the list for court one and crossed out a line on the list for court one as I was watching.
At this point it was 0920. There were "court in session" lights on outside courts one and three, but there didn't appear to be anyone inside.
I decided to wait with a view to asking an usher for a copy of the full court listing.
I noted a sign stating: "Use of mobile phones is prohibited in all hearing rooms. CT1 October 2018″.
I overheard a security officer advise someone else that the ushers would start work in "about a quarter of an hour", that would be somewhere around 0940. There was a sign on the noticeboard containing the so called "noticeboard lists" that ushers are available from 0930.
I read some of the other signs which included: "Hot drinks may not be brought into the court room or hearing room", "Food many not be consumed in the court room or hearing room", "CCTV images are recorded" and "it is an offence to take photographs, record video clips or make unauthorised audio recordings anywayanywhere in the hearing centre … if you are found to be in breach of this the matter will be referred to a judge and may result in legal action".
The security officer advised another member of the public apparently present to observe that ushers would come into court at 0945 and at that point they could go in, and turn to the right, to go into the public gallery. The security guard [perhaps being asked if cases from over the weekend were being dealt with] also said: "we don't open on a Saturday so anything that does [need to be dealt with on Saturday] goes to Huntington".
I sat and waited and finalised my plan to first ask for a copy of the full court list, and then if that wasn't successful, to seek a copy of "each alleged offence and any plea entered" for each case due before the court I was intending to observe – court 3.
An usher eventually entered the court and came in and out a few times. While the usher was standing outside the court, and I was sitting in the waiting area outside I asked if I could have a copy of the full court list. The initial answer was: ~"No. We don't print it off. I need to get everyone booked in". I was then asked who I was, to which I responded just that I was a member of the public.
The usher was wearing a black gown (which is how I recognised them as an usher), they were wearing a badge with no name on it. I asked who they were and I was told merely: "Julie".
A fellow member of the public who had overheard my request asked if I was seeking a ~"a full list showing what was going on", I said "yes", I was.. and they noted "that would be useful", I said: "we should get it, I might get a copy shortly".
I waited outside as various people walked in and out of the court, apparently members of the public, defendants, lawyers, court staff etc.
I decided to wait outside until just before the court session was due to start.
The usher returned to me sitting outside and said: "I've consulted our head legal advisor". "It's all confidential I don't know if I can…". "It's all digital now, we don't print it out".
At this point I had only asked for a copy of the full court list.
I now rephrased my request to ask for specific information. I asked if I could have:
"details of each alleged offence and any plea entered, for court three here this morning".
Apparently reading from their paper copy of the full court list the usher noted the information published on the noticeboard list (the defendant's names) then very briefly stated:
An Assault
Possession of a controlled drug
Fraud
I asked if I could have any further details of the alleged offences and was told no.
I suspect there was further information to which I was entitled.
I asked for details of the pleas entered and was told "they're trials, they're all 'not guilty'".
(It would be possible for there to be trials if someone had pleaded not-guilty to some, but not all offences they were alleged to have committed).
I sat down again and waited. I decided to ask to make a request for the full court listing information to the clerk at the start of case 2. I thought case 2 would be of significant local interest and there would be a lot of observers and reporters present, so making it feel safer and more comfortable to make a request where I wasn't the only "outsider" in in the room.
I entered the court pretty much exactly at 10am. The usher was telling the clerk if witnesses were present or not for the case listed as case 1. A defence solicitor asked the clerk and usher about their views on his fitness regime and the if running around the city with heavy bags and up the stairs was sufficient aerobic exercise. They looked oddly at him and ignored him.
My one fellow member of the public in the public seating asked if I had obtained a copy of the court list. I said: "no".
I sat and drafted what I wanted to say to the clerk, I planned to ask for information on "each alleged offence and any plea entered", and to note I had requested the information from the usher but had not received what I expected. I thought if I was making a request I would also request other information to which I was entitled including the identity of the prosecution and defence reps and the identities of the judge/magistrates so planned to ask for that too.
As I sat and waited the prosecutor answered a phone call in the court/hearing room and wasn't challenged – though he did promptly leave presumably to carry on a conversation elsewhere.
There were around 14 seats in the public gallery (an area at the back of the room, at the same level as the floor of the court). The seats were in two rows, I took the seat nearest the door on the front row. I later found out this was near to, and in-front of, the ushers' seat.
The magistrates came in a 10:05. A ~"court rise" order was given and I stood up. (Apparently not doing so risks a spell in the cells for contempt!) In this case I was happy to stand to show respect to our system of justice and the office of magistrate. (I have previously been in a court room which had been kept waiting for a very long time for magistrates to return after their lunch break and I certainly felt, and could sense others feeling, less deferential when asking to stand on that occasion).
Case two was called. This came as a bit of a surprise to me, but I had heard discussion about a slight delay in case one so it wasn't entirely unexpected.
After the case had been called but before it began I asked if I could make a representation to the clerk. The usher sighed but did appear to rely my request to the clerk who appeared to ignore it. I was intending to request the basic court listing information, and other information I was entitled to as I had planned.
I will write a separate report on the substance of the case 2.
Case 2 was rapidly dispatched in under ten minutes, including a few minutes of deliberation, in-court, by the magistrates.
After the case was over I quietly and politely asked the usher for the names of the magistrates.
The usher again sighed, more dramatically this time, and pointed at me (I've experienced being pointed at in this way by public officials before, I don't understand the behaviour, in retrospect in this case it may have been to indicate "I will return to you here with the information you have requested"). The usher didn't respond verbally in any way to my request straight away but walked off and dealt with other matters. I decided to wait for ten minutes to see if the usher came back with the names.
Proceedings in another case then took place briefly. I won't say anything more because what can be reported about a case before it reaches trial is strictly limited.
After just a few minutes the magistrates retired and I was left sitting in the court room with just the other member of the public and the clerk, and someone coming in-and out to a desk towards the back – I suspected they were probation service rep.
I decided at that point I would not seek to speak to the clerk directly, but to only go via the usher.
The usher returned and gave me the names of the magistrates orally and very quickly, they were, phonetically:
Sarah Vallance-Good
Jacob Power
Kim Clegg
I repeated them to seek confirmation that the information had been correctly transmitted but the usher walked off and offered no confirmation.
In retrospect when I was home later I wondered if I could have requested a "reasonable adjustment" under the Equalities Act as even though I don't think I have any particular problem receiving information orally generally the manner in which it was delivered was at the edge of what I was capable of dealing with.

At this point the clerk spoke up. The clerk, was in court, "holding court", but without magistrates or a judge present. The clerk addressed me and said "Who are you?". I said: "I am a member of the public observing the court today". The clerk announced: "I am surprised you got the names of the magistrates if you are not a member of the press".
I stayed silent for a few moments, in the silent court considering what, if anything to do next.
I asked the clerk if I could speak to him, he said yes. I relayed my attempt to get a copy of the full list that morning and told him what had happened. The clerk stated that he wasn't surprised that I wasn't provided with the full list. I explained that I understood I was entitled to the information I had asked for under the criminal procedure rules. The clerk responded: "which rule?". "5.8" I replied. Consulting a copy of the rules and adding "5.8(6)(b) and (f) for example". The clerk said he thought a decision would need to be made on if to release information or not, and that decision would depend on who I was. I responded to say that wasn't my understanding and that I thought the information I requested should be available to anyone on who asked for it. The clerk expressed a view that as the cases were being heard in open court that brought sufficient openness.
I asked the clerk for his name, he said he was Jeremy Moss, and he added "I have done this for a very long time".
Mr Moss added that I was clearly "doing something" and he noted aloud that I was "writing things down".
I thanked the clerk and said I would pursue the matter elsewhere.
After a period contemplating if I could do any other useful reporting without the court list I left the courtroom shortly afterwards.
I've now written up what happened and I intend to share my experience and seek comments. I then plan to seek to draw what happened to the attention of the CEO of the courts service (who has engaged with me previously on matters of openness in our courts via the @CEOofHMCTS) and to my MP.
I have only ever once before in my life ever raised a formal complaint about anything (that related to the way a Parliamentary committee published evidence I had submitted in a garbled format). I am though considering that if others agree with my interpretation of the criminal procedure rules and that I should have been given access to the information I requested I may make a complaint in this case, or at least in some way pursue a response.
I really think open justice is critical for a fair society and I think it has a role in preventing crime and making our society safer. I think action on this point could save lives and prevent huge amounts of upset and distress.
I have been intending for some time to make a Freedom of Information request asking for information on the arrangements in-place for distributing copies of the full court lists for hearings at Cambridge Magistrates' Court. I would have preferred if I had been able to do this in advance of attending to observe a case but a case I was interested in came up. I may make such a request an link to it in the comments.
Police, Crime [Fire] and Justice Commissioners
I would like to see Police and Crime Commissioners become Police, Crime, and Justice Commissioners and take an interest in wider criminal justice strategy. I am aware there is a good argument against this based on concern about maintaining independence of the judicial and policing systems but I don't think that would be put at risk by having a local elected representative representing the public to the judiciary and the courts service. Just as with their policing role I wouldn't expect commissioners to get involved in operational matters or individual cases but they could take local decisions as they do in policing on on strategic policy matters, communications and estates.
(I don't actually support Police and Crime Commissioners, I'd rather their role be taken-on by a committee of councillors. Such a committee could take a broad view of the criminal justice system.)
See Also