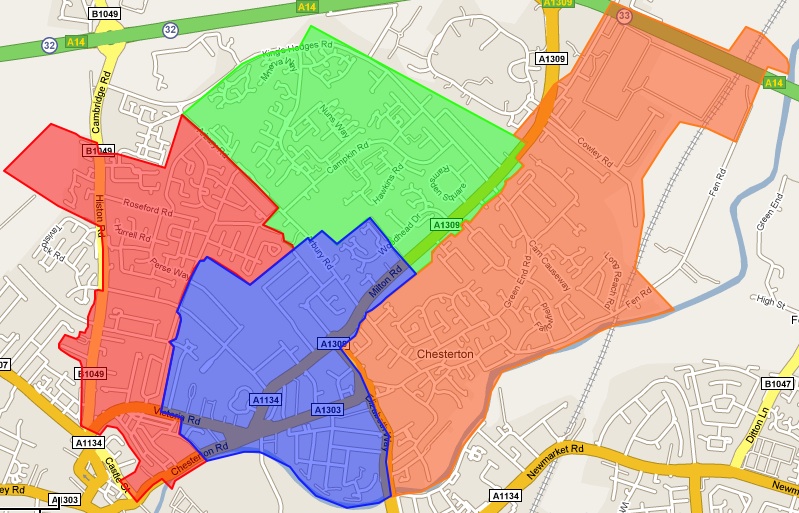 On Thursday the 9th of October 2008 councillors in from the wards of Arbury, Kings Hedges, West Chesterton and East Chesterton met for the City Council's North Area Committee.
On the Monday before the meeting I wrote to my local ward councillors and have placed that submission on my website. I received no reply or even an acknowledgment from any of the councillors.
Following the meeting in addition to this general overview I have written dedicated posts on three of the subjects discussed:
Planning
The meeting was due to start at 18.30 but was delayed by around ten minutes due to the late arrival of the planning officer. Councillors spent just over forty minutes considering the sole planning application on the agenda which related to 113 Histon Road.
The meeting took a short break for seven minutes before restarting at 19.30. The agenda for this particular meeting was unusual as in an unprecedented manner the acceptance of the previous minutes, matters arising and declarations of interest were all included in the session of the meeting due to start at 18.30. Often members of the public, and even some councillors don't attend the earlier session and I believe it is preferable if these items are held until later. For example at the June 2008 meeting Cllr Todd-Jones was surprised to have missed the election of the chair when he turned up for the 19.30 sitting.
Shapour Meftah, conservative candidate for Arbury at the 2008 City Council Elections attended the planning element of the meeting, he sat with and left with the 113 Histon Road applicants. I asked him if he would be standing again in the future, he said he would, but that he was likely to be moved to another ward. He gave the impression he had little say in the matter. I asked if he was moving to live in another ward and he said he didn't know.
ChYpPS Display
During the break I looked at the staffed display by the Council's Children and Young People's Participation Service (ChYpPS).
I asked if the City Council had any statistics on the number of hours of education or training individuals who had been excluded from school were receiving. This follows from what the Police have been saying to Arbury Ward Police Consultative meetings:
Sgt. Wragg told the meeting that most of those he deals with are children who have been expelled from school, and are now not doing anything. We have previously heard from such teenagers themselves that even those who are on training schemes only have to attend college or where-ever for a couple of hours a week, and sometimes being on a training scheme means they can't get work.
The council staff manning the display told me that there were statistics on numbers of individuals who were not in any education or training, but they were not aware of any breakdown of the number of hours spent on education or training for those not occupied full time.
I have been lobbying my local councillors suggesting that acquiring such statistics, and bringing the relevant people from the City and County Councils, Schools and Colleges and Police to a North Area Committee may be useful in terms of tackling the underlying causes of crime in the area.
Session Two – 19.30
Cllrs Liddle and Wilkins were noted as being absent.
Councillors corrected a slew of errors in the draft minutes relating to which of them had attended the previous meeting.
I had sent my local councillors details of many further errors and omissions which were in the previous meeting's minutes, but they decided to approve the minutes as an accurate record without addressing any of these. Cllr Upstone was outside, apparently taking a phone call while the the minutes were being reviewed so he missed his chance to make sure his contribution to the last meeting on cycle theft was recorded even if he was planning to ensure it was.
Two action points were reviewed:
"Pye Recreation Ground feasibility study"
"Changes to Number 4 Bus Stop" – Cllr Nimmo Smith updated the committee – letting them know that the bus stop had been demolished by a bus. Then he corrected himself saying he wasn't actually sure if it was a bus but it had been demolished by a vehicle. There was now an insurance claim in progress which had to be resolved before the Bus Stop could be replaced. [If he's looking for where he could have deployed an albeit tiny fraction of the £80 million cash reserve within the City rather than risking it in Iceland there's one right there for him - why wait?].
Open Forum
A Mr Soer asked about progress on replacing the Arbury Court shopping centre public toilets. He requested that when something was eventually done the area receive facilities as architecturally striking as those which have been put up else where in the city. He cited the example of Chesterton Road, and was referring to the The Armadilloos – the fabulous oval shaped public toilets which look a bit like Armadillos.
Councillors told Mr Soer money had been allocated for the scheme.
A resident asked a range of questions about the "misguided bus", asking about bus stops in the area and for details on junction design.
Councillors pointed him to the regular guided bus update meetings (Local liaison forums) which are being held in the area, and noted there were no plans for the guided bus to stop anywhere in the North of Cambridge. The County council webpage on our local liaison forum has no notice on the next meeting I have asked them for the details of any such meeting.
Cllr Blair added that the guided bus was to be discussed at Monday's Cambridge Traffic Management Area Joint Committee though there is no mention of it on The Agenda for that meetings.
Cllr Todd-Jones suggested the Guided Bus should be in a Tunnel under North Cambridge.
A resident of Garry Drive (Off King's Hedges Road) spoke about a number of problems affecting his street. He raised three points for discussion: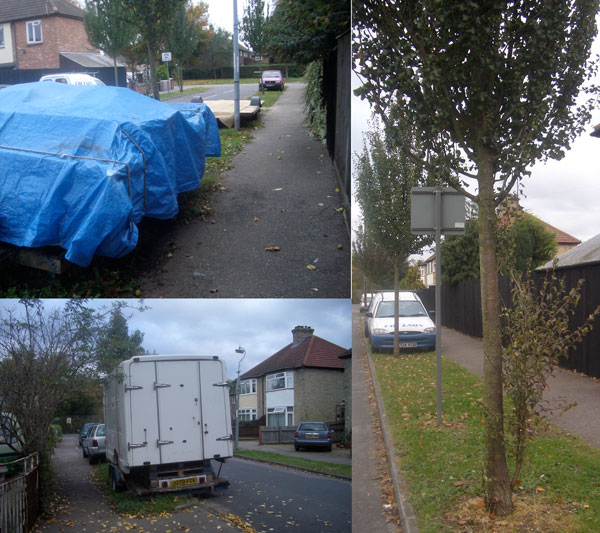 The ornamental pear trees (new shoots emerging from the roots are becoming large and causing problems [I agree they need removing, but don't think it's urgent])
Cleaning of the gutters at the side of the roadway
Parking on verges
These points are illustrated by my photograph shown on the right. Labour Cllr Todd-Jones led the response, criticising the Liberal Democrat Council for taking too long to deal with the city wide problem of parking on grass verges. He noted that the council had been running a pilot scheme, involving a Bye-law in certain areas, but that progress was far too slow and had taken over four years so far.
Councillors explained the current situation where individuals with the powers of traffic wardens could only issue tickets where the verges were behind double yellow lines.
Another Councillor stated that he saw parking on verges, where it damaged those verges, as tantamount to vandalism.
My contribution to the Open Forum
1. Penny Ferry / Hailingway works
I noted that work had not yet begun, and that councillors had not yet reviewed a copy of the plans. The plans had been modified following comments from the Old Chesterton Residents Association since the last meeting. I said my prime concern was that the cycle path though the site was not clear, there was no proposal for a painted cycle lane or signage. I was concerned that new high curbs which had just been added to the plans may may impede the progress of cyclists though the site.
I noted the site was on a national cycle way, and as such it was shocking that the Cambridge Cycle Campaign had not been consulted about the works.
Cambridge City Council's Senior Engineer, John Isherwood said that the Cambridge Cycling Campaign had been consulted. I will be asking him for evidence of this as a representative of the campaign has told me they were not consulted, and it has previously been reported to the North Area Committee that the intention to consult them had been dropped.
Cllr Ward stated that the Cam Conservators had considered cyclists who wished to speed down the hailingway when they considered the plans. This is not the same as the matter being discussed by councillors making the decisions.
Cllr Blair instructed the officer to minute that the last meeting of the North Area Committee did not allow the Old Chesterton Residents Association (OCRA) the final say on the plans. However instructing officers to amend the plans in light of OCRAs comments was exactly what I heard councillors decide at the last meeting, and it is what has actually happened in the period between meetings. The minutes from the last meeting have nothing to say on the matter.
I will be suggesting to the committee manager and chair that Cllr Blair be not allowed to sit next to the committee manager who writes the minutes as she often attempts to give them inappropriate instructions on how she would like things minuted. The appropriate time for Cllr Blair to ensure that a record was made of the previous committee meeting's delegation (or otherwise) to OCRA would have been when the minutes of the previous meeting were considered. Had she raised the fact there was no mention of OCRA's last-minute extra consultation at that point I would have supported her.  Cllr Blair did not attend the previous meeting; unlike me she was not speaking from first hand experience.
More on the Penny Ferry works : http://www.rtaylor.co.uk/penny-ferry-june-2008.html
2. Jesus Green
I asked what representations Cllr Armstrong as chair of the North Area committee had made on behalf of residents and councillors to the ad-hoc committee advising Executive councillor Julie Smith when she was asked to approve the lottery bid for proposed works on the green. Cllr Smith had announced the existence of such a committee at the September West Central Area Committee.
Cllr Armstrong stated that no such meeting had taken place and denied been planned. She said she was thousands of miles away at the relevant time, and Cllr Blair had been asked to represent the North Area in the final stages of approving the bid.
Cllr Blair refused to say what contribution she had made on behalf of the North Area, and would not or was not able to provide any update on what was in or out of the bid.
I had noted that I had asked for (On the 1st of October) a copy of the final bid document, which had been promised to all who asked for it at the West/Central Area Committee, and I had not been sent a copy. I also noted it was not available online. I said this showed a lack of openness within the council.
Cllr Ward spoke to say, essentially, "don't worry" – this is just a very early stage of the process and there will be many opportunities to comment on the details to come. This is something I hear very often from councillors, but it is nonsense, to influence plans you have to be involved from an early stage.
Various councillors agreed with me that the final bid document should be available and a number of them promised it would be sent to me and a couple said it should be made available online. Cllr Armstrong summed up saying this would be followed up.
3. Powers of City Rangers to Stop Cyclists
I asked if City Rangers had been given the power to stop cyclists, this follows a statement on page ten of the Neighbourhood Profile presented to the September West Central Area Committee saying:
1040 reports of antisocial cycling occurred between April and July. Most of these occurred in Trinity Street (249), Sidney Street (230) and Bridge Street (221). These figures are provided by the City Rangers service and relate to the number of occasions a City Ranger has stopped and spoken to an individual cycling anti-socially.
Cllr Rupert Moss-Eccardt responded first saying that there was a general drive from central government to "enhance the extended policing family" he said: "anyone who works for any public body will get some powers". He suggested we were on an unstoppable slippery slope to a position such as that seen in the USA, where driving test examiners are considered "Federal Officers" and as such carry firearms. Cllr Rupert Moss-Eccardt described this general trend as an "unfortunate development". He had nothing to say on the specific question of the powers of Cambridge City Council Rangers.
Cllr Ward proudly introduced himself as the: "Chair of the Ranger Steering Group". He stated that the City Council had come under pressure from the Home Office to have quite a different Ranger Service than they have at the moment, implying that the council had done well so far to keep its Rangers from doing things like stopping cyclists. He drew attention to the green sweatshirt uniform which he said was unlike those used elsewhere which had rangers looking more like, say, traffic wardens. He stated the rangers: "were reluctant to be seen as enforcers". Cllr Ward, despite being the Chair of the Ranger Steering Group did not answer the question of if the Rangers had been given the power to stop cyclists.
Cllr Upstone spoke to say that the Rangers could act just like any other member of the public, and any member of the public could stop someone cycling anti-socially, for example the wrong way down a one way street.
I interjected here, I wanted to make clear that what the Rangers were doing was not on an informal basis as I felt he was implying, I noted the numbers involved were around 1000 stops, as reported to the West Central Area Committee and this implied it was not informal, I also noted the fact they were keeping accurate detailed statistics implied they were not simply acting as member's of the public, they appeared to have been directed to carry out these stops as part of their work.
Cllr Ward dismissed my comment on "collecting statistics" saying "Rangers collect statistics on everything they do".
A number of councillors appeared to have been conferring at this point and a number of them, including Cllr Blair asked what the problem was with Rangers doing this, they asked why it was any different to a PCSO stopping someone.
I took the microphone and addressed the committee again. I explained one question I had, which councillors had not been able to answer: Did I have to stop for a City Ranger? I explained I had to stop for a PCSO because they had powers under the Road Traffic Act to stop cycles; if I ignored them potentially all sorts of consequences would ensue. I wanted to know if Rangers had been formally given such a power under the scheme known as : "Powers for Accredited Persons".
There was a national audit in August 2008 run by the Home Office. Cambridgeshire Police's response was that the only accredited persons in the force area were two Vehicle and Operator Services Agency (VOSA) officers given powers to stop vehicles for testing. I wanted to know if the situation had now changed.
If the answer was that Rangers had not been given the power to stop cyclists I wanted to know what councillors thought of them doing it anyway.
If Rangers did have this power, had councillors been involved in the decision to give it to them, and did they think Rangers taking on a policing role was a good idea? I also suggested if this power had been given there was a need to publicise this fact.
In either case I asked councillors how they thought this might affect the public perception of the City Rangers specifically, and also the perception of other Council Staff.
Cllr Nimmo-Smith then spoke. He started on a slightly irrelevant point relating mainly to a previous discussion; he said he would like to see PCSOs being given more powers so they could for example deal with people parking on verges. (I have been trying to find out exactly what powers PCSOs have in Cambridge, something which has proved shockingly difficult). Cllr Nimmo-Smith then gave me an assurance that he would find out what the situation was with respect to the City Rangers, and would write to me.
Open Forum – Continued
Mrs Speed rounded off the open forum, using her opportunity to speak to say that the East Chesterton ASB Meeting, which she chairs had given Cllr Blair a bouquet of flowers in recognition of her work.
Environmental Improvements
Cambridge City Council's Senior Engineer, John Isherwood was present at the meeting to advise councillors on all the environmental improvement schemes being considered.
Mr Isherwood also told councillors that their report on the North Area's environmental improvement schemes had been written by Dinah Foley-Norman the council's "principle landscape architect". This contradicted the report itself which listed its author as being the council's "Head of Policy and Projects", who is Brian Human, I will be asking for a clarification on this point, including asking if previous reports to the committee which have been presented by Dinah Foley-Norman were written by her or the "Head of Policy and Projects" who is usually listed as the author.
There were three decisions to be made:
The Ship Public House recycling centre : To approve scheme in principle and to approve costs of up to £13,000.
Gainsborough Close mobility crossing : To approve costs of £830.
Thrifts Walk : To approve or not to pursue this scheme.
1. Councillors approved the spending. They are considering further improvements which may involve further spending following consultation with the land owners. Mr Isherwood, who is a local resident, as well the council's senior engineer agreed to put a copy of the plans up in the local area, and to watch out for any damage to the trees which are due to be planted. Councillors had expressed concern both that new trees were delicate and easily damaged and that new trees could damage the paths/pavement, officers assured them this ought not be a problem.
2. A member of the public spoke to inform the committee that the individual whose mobility problems prompted the request for the crossing (essentially a drop curb) had died. The committee discussed that really it was the County not the City Council who ought to be doing works like this.
Councillors decided not to go ahead with this work.
Cllr Upstone asked if it might be cheaper, instead of installing dropped curbs as mobility crossings – to install a raised speed bump which acted both as to reduce speed also provided accessible crossing if they were built flush with the pavement. Mr Isherwood replied that "table junctions" were much more expensive than the dropped curb style crosings. What Cllr Upstone was proposing is significantly less work than a table junction. I think his idea is excellent and should be pursued (funded by the County Council).
3. I have written a separate, detailed post on the submission from residents of Thrifts Walk, Chesterton asking for public money to improve their private road. – Councillors invited them to return with costed plans.
Councillors, shockingly in my view, asked no questions on any of the other schemes, including the proposed works on the Penny Ferry The Haling Way which had been amended since they last met.
Community Development and Leisure Grants
I believe councillors accepted the officer recommendations for all of the grants.
Cllr Levy complained about the quality of the officer's report on these grants, specifically he thought the numbering scheme made it very difficult to follow what was going on, and risked decisions being misrecorded or misinterpreted. Some councillors thought they could see some logic in what had been done.
Councillors questioned why Christmas trees appeared cheaper this year than last year, and was told this was as certain equipment (presumably stands, decorations etc) had now been purchased. Councillors also noted Arbury Court was an ASB hot spot and particularly wanted to fund the Christmas tree there in the hope of tackling this.
A number of councillors noted they were eligible, or approaching the stage where they would be eligible for membership of the : "Not Quite Over the Hill Club", a Club for over 55's.