On the morning of the 12th of December 2009 I attended the Cambridge Conservative "caucus" which selected Nick Hillman as the Prospective Conservative Party Candidate for Cambridge in the next general election. The meeting was open to any resident of Cambridge who had registered to attend.
Six candidates had been short-listed for the position and were presented to the meeting. There were multiple rounds of voting with candidates being eliminated at each stage. Mr Hillman obtained the necessary majority of votes in the third round. Around 50 people were present throughout the session and so eligible to vote.
The meeting started just after 0930 and the result was announced at around 1400; it appeared that members of the public were being allowed to come in and listen later even if they had not registered. It would have been excellent if this opportunity had been advertised as it would have given more people an opportunity to hear from Mr Hillman.
Nick Hillman
Mr Hillman confirmed that his main association with the city is that he trained as a teacher here, doing some of his training in Hills Road College. He cited holding his wedding reception here as a demonstration of his deep affection for the city.
Nick Hillman:
Opposes a congestion charge.
Supports waiting for the outcome of the Browne review on top-up fees.
Supports a limit on immigration from outside the EU.
Has committed to move to Cambridge before January the 1st.
Believes that: "of all places, Cambridge needs a Conservative MP" as it is "currently getting a poor deal in terms of national resources."
Tuition Fees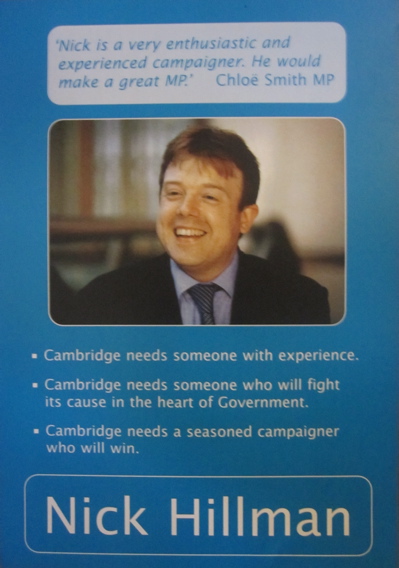 Mr Hillman said in his current role, as "Chief of Staff" for a Conservative MP, he specialises in university policy. He told the meeting: "the university fees cap is a sensitive issue" and pointed to the independent review by Lord Browne which is underway. Mr Hillman said:
I'm not in favour of higher fees or lower fees; I'm in favour of a review
Mr Hillman said that there were certain groups which are currently hard done by such as part-time and mature students. He said we need to give help to a wider range of people to allow them to enter higher education. He spoke of a trade off between the tuition fee level and quality and appeared to be justifying an increase in fees for Cambridge students by saying that we have to do what's necessary to keep Cambridge as a world class institution.
He expressed his support for a system which would see different arrangements at different universities.
He also pointed out that university funding is not all about fees, but about research funding too and pointed out that Cambridge has not done well out of the current government policy to spread research funding out very thinly across a large number of institutions.
An amusingly stereotypical Cambridge professor (?), who introduced himself as a fellow of Trinity College, complained that Mr Hillman had not made his position on tuition fees clear. He said that Mr Hillman had been asked for his view, but had not replied, and as an Mr Hillman was claiming to be an expert on university funding he expected him to have an opinion which he could share.
This prompted Mr Hillman to expand a little, but still inconclusively. He said that universities have yet to make a case to remove the tuition fee cap and that it is not yet clear if the experience of students has got qualitatively better as a result of introducing fees.
Mr Hillman was asked by the moderator what his view would be if tuition fees reached £7K/year; he responded to say that for students at Cambridge: "they would get good value in return".
Home Schooling
A trainee Minister who introduced himself as "Peter" asked Mr Hillman about home schooling. He said there was a high percentage of home schooled children in Cambridge. He asked what Mr Hillman's views were on the recent government clamp-down on home schooling which has seen government inspectors acting in a heavy handed manner, including by interviewing children without their parents present.
Mr Hillman said he would defend the right to home school.
Economy
Mr Hillman complained the recent pre-budget report had increased benefits but had contained no explanation of how that increase was to be funded.
Defence
When asked if he would have voted for the war on Iraq, he said that given what we now know, he would not have done, but was unable to say what he would have done at the time.
On Afghanistan he said we need to redouble our efforts there; and if we pulled out now the threats would remain.
Cycle Crime
Mr Hillman identified this as a major issue for the city. He pointed to the three year waiting list for secure cycle parking spaces at the station as as an element of cycle infrastructure which is not good enough.
He also reported a discussion he had had with the local police, who had told him Cambridge residents too often bought £200 bikes and secured them with £15 locks. He said he thought the suggestion he'd heard from the police of spending £150 on a bike and £60 on a lock was a good one, and proposed an education drive to get this message across to Cambridge residents.
Aftermath
Following the announcement of Mr Hillman as the candidate a Conservative constituency Pauline Perry, Baroness Perry of Southwark, invited Conservative association members to a champagne, cakes (and mince pies?) fundraising event. At the beginning of his acceptance speech Mr Hillman referred to the event and made a plea for "as many funds as possible" to enable him to canvass every house in the City.
Conservatives are reportedly now drinking champagne which has been chilling in Cllr Chris Howell's garage. Cllr Howell, who is the city's only currently elected Conservative, had come out in support for Mr Hillman, before the caucus meeting. I identified Mr Hillman as the leading candidate last week.
Ministerial Ambition
I think it was telling that no-one asked Mr Hillman if he had ministerial ambitions if a Conservative government was formed following the next general election; I think that says a lot about his calibre as a candidate.
Comments on the Process
It has been reported that around sixty people put their names forward and it has not been made clear how the six person shortlist was arrived at.
A number of those voting said they were seeking to see anyone other than Sarah El-Neil, the local association chair, selected.
El-Neil's role in ousting the previous PPC, Richard Normington, is still not clear; and there has been comment that her entry onto the shortlist followed an unusually fast-tracked approval process by Conservative Headquarters.
When El-Neil spoke about her hard work co-ordinating and directing the Conservative's campaigning in the City there were loud murmurs, and coughs, of incredulity from Conservative party members.
Michael White of the Guardian who was moderating the event noted that Conservative HQ had done a good job in shortlisting a blind man, two ethnic minorities and three women. It isn't at all clear the shortlisting was done on the basis of merit alone. Some suggested that the shortlist was intended to give no real alternative choice to El-Neil.
Before the meting started Mr White said he had first been told that the Cambridge Event was an "open primary". He said that what was happening could not be described using those words. He said that the Totnes Open Primary was a real open primary with a 25% turnout (he contrasted that figure with the number of people in the room); he said that the Totnes event had cost the Conservatives £38,000 and for that reason was unlikely to ever be repeated. He suggested the phrase "Open Caucus" as a better description.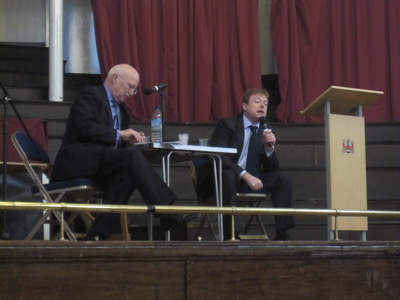 Nick Hillman answering questions at the Cambridge Conservative 'open caucus' on the 12th of December 2009.
My View
While I think Mr Hillman was by far the best candidate out of those on offer at the meeting; I think Cambridge could do better. Mr Hillman clearly has a lot to do in understanding and forming an opinion on major issues such as the development and expansion of the city.
I don't believe he will be able to get elected, in Cambridge, with a policy of seeking to charge students in Cambridge higher fees than would be charged at other universities.
I like what Mr Hillman said about working to get a fairer share of national resources for the city (a stance directly at odds with that taken by Green, Tony Juniper), but I felt Mr Hillman failed to even, briefly, explain how he would make the argument for investment in Cambridge. Clearly there was a lot which Mr Hillman was not able to present to the meeting; for example he didn't mention his work in Africa, which others are praising him for elsewhere on the web.
Residents of Cambridge have a lot to learn about Mr Hillman between now and when we'll have to make a decision of who to vote for.
See also