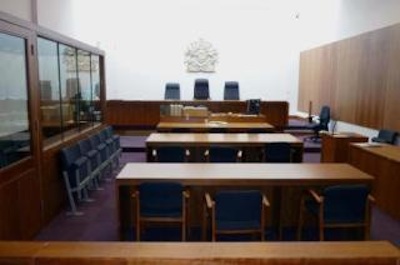 Inside Cambridge Magistrates' Court (
source
)
I went to Cambridge magistrates courts on Monday the 25th of July 2011 as this was the date set for the trial of Mr Jacob Wills and Mr Curtis-Watson following allegations they had obstructed PC Hinks in Kings College Cambridge after a protest in the city.
The case was not listed that morning. An usher, ex councillor Diane Armstrong, found out for me that it has been scheduled for a two day trial next week. I have tried to find out more information from Cambridgeshire Police but they referred me to the CPS, who I have now asked when the trial is being rescheduled.
The courts are nominally open to the public, anyone can walk in, but it is almost impossible to find out when a case you are interested in is being heard. I have tried to get information from the police, CPS, and the courts, all to no avail. The information commissioner is currently investigating the court system's refusal to give details of a court hearing without the name of the defendant being provided. Another key problem is the fact the neither the court lists (what's scheduled) or the court register (the court's decisions) are published online. Not even the full paper lists are easily available at the courts. A key problem is a terrible contract the Ministry of Justice have entered into with "Courtel" which prevents the courts publishing their own lists. There is a need for huge reform, one reason it hasn't happened is that those working within the system don't see the problem.
Even though the trial I was attending to observe was not happening; I decided to spend the morning observing the courts.
I have written separate articles on two cases I thought were particularly notable:
My Morning in Court
Section Four Public Order
I entered court two while a man was being sentenced for "section 4 public order". It was explained that the reason it was this particular offence was due to the fact the person who he admitted hitting had not wanted to make a complaint.
Magistrates asked him if he wanted to say anything himself, requesting that it not be a "statement of a political nature", he said he was "honestly ashamed" of his actions, and that the reason he'd gone to throw a second punch was that the person he'd hit had hit him back.
I wondered if this might have been one of those arrested during the EDL marches in the City. Magistrates decided they needed a pre-sentence report, they had no probation officer in court, and were told that a "Miss Bailey" was on duty, but covering both courts. The clark addressed the bench saying: "Miss Baily can be a bit of a maverick M'am even if told not to do on the spot reports, she can".
The chairman of the bench told the person being sentenced that a community penalty was being considered.
Eventually the probation officer, turned up, noted the accused's Luton Address and said the Luton probation service would need to produce the report. Magistrates adjourned the case until the 15th of August for a report. They offered a choice of 10.30 or 11am given he would have to travel from Luton again, he said he didn't mind.
The person in the dock asked if he risked being sent to prison, the magistrates said no, and were then told by their clark they couldn't say that. The chairman said that they would note that they were considering a community order, and that the guidelines suggested a community order, though stated they could not tie the hands of the future sentencing bench.
My view is that this individual could have been sentenced there and then. I don't think its right he's got to make another trip over from Luton if he wants to defend himself. I think simple cases are dragged out far too long. (The reason for the report will presumably be so that magistrates have information on which to judge if he's likely to benefit from say anger management courses, or if he is physically able to do community service, and if he's safe to work with others). I would have thought there must be better ways of working with probation boards from other areas.
Jason Bargewell, of Kings Lynn, Norfolk
Mr Bargewell entered court briefly, he was advised in court that he could have access to the duty solicitor and accepted before things got any further.
The court asked for his driving licence and the magistrate commented as he left: "He's lucky he's alive and hasn't suffered alcohol poisoning". Mr Bargewell didn't look particularly healthy to me and he was visibly shaking.
Delays
Court two was left without anything to do after Mr Bargewell, it had other cases listed but not until 11.30. The magistrates waited in court until someone was ready to come in-front of them, they asked the lawyers present if there were any cases ready to go.
As nothing was happening I went into court one, which was also doing nothing, there it was because people hadn't turned up. One had refused to leave his cell in Peterborough, another had not attended and the court clerk commented that there already two warrents out for him. After quite a long time of no action there I returned to court two.
Court two was not in session but discussing an individual who I'd watch them put out a warrant for earlier, he hadn't been present so magistrates issued a warrant for his arrest and set a new date for his appearance in court. The police had been in touch to say he was "helping them with their enquiries", but were now saying they'd bring him over. A Lativian interpreter had been in the building earlier waiting for him, but they had been dismissed and their costs ordered to be paid by magistrates when they deferred the case. The clerk asked the usher to phone the police custody suite and tell them the courts couldn't hold the individual in relation to the previously listed case as they had deferred that, and if they were bringing him into court on another matter (which appeared likley to be the case) the police, not the courts, would be responsible for arranging an interpreter.
The court issued another warrent for a further non-attender, and still having no-one present who was ready to be seen turned to some motoring cases where people had pleaded guilty by post.
A428 Speeding – 1
The court was told that at 0941 on the 10th of May Mr Sampaf (phonetic) was caught by police using a LASER speed detection device doing 98 MPH on the A428 at Madingley. He had pleaded guilty by post, including a response which said he apologised and regretted his carelessness in his rush to work. He said he followed the regulations and was disappointed in himself.
The court was told Mr Sampaf worked for the Royal Society of Chemistry as a software developer and needed his licence to keep his job, and needed his job to pay his mortgage. Mr Sampaf had sent his driving licence to the court, the clerk unfolded it and declared it "clean" (for some reason in these cases the paper copy was trusted and no reports from the DVLA mentioned). Magistrates were handed details of his income, and sentenced him to a fine of £375, a victim surcharge of £15, £70 costs and 6 points on his licence.
A428 Speeding – 2
The court was told that at 0945 on the 10th of May the police caught a Toyota Celica on the A428 doing 98 MPH.
The individual involved had pleaded guilty by post writing to say he fully accepted he had done wrong and had resolved not to do it again.
Magistrates noted he worked on the same "site" as the previous individual. His pay was higher so he was fined £450 plus £15 victim surcharge, £70 court costs and 6 points on his licence.
Common Assault and Battery
A Mr Singleton appeared in court, unrepresented at first, but his lawyer came in later.
The court heard this was the second listing of the case, but that the defendant still hadn't got his legal aid papers in.
He had a short exchange with his lawyer saying he had submitted papers and is lawyer saying he had not.
There were also problems with "the system" communicating with him at an address (in Stow-Cum-Quy) he had been banned from attending under his bail conditions, and appointments being made when he had to be at work – without enough notice to get time off.
Magistrates set a new date for the case of the 15th of August.
Waitrose Shoplifting
A Catherine Hammersy of Whittlesford admitted theft of £77 worth of goods from Waitrose in Hauxton Road Trumpington.
The prosecution stated this happened on the 21st of April at 13:40 she had placed two bags in her trolly, put items in the trolly, some hidden under the bags, then walked out the shop without paying. She was stopped right outside by security and was then very apologetic to the manager. She admitted what she had done to the police when they arrived at the shop.
A "Miss Appleton" mitigating said she wanted to make a "respectful submission" she said the crime was unsophisticated, unplanned, committed in full view of security staff, and with no aggravating factors. She said her client felt remorse and had called her own behaviour "disgraceful".
The court heard that the defendant was living with her twin 14 year old daughters and was on a range of state benefits.
She had a letter from her GP saying she suffered from depression and anxiety.
Her solicitor said the court would be wondering why she had, at the age of 46, turned to crime. She said she had split with her husband of 25 years and found that very traumatic and that had led to financial problems, losing her house and being declared bankrupt. The court was told that she had previous convictions for similar offences and had completed a previous community order successfully. She was last in court on the 6th of April, two weeks before the latest offence was committed.
Her solicitor requested a "conditional discharge", referring to the magistrates as "your worships".
The magistrates may have been impressed as a "conditional discharge" is the sentence they decided upon. The magistrates said that if she committed another offence within 12 months this offence and that one would both then be dealt with by the court in the future.
My view is that a conditional discharge isn't the right way to be dealing with a habitual shoplifter, penalties for repeat offenders should get tougher not lighter.
Sean Bond, born 19th July 1985
Mr Bond told the court that he had "made a mistake on the A10″ as he pleaded guilty to riding a motorbike with no licence, no insurance and no helmet.
The prosecution said that on the 7th of May at 17.30 two PCSOs driving on the A10 between Ely and Littleport spotted a motor bike and a quad bike drive off the forecourt of the Jet Garage drive down the A10 then off onto a public by-way. The PCSOs followed and the bike stopped (came back to where they'd got to), at which point they saw it was not a road legal bike – it had no lights, numberplates etc.
In mitigation Mr Bond's solicitor said he could have easily have ridden off into the distance, but didn't; had only travelled 440 yards on the A10, couldn't have got insurance to ride the bike on-road as it wasn't an on-road bike, was his 1st time in court, and had already paid £200 to get his bike back after the police had taken it from him. It was also noted he was stopped 40 yards from his mother's house.
Mr Bond's mitigating solicitor said that Mr Bond had a road legal, insured, quad bike and was insured on a further two vehicles, and has a good paid job working in cladding and industrial building manufacture in which he drives about 750 miles per week; yet has kept a clean licence.
The magistrates started deliberating. The clerk discussed the practicalities of points with Bond and his representative, they were told that he would need to send his licence to the DVLA, and if he didn't they would chase him for it. His representative who was new to the court (the staff asked him who he was etc.) appeared surprised that the court no-longer endorsed licences themselves. The magistrates addressed Mr Bond and told him he was "Very silly" as he "could have walked", they sentenced him to six points on his licence and a fine of £250 for the no-insurance offence and then no separate penalties for the lack of a helmet and not being licensed to ride the bike in the way he was. He was also ordered to pay £15 victim surcharge and £70 costs. Mr Bond offered to pay this at a rate of £60/month which was accepted.
My view is magistrates ought to have used more discretion to impose fewer points; given the short distance travelled on the road.
Crash – No Licence, Insurance
Next up was Georgian national Mr Anoppof born on the 3rd of September 1988. He attended in a smart suit, accompanied by his smartly dressed parents. He was mitigating for himself, he was unrepresented.
He pleaded guilty to driving a Peugeot 206 on the B1046 near Bourne with no licence and no insurance.
When asked for about his driving licence he said he previously had a provisional, but had given it up and handed it back to the DVLA.
The prosecutor said that on Toft road in Bourne he had collided with a telegraph pole and trees, and this had resulted in the police being called.
The clerk then turned to Mr Anoppof and asked if he disagreed with anything the prosecution had said, and told him it was his turn to address the court. He said "I regret what I did", he said he suffered from dizzyness/vomiting and had a mild headache on the day which he feared would turn into something worse. The medication he had in the house was out of date, and he wanted to go to Cambridge to buy some tablets. He said he knew he would be doing wrong, but put his health first, a point he made repeatedly. He said he knew the back roads to Cambridge as he had biked down them when to get to his Cambridge College. He said he had no experience driving a car, and his condition may also have affected him and resulted in him losing control.
He offered a letter from his GP, which said he had: "Benign paroxysmal and positional vertigo".
Before the magistrates deliberated he said there was no public transport available from his village at that time on a Sunday evening and "my parents are mortified".
Magistrates sentenced him to 6 points (which they said would go on any future licence he obtained) and a fine of £100 they also ordered him to pay £15 victim surcharge and £70 costs. Having reviewed his means magistrates allowed him to pay this at £5/week, but drew his attention to the fact he could pay it off earlier/quicker if he was able to.
I'm left wondering if the out of hours GP service would have been able to help this individual if he had called up. (How is this service promoted, is awareness of it sufficient?).
Two Doses of Ketamine
The next defendant pleaded guilty to having 720mg of ketamine in his possession. He had tried to enter the "Place" nightclub with it, had it found by door staff who called the police.
He said: "I shouldn't have done it, I got caught" and explained he bought it in town a few days before going to the club, put it in his wallet and forgot it was there, he said it was for his own use.
He was asked about his income, he said he was about to re-start a building job which would pay £330/week. His expenses included £80/month loan repayments, magistrates asked what this related to and he said it was for his Apple computer.
Magistrates gave him a £150 fine, and £15 victim surcharge, which this time the chair apologetically described as a "tax" he was also required to forfeit the drugs, which magistrates ordered be destroyed.
Magistrates offered him the opportunity of paying the fine off at £20/week but he said he had just had a tax-rebate so could pay it in full within 28 days; so magistrates made that the payment terms.
Drink Driving Cambourne
Mr A S P Toute of Melbourne, born on the 5th of December 1989 pleaded guilty to drink driving on the 28th of May in School Lane Cambourne.
The prosecution had the date wrong on the charge, the court accepted an amendment, and the defendant said he was happy with that too.
The prosecution said he had been drinking in a pub in Cambourne, and the police had been called to alert them to the fact he was saying he was going to drive home. The police had the details of the car, and stopped him at 00:45. He opted for a blood sample which showed 88 (the court used no units) compared to a legal limit of 80.
He said he went to the pub to see his dad, who he'd not seen for a long time and had two pints between 20.00 and closing, a period he said was 5-6 hours.
Magistrates said they had no option but to ban him, as the limit was the limit and there were no grey areas.
He was asked what he did for a living, and if a ban would cost him his job. He said he was a bin man, and sometimes drove the bin lorries; magistrates asked if he could do his job without the driving bit, he said he wasn't sure his employer would still employ him after the conviction.
He was told that a course was on offer, which would cost him £200 as he was in work (£100 if he wasn't) which if he completed successfully would earn him 25% off the ban period; though he was warned if he rejected this now he wouldn't have another chance to say yes to it (though he could say yes now and not do it). He said yes. He was warned the course had to be completed in plenty of time to enable him to apply to get his licence back.
He was banned from driving anything, even sit-on lawnmowers on publicly private ground (the magistrate thought she'd clarify that as he worked for the council) for a period of 12 months, fined £230, had the victim surcharge of £15 imposed as well as court costs of £85. Arrangements were made to pay off £80/month.
Harrassment
A Mr Pesky of Sawston, represented by duty solicitor Miss Yates pleaded guilty to harrassment in the form of sending letters, phone and text messages to a named woman. The prosecution said he'd hidden in the complainant's back garden, threatened violence, made 5-50 (missed) phone calls and sent 10-15 texts a day to her.
Mitigating Miss Yates said he had had an on-off relationship with the woman over ~10 years and thought initially this was just an "off" patch, and didn't realise she had decided to stop the relationship; and that even as he had come to realise that he had just wanted closure and an explanation of why she had decided this period of his life was going to come to an end. He said that having heard her statement to the police/prosecution he understood his behaviour was not appropriate. He denied the threat of violence, but accepted and had had pleaded guilty to the charges. She noted her client, living in the same village as the complainant, had seen her a number of times and all had seemed OK; it was also noted the police had not warned Mr Pesky about his behaviour.
Magistrates deferred the sentencing for three weeks while awaiting a probation report; continuing bail conditions preventing him from contacting the complainant and another person who had not so-far been mentioned. As with each time such bail conditions were imposed the magistrates made clear this included contact via social networks, and contacts via third parties.
Again this is rather a waste of time, as now the next court which deals with the sentence will have to hear it all again. I would like to find out more about what probation do when they assess an individual before sentencing, and why it can't be done while the courts are sitting and why more people can't go back in-front of the magistrates shortly after they've had a quick interview with the probation service – this does sometimes happen but it's rare.
One notable feature of the morning was that I saw no police officers at all.