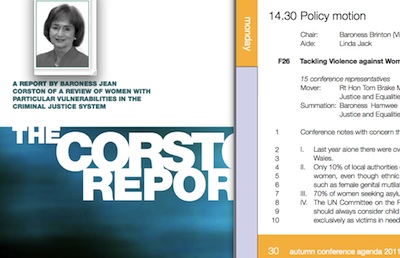 Liberal Democrats Adopt Policy of Closing Women's Prisons
The Liberal Democrats have adopted a policy of closing all women's prisons. Earlier today I watched a fantastic speech by a Liberal Democrat speaking at their conference saying the proposals were inequitable, and suggesting dropping them, but she overwhelmingly lost a vote on the matter. The Liberal Democrats apparently think men sentenced to jail should go to big nasty prisons, but women sentenced in the same way ought be held in smaller, nicer, friendly, more local "custodial units".
The speaker noted that more women sentenced to jail than men are the only practical close family member who can look after a child; there are also women prisoners who give birth and who have very young children. As I do, she accepted there clearly are circumstances where it is right to make special arrangements for certain, perhaps predominately female, prisoners. It is not though right that a jail sentence ought mean something dramatically different for a woman than for a man. That's not fair and equitable.
The vote was on a policy of:
Enabling vulnerable families to stay together by implementing the Corston Recommendations, which would see a gradual closure of all women's prisons and their replacement with some small custodial units for serious and dangerous offenders, and, for most women offenders, a larger network of support and supervision centres in the community.
Source: P.34 Liberal Democrat Conference Autumn 2011 Agenda (PDF). The result of the vote on the above paragraph was confirmed by the official conference Twitter feed.
Page 89 of the Corston report expands on the proposals:
C. Small Local Custodial Units
For those women for whom a custodial sentence is necessary, small custodial units should gradually replace the system of women's prisons which should be dismantled and incorporated into the male estate. The new units should be easily accessible for visitors, for example, in city centres. Over time they should be removed from the Prison Service and run by specialists in working with women, under the direction of the Commission for Women who offend or are at risk of offending and the structure set out in A above. Units should house 20-30 women. The target group of women offenders would be those who have been given custodial sentences of over 2 years.
The report says women who would otherwise be
Given custodial sentences of less than 12 months; and
Given custodial sentences of between 1 or 2 years but are not dangerous or serious offenders.
Ought be sentenced not to custody, but to time in non-custodial residential women's centres.
If staying overnight at a residential centre was to be introduced as a new sentence part way between a community sentence and prison than I think it is inherently unfair that it would be an option only for women. It appears grossly unreasonable to me that for the same crime, and in otherwise identical circumstances a man would be sentenced 2 years in jail but a woman could be sentenced to reside in a "women's centre".
The Liberal Democrats have adopted as party policy the all the Corston report's recommendations. Having read the report I think an underlying assumption appears to be that men and women are very different, and that men are at one end of a spectrum, women are at the other and there's nothing in-between. All male prisoners are violent thugs who need to be locked up and controlled whereas women prisoners are delicate and ought for example be given more opportunities to interact and chat with their fellow inmates if they're sent to prison at all. I think we need to consider people as individuals who are not necessarily at either extreme.
Many Liberal Democrats espose an "evidence based" approach to policy making; yet the party has adopted as policy recommendations from a report based on one individual's impressions following a series of visits to prisons and some consultation events. This of course is "evidence" of sorts, but highlights that we need to elect representatives who can assess the quality of evidence.
The report states:
A soon-to-be published report of women in custody explains how women recounted the stress that came from newly encountering the prison environment, with crowding, noise and a threatening atmosphere. They were alarmed at sharing cells with women with mental health problems and who self-harmed; they were frightened and unprepared when confronted with women who were suffering severe drug withdrawal or seizures.
I suspect many males would feel stressed, alarmed, frightened and unprepared in such circumstances too. This is just one example of many sections of the report which I cannot see why should apply only, or particularly, to women.
Another is section 5.3 which states:
Because most women do not commit crime there is no deterrence value.
The word women could be subsituted for men there;
One of the recommendations which is now Liberal Democrat policy is:
Where women are imprisoned, the conditions available to them must be clean and hygienic with improvements to sanitation arrangements addressed as a matter of urgency.
Surely male prisoners ought be kept in clean and hygienic conditions too.
The report raises a lot of significant issues, such as the proportion of those remanded in custody and spend a period of time in prison pre-trial who end up not being given a custodial sentence by the courts, but these are things which affect both men and women.
My View
My view is not that we should treat everyone equally; though that should be the starting point. We do have to be responsive to people's individual circumstances. Magistrates and Judges are already mindful of the effect of a sentence on a particular individual; sentences already differ between people depending on things like the potential impact on their employment or family lives. I think statements which appear in the report such as "Men in general appear better able to cope with institutional life" may well in general be true, but fail to appreciate that individuals are different and there will be some women who cope better than a typical man and some men who don't cope as well as a typical woman.
Local Influence of Liberal Democrat Policies on Women and Crime
For a couple of years now at there has been prostitution on Histon Road in Cambridge by the shops. These are some of my local shops, the parade contains my nearest Post-Office and late opening mini-supermarket so I visit it regularly.
A number of problems arise from the prostitution; one is the nuisance caused to local residents who not only dislike being solicited but have to deal with the detritus from the activity, including used condoms, in the surrounding area. There is also an increase general fear of crime and sense of lawlessness.
There was a debate about how to act on the problem during the policing item of the West/Central area committee. Liberal Democrat Belinda Brooks-Gordon called for no police action to be taken against the women on the grounds that "they were victims", and that there were poor rates of rehabilitation for women prosecuted for soliciting. Independent councillor John Hipkin took the contrary view, that the police should be taking action, responding to the demands of local residents whose lives were being affected, and making arrests. As Cllr Hipkin is the only non Liberal Democrat voice on the committee, and all the others were Liberal Democrats who supported Cllr Brooks-Gordon the meeting's general view that was no "heavy handed" action should take place, and the committee decided not to push for police action. The council's response to the matter is simply to put some more effort into clearing up the used condoms.