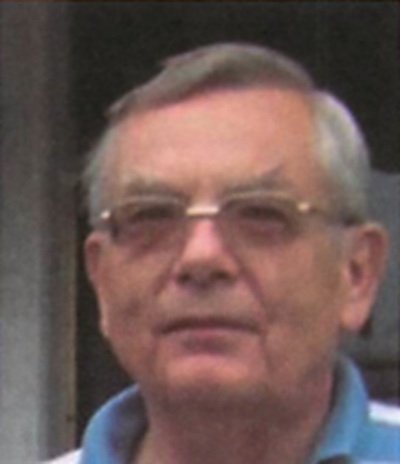 John Pye
The "Conservative Candidate" for Police and Crime Commissioner in Cambridgeshire, John Pye, is not a member of the Conservative Party. This fact emerged in public after his selection as "Conservative Candidate" was revealed on Friday the 20th of July 2012 and I noted Mr Pye's entry on the Police Authority register of members' interests, dated April 2012 did not state he was a member of the party, which it would have had to if he was.
Cambridge Conservative Agent Tim Haire, who was one of those who compiled the shortlist for the Conservative candidates in Cambridgeshire, confirmed:
He is not a party member and as I understand it will not be joining.
Party membership is declining. In Cambridge only thirty or so Conservative Party members, out of a population of around a hundred thousand, turned out for the open caucus selection event which chose the city's last Conservative general election candidate. To survive, find good quality candidates, and maintain any relevance it is not surprising parties have to look outside their own, often tiny, groups of activists. However this outward looking stance wasn't what was seen in Cambridgeshire, there was no sign of a public, open, process. It came as a surprise to me that evidently the process was to some extent "open", albeit not in a public fashion, to those who are not party members.
The lack of awareness of what was going on, outside a core Conservative party clique, is shown as on the 22nd of July, John Elworthy, the editor of three local papers in the Cambridgeshire police force area, tweeted to ask Conservative Cllr Steve Tierney:

"Did you know your party was prepared to support an independent? And why didn't press or public know? "
Conservative Cllr Victor Lucas, speaking in Ely on the 18th of July 2012 mentioned Conservative Central Office was encouraging the selection of non-party members but as the Cambridgeshire selection results were about to be announced by then, I thought he was talking about elsewhere in the country.
I have discussed Mr Pye's selection with a number of people over the weekend, and even among those with pretty good knowledge of local politics and the commissioner elections, representative responses have been:
Who's John Pye?
and
Now that's just ***** confusing
I asked Conservative Cllr Steve Tierney, who had a role in his party's candidate vetting, how Mr Pye was nominated, and if there was an open process, he replied:
He got selected by central, then by vetting committee and then by members. Pretty straightforward really.
Cllr Tierney also revealed that decisions on how the selection was run were taken "above county level".
Ineligible
As well as not selecting a Conservative as "their" candidate, it appears Cambridgeshire Conservatives have also selected someone who is ineligible to stand.
Section 65(4) of the Police Reform and Social Responsibility Act 2011 lists Police Authority members as among those disqualified from election or holding office as police and crime commissioner.
It may be that Mr Pye, and the Conservative Party, think there is a loophole which can be found, via which he can resign as a member of the authority prior to formally becoming the candidate; however even if such a loophole is found to exist his actions would in my view be against the spirit of the law pushed through as one of the Conservative's flagship policies. The clear aim of the legislation in my view is to provide a clean break from police authorities, that is not something Mr Pye offers.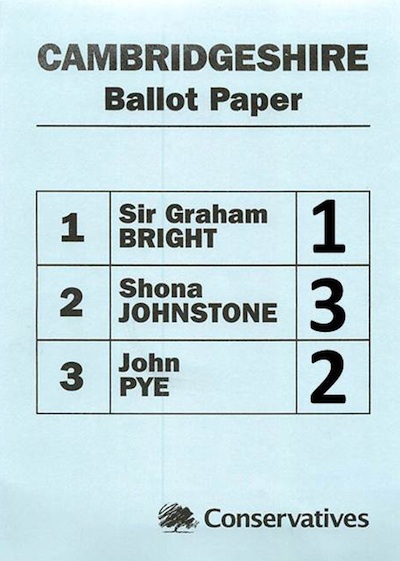 Cambridgeshire Conservative Police and Crime Commissioner Selection Ballot Paper
Silent
Mr Pye has been a member of the Police Authority since 2009; I have observed many meetings of the authority and its committees. I have never observed Mr Pye make a substantive, never mind particularly noteworthy, contribution.
A search of my website, on which I have reported many meetings, reveals just two hits for Mr Pye. One relates to the Police Authority's Twitter feed, where having heard a report on the number of followers the authority had Mr Pye stated the number of followers wasn't that important as messages could be "bounced on to others". (Source)
The second is the most recent police authority meeting, where Mr Pye asked two questions, one requesting information on the potential for a precept rise by a commissioner to be made public and the other asking if the police understood why people's perceptions of the police were declining.
At that meeting John Pye voted, along with all but one of the authority members present, to continue to work up a business plan for the wholesale privatisation of the police's "back office" / "operational support" functions to G4S. Mr Pye will stand for election as commissioner with this record behind him.
Not Personally Contactable
As a member of the Police Authority Mr Pye has not provided the public with a personal email address on which he can be contacted. Instead the link to "Email John Pye" on his member's page goes to the generic Police Authority contact address; he hides behind the secretariat.
As far as I can find Mr Pye has not tweeted and blogged or made any effort to communicate with the public as he has been carrying out his role on the police authority.
As a member of the public using the public speaking slot at a number of authority meetings I have felt Mr Pye, and other members (notable exceptions being Mr Wilkins and Mr Lee) have dismissed and actively ignored the public contributions.
Opportunity to Assess on Past Performance
Mr Pye has had the opportunity to demonstrate, in practice, how he will behave in office. We don't have to assess him on what he says he will do, we can look at what he has done as a member of the Police Authority where he has already been responsible for setting police strategy, hiring and firing the chief constable, and holding the police to account for a number of years.
If the Conservatives want commissioners to be high profile individuals, their choice of Mr Pye is surprising, as he has, in is role as a Police Authority member been a quiet, almost silent, background figure.
Pye's Platform
Mr Pye sent a two page statement to Conservative members eligible to vote in the ballot held to select their candidate. I have been sent a copy by a party member and have made it available on my website. Mr Pye did not clearly state he was not a Conservative party member. He wrote:
I am Conservative through to my bones
Note the capital "C" in "Conservative" which suggests to me he is referring to the political party.
The statement does go on, he adds: "but I'm also non-political. My conviction is that the PCC must be, and be seen to be, non-political and impartial. And that is the position I will take." It's far from impossible a Conservative member could make such a statement, with an intended meaning along the lines that they will represent all their constituents if elected. It's hard to parse, and comment on, Mr Pye's statement as he has confused "political" with "party political".
Mr Pye adds:
We will all agree that it is vital to make a success of this flagship Conservative policy
If not read carefully, with an analytical mind, the impression given by that statement could easily be that the "We" refers to the Conservative party.
Mr Pye's promise to be non political falls down by page two of his statement where he promises to "seek the party's advice about choosing a part time deputy and the setting up a small advisory panel to help me in office to test ideas and understand what the public want". No offering is made to involve other parties, or the vast majority of residents of the force area who are not members of any party.
Beyond the appointment of a deputy and advisory panel the only other think even vaguely like a policy is a statement that he suggests he would want to continue "working effectively with community safety partnerships".

A very worrying statement made by Mr Pye is:
Unlike other Forces we do not have the spectre of front line cuts
to hear this from a current Police Authority member is worrying. Presumably he doesn't see fewer police dogs and handlers as a front line cut or the 80% drop in the use of a police helicopter in Cambridge as a front line cut. Even if Pye is referring to police officer numbers, which have been maintained in Cambridgeshire to-date, its not true to say there isn't a "spectre" of cuts. The Chief Constable has made clear that there is uncertainty over future budgets and a key decision for the incoming commissioner and chief constable will be if to go-ahead with planned recruitment in spring 2013, and if so, how to pay for it.
Mr Pye states

…there are only 86 working days between taking office and the end of the financial year. There is a lot to be done in that time including the technical and statutory business of becoming what is called a Corporations [sic] Sole
This is nonsense; a commissioner will on election be the type of legal entity known as a "corporation sole", there is no "business" whatsoever involved, no one to register with, no forms to fill in! More importantly Mr Pye appears to be taking the Police Authority's current line that the commissioner will not really take control until April 2013, this is simply not the case. I would like to see a commissioner take the reigns from day one, and begin, for example cutting down the spending on the million pound a year secretariat, that is the Police Authority, the expensive staff of which Pye his fellow members appear determined to see stay in post for months after the commissioner elections, or perhaps longer.
Mr Pye has a website at: http://www.jpforcambridgeshirepcc.co.uk. One page of the site states that he is the candidate who:
Will make a success of their first term to put the Party in the best electoral position next time round
This makes a mockery of his attempts to suggest he is not a partisan politician.
While Pye's website, like his statement to Conservatives, is light on policy and focuses on a description of the Police and Crime Commissioner role, there are a few policies:
Improved public confidence in policing
Improvement will come from openness and by developing effective ways of engagement to identify and respond to the public's key priorities and concerns. I would appoint a part time deputy and a small representative advisory group to help me test ideas and help me understand what the public want.
While I agree with the first sentence, I disagree strongly with his proposed approach of surrounding himself with a small group of appointees, who we know from his promises to the Conservative party, will be appointed upon the advice of that party. I would rather see democracy in-depth, and have local councillors empowered to set their local police priorities and hold their local police to account. That, representative local democracy, should in my view be the foundation of public engagement. Encouragement should be given to councillors and the public to raise strategic and policy concerns at the local level so they can be considered and passed on. Elected representatives, particularly members of County and District council scrutiny committees, and the Police and Crime Panel, should be those the commissioner primarily turns to act as the public representatives. These are representatives chosen by the people, not cronies appointed by the commissioner on advice of "his" party.
A healthy police volunteer network. I would foster a vibrant police volunteer network.
That hardly sounds like a developed policy; but it if it for example means making the most of Special Constables I would support it wholeheartedly. My view is that schemes like Speedwatch (volunteers with speed guns) have had very mixed success, and I am quite concerned about the effort spent on some volunteers, such as Neighbourhood Watch, and Cambridge's Lil Speed (who runs a private local policing meeting), and think the effort would be better directed to open public engagement, not least to avoid duplication.
more emphasis on tackling antisocial behaviour.
I don't think the use of the term "antisocial behaviour" is at all useful, because it is used to mean such a wide range of things, from the non-criminal, and perfectly legal, "gathering" through to serious violent crime and drug taking, and in some cases the term is even used for speeding drivers. I think it would be best if we stopped using the phrase and talked instead about the actual crimes, or behaviours, which are causing a problem. Personally I don't want to see more emphasis on tackling things which are only considered anti-social behaviour and not otherwise criminal; I want to see crimes particularly those which cause injury and serious disruption to people's lives, dealt with and preferably prevented.
Why should Cambridgeshire continue to be the 2nd lowest funded Force per head of population?
I'd like to see a commissioner who would be proud of running a force which was one of the most economically efficient in the country. I'm not a Conservative party member, but I am economically a conservative, and want to see taxpayers money (including my own hard earned taxes) spent as efficiently as possible. A commissioner will have to do a lot of work to ensure Cambridgeshire gets a good deal nationally, for example to ensure it gets the services it requires from the national bodies, particularly the new National Crime Agency, but I don't think lobbying for additional funding, ought be the starting point. If all commissioners took this view, and all wanted their per head funding to be increased to the average, that would push the cost of policing nationally up, and increasing public spending isn't something I'd expect a Conservative endorsed candidate to be proposing.

Technically aware voters might wish to note Mr Pye uses a "@aol.com" email address.
JP
John Pye's first name is actually Alan. He is called "JP", although he isn't a JP.
His register of interests at the Police Authority indicates Mr Pye lives at 44 Hamerton Rd, Alconbury Weston, Huntingdon, Cambridgeshire PE28 4JD.
What Next?
As the party machine hasn't selected a Conservative candidate perhaps local Conservatives who have shown an interest in standing for commissioner, will stand anyway? Cllr Matthew Lee from Peterborough for example is still making more noise on the Police Authority than he did before expressing an interest in the role.

We could see "Conservative endorsed independent" Mr Pye vs "Independent conservative" Mr Lee. If that doesn't give the average voter a headache the ballot paper where putting an "X" next to your preferred candidate doesn't guarantee your vote will be counted might push them over the edge.