Cambridge City Council's bid to the Heritage Lottery Fund to do £4.4 million pounds of work on Jesus Green has been rejected by the Lottery.
This is excellent news as the bid contained plans to fell 59 trees and pave over huge swathes of grass. The trees, and the grass, are safe for now. Two of the substantial green spaces given a reprieve by this announcement are pictured below: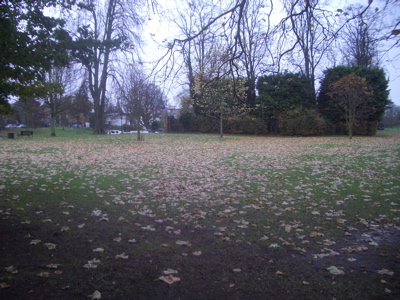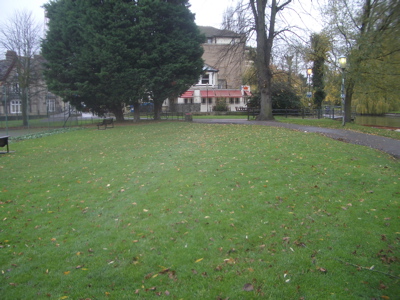 While we do not know the reasons for the Lottery decision, there had been widespread opposition to the City Council's "grandiose" plans for Jesus Green. At a Jesus Green Association open meeting in December 2008 eighteen people spoke against it, and only one spoke partially in favour.
Despite the public opposition, and lack of arguments in favour of the scheme, both Liberal Democrat and Labour City Councillors have both have expressed disappointment at the fact the council's bid was not successful.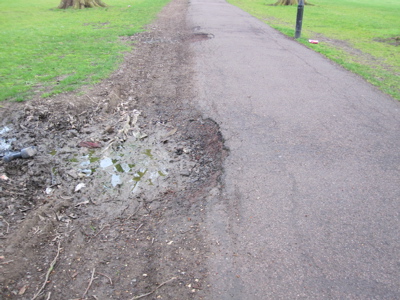 The lottery was to provide £3.3m, and the City Council was to find £1.1m towards the project. The City Council appeared to have* stopped spending money on essential maintenance of the green's paths and facilities so that the money could be saved, and put towards the council's contribution to the lottery project. I hope this money will now be released and maintenance can be rapidly caught-up on. Improvements and maintenance of the skate park and toilets might now be possible. The image shows the current state of the path under the Plane Tree avenue. The Lottery's rejection of the bid ought, ironically, prompt work to genuinely improve Jesus Green.
Remaining Threats
Jesus Green is still under threat though, the City Council still has plans in place for further development on the green to be paid for by contributions from developers who are building new homes in the city. Current proposals include:
A "multi-use games area" (an all weather pitch).
A "natural play zone" incorporating high wire play equipment.
Additional tennis courts.
The multi-use games area and the tennis court would result in the loss of green space. While approval for all these projects has been given by councillors, they have said they are still up for discussion.
There is also a current planning application from EDF electricity to use part of Jesus Green as a compound during works on Thompson's Lane substation. The compound is to be on the green for 18 months, but EDF's plans include felling the entire cherry tree avenue between Portugal Place and Jesus Lock. The City Council has said it is not willing to give permission for EDF to use the green.