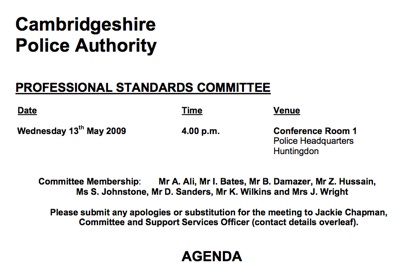 I observed Cambridgeshire Police Authority's Professional Standards Committee on the 13th of May 2009 and watched Independent Police Complaints Commission (IPCC) commissioner Len Jackson contribute to the committee's discussions.
Main points:
89% of complaints against the police are deemed "unsubstantiated". According to the IPCC commissioner this is so high because the system is flawed and needs reform. The police complaints system is currently unable to deal with complaints for which one individual officer cannot be held responsible.
The IPCC is financially stretched, to such a point it is unable to fulfill its role. One of Mr Jackson's fellow commissioners, John Crawley, resigned from the IPCC due to the organisation's ineffectiveness.
Mr Jackson started by saying that now the IPCC is no longer "new" it is not getting preferential treatment from central government with respect to its funding (it was established in 2004). He said it was now "in the pot" with everyone else. Funding issues had been compounded by the G20 investigations which had resulted in investigators from all IPCC regions being sent to London. He noted this was very expensive and central government were putting up extra funds to cover hotel and food costs for those individuals. This had resulted in a situation in Cambridgeshire and other regions where the "number of live investigations exceeds the organisation's capacity", even if given the extra funding the organisation required he warned it would take time to train up new staff. He said that even those complaints which "engage article 2″ (Article 2 of the European Convention on Human Rights – The Right to Life) were not being investigated by the IPCC directly, but were having to be conducted by another force or run as "managed investigations" rather than independent investigations by the IPCC.
Mr Jackson described the current situation where once again we have police forces spending time and resources investigating each other a "retrograde step".
IPCC's Policy Role
An interesting section of Mr Jackson's presentation referred to the IPCC's role in monitoring (and shaping?) police policy. He appeared to me to be suggesting that in some areas the IPCC ought take a greater role in developing policy on things like Firearms, Custody, Mental Health, and Police Communications. He noted the recent work the IPCC had done in the area of mental health, and suggested that the IPCC could do more of that kind of research and policy development work. Mr Jackson referred to the Association of Chief Police Officers (ACPO) [A secretive private company, not subject to the Freedom of Information Act] which currently produces national policy on such areas and said "there are things we can get to ACPO can't". He didn't expand his reasoning further, but reported that the IPCC were planning to stop focusing on the smaller policy portfolios and concentrate on those major areas I have listed. I think the IPCC ought to have input into policy development, though that is an aside with respect the primary current problem of a lack of openness and transparency with respect to ACPO.
Local Region
With respect to the region he said that up until ten days ago (3rd May 2009) it was "very calm", but said there had been a couple of serious cases in the last week / ten days one in Hertfordshire (presumably the death of Jason Hearn and one in Cambridgeshire. He said the Cambridgeshire case was being passed back to the force to investigate and noted the IPCC's regional response and decision making times were increasing.
Who Pays?
Members of the Police Authority asked who pays in the case of one force investigating another or in the case of a managed investigation. They said they understood it was the IPCC in any-case so that didn't help the IPCC's financial position.
Mr Jackson confirmed this was the case at the moment, but implied he was expecting things to change as he said: "This Home Office is dragging its heals in this area, we want to see what happens" he added "Ministers might fund an independent investigation on an ad-hoc basis as happened with G20″. I think this is a worrying state of affairs as it allows political considerations to come into play before a decision to investigate or not is made. If we are going to have an Independent Police Complaints Commission we need to allow it to operate independently.
The Complaints System
Mr Jackson, speaking slightly later in the meeting spoke of a problem with the current complaints system which can result in a complaint from a member of the public being considered "valid" but as no individual officer can be identified as culpable it cannot be "upheld". This he said underlay the fact that 89% of complaints were not upheld (found "unsubstantiated" is the word used by the IPCC 07/08 statistics). Mr Jackson pointed out members of the public who complained, with valid reasons, only to have their complaint determined to be "unsubstantiated" because of the way the system requires a individual officer to be culpable resulted in complaints not being satisfied with the outcome.
He said that a public consultation was to be held (presumably by the Home Office) in June 2009 to look at solving the current system's flaw of not allowing the outcome of: "valid complaint – no officer at fault"
I believe this change, if made, will allow complaints about systemic problems, such as the police's harassment of photographers, to be dealt with. In Cambridgeshire the police it might result in officers being required to follow the PACE Codes.
Members of the Authority asked Mr Jackson about complaints arising from the force's failure to meet its policing pledge. They noted that the pledge would raise expectations and might result in more complaints. Mr Jackson said the IPCC is "not keen on arbitrating pledge complaints" and "had no wish to see the pledge as part of the complaints system" he said the IPCC was proposing pledge complaints ought be considered a "misconduct matter". Mr Jackson said that Cambridgeshire Police's Deputy Chief Constable John Feavyour was drafting a letter, for Home Officer Minister Vernon Coker to send explaining how pledge complaints are to be handled. (An bizarre state of affairs – the police drafting a letter for a Minister to send back to them!)
Openness and Transparency
The involvement of IPCC representatives in the meeting was not mentioned on the agenda. I am meeting the Chief Executive of the Police Authority on the 8th of June 2009 to discuss openness and transparency within the authority and will suggest that in future IPCC involvement ought be reflected in the published meeting papers.