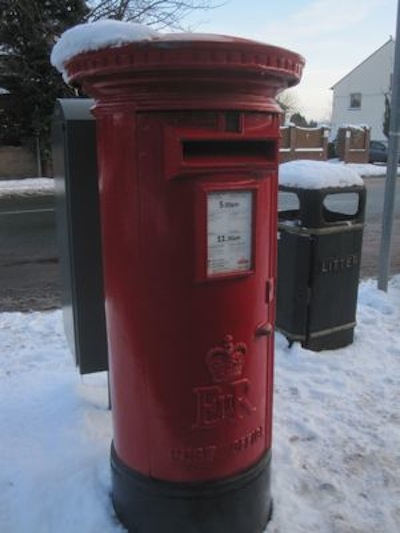 After Days Battling With a Companies House Online Form I Resorted to the Royal Mail
Encouraging people to start and run companies is essential for the UK's economy. There is huge potential for making small companies' interactions with Government simpler and cheaper and to remove some of the hurdles those running smaller companies currently face.
Something to Aim For
For many companies and sole traders with straightforward affairs tax and legislative compliance could be almost entirely automated. One could run the company via a single bank account, information from which could be extracted and sent to HMRC via an automated web-system following the provision of some additional information to enable the classification of transactions. On the 27th of November I spoke to Cambridge's MP Julian Huppert about opening up both the UK state owned banks and the HMRC to enable and encourage the public provision of this kind of system. I followed up with a tweet saying:
@JulianHuppert HMRC and banks working together via http://uk.xero.com like service could scrap small business tax forms and hassles.
While expensive software, and professional services are currently available they are largely exploiting the fact that dealing with the state is currently too difficult for small companies. Instead of seeking to render these services redundant by improving the way HMRC and Companies House work directly with companies it appears the Government is keen, by providing poor services themselves, to keep them in business.
Current Problems
There are a huge number of problems for those trying to work with HMRC and Companies House's online systems. One of the basic errors has been the decision by both organisations to use complex PDF forms. These are simply the wrong technology for the job. Everything which is done by the forms embedded within the PDFs could be done with web-based forms. Whereas the PDF forms are very demanding in terms of the precise versions of Adobe Reader software they require to work and come with many pages of instructions on how the document's security settings need to be adjusted to function it would be possible to make web-based forms work in effectively all web-browers.
Personally, over the last four days I have been trying to use the Company's House accounts submission form. I used three different Adobe Reader versions, two different computers (one Mac and one PC), and tried a number of times to start again with new forms and re-type my information. I tried all-sorts of possible ways to try and remove any problems, for example getting rid of any unusual characters such as £ and & signs from my submission, but all to no avail.
The internal validation in the form was broken; sometimes changing between pages and not editing any content would make the difference between passing and failing the validation. At one point submission appeared to work, with a progress bar showing the form was communicating with Companies House, however at the end of the process the form did not become an uneditable PDF as promised and a yellow bar appeared at the top of the document – an alert stating some functions were disabled due to the document's security settings. As I never obtained a confirmation email (Companies House says one ought be expected about three hours after submission!) it appeared I had not been successful.
Even with security settings adjusted about the best response achievable was: "failed to process submission [xdp2xml]". Having exhausted all possible ways of trying to submit online I resorted to a walk through the snow to a post office to send in a paper copy.

In November 2010 Companies House announced their vision to become a fully electronic registry by March 2013. This is subject to consultation and regulations being passed by Parliament. While I would like to see a fully electronic system there is a need for much more robust and easy to use systems before the paper option can be removed.
Combined HMRC and Companies House Joint Filing
Clearly the idea of being able to file accounts with Companies House at the same time as submitting a corporation tax return is a good one. However the implementation currently is terrible. The main problems are:
Companies House doesn't trust HMRC to authenticate those logging in on behalf of companies; to use the joint filling system it is necessary to give the HMRC form login/authentication details obtained from Companies House.
Accounts information required by HMRC for small and medium sized businesses vastly exceeds what is required to be put on the public record at Companies House. The combined system does not provide any assurances about what information will be passed to Companies House.
A flaw in many HMRC systems is that it is impossible to find out what is required before actually coming to do something. I think it is important for those considering starting a business, or for those considering doing something in a new way (for example joint filing) to be able to see what would be required of them in advance.
Conceptual Problems
One of the conceptual problems the HMRC has is that it highly regulates the type of software which can be been used to submit information to them. This is required at the moment as there is no opportunity to check information once it has been submitted to HMRC. HMRC could allow any software to pass data to HMRC but deal with the final step of checking and approving the final "forms" directly on their website. I think this would be a desirable workflow to offer.
HMRC ought provide basic online web forms for corporation tax returns in the same way as they do for personal tax returns.
Other Problems
The internet is full of problems people have had tackling the HMRC's online services. My own company has been asked to submit paper copies of documents after filing them electronically; something which it can be seen online happens quite regularly. Also tone of letters from HMRC (like letters written by TV Licensing) is generally accusative and slightly threatening whereas initial correspondence about problems ought be more positive and aimed at resolving any problem.
I know of companies which have been threatened with having their assets sold for an alleged failure to submit a "P35″ annual PAYE P35 return and a company threatened with being struck off the register of companies because HMRC had wrongly and inexplicably gained the impression the registered address was no longer valid. (Problems with P35 submissions and HMRC being trigger happy with penalties reported extensively online (from 2007 to 2008 and still happening this year, more); there are clearly problems with the HMRC's systems, I cannot see why especially for those filing electronically any problems can't be notified as soon as they arise by email; issuing penalties many months later without any warning is not a right and proper way to behave).
Company Taxation
While this article is not focused on compliance requirements or taxation levels themselves, but on the difficulties government creates for those trying to deal with government online it is probably the right place to note that I think the coalition's decision to reduce Corporation Tax by 1% from 2011 is a good step. I think though that for smaller companies and especially entrepreneurs running a number of companies the savings in time and professional fees from shaking up government's interactions with small companies has much greater potential to encourage economic activity.
Another key area which I think needs reform is VAT. So many sole traders and small businesses operate below the VAT threshold to avoid the step change in compliance requirements, and to avoid being subject to the immense powers of VAT inspectors. The Federation of Small businesses this month has been calling for an increase in the VAT threshold, I think this would be an easy way to give a boost to many small businesses and small traders.
I think also needs to be made much easier to employ people, when I spoke to Mr Huppert about this I mentioned the French system, I followed up with a tweet saying:
@JulianHuppert I also mentioned the French "Cheque Emploi" system http://bit.ly/fPEPy4 (inc. small biz version) Concept cld -> paperless.
I think that those working for small companies have different expectations, and different needs for protection than those working for larger organisations. Smaller companies need more exemptions from employment law.