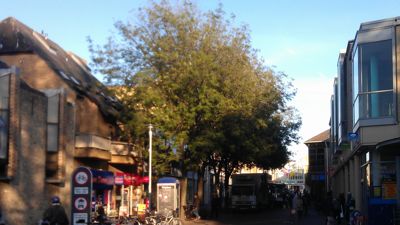 Liberal Democrat Run Cambridge City Council Is Proposing to Fell Two of the Four Trees Outside Waitrose on Fitzroy Street
Cambridge City Council are proposing to fell two of the four trees outside Waitrose on Fitzroy Street in Cambridge.
A consultation was run. I use the area regularly and noticed signs on the trees on the 14th of October; the deadline was Wednesday the 19th. The results of the consultation are to be reported to the West/Central Area Committee at its meeting on Thursday 3rd November 2011.
It is notable that while the city council are still hosting the document describing their proposals they appear to have removed all links to it from their website following the closure of the consultation on the subject.
I have responded to the consultation:
Dear Cambridge City Council,

I am writing to object to the proposed felling of two trees on Fitzroy Street.

One reason I am objecting is to seek to ensure this significant decision which will have a large impact on the street is made by democratically accountable councillors and not council officers.

I think too often the council turn to felling trees as the first option instead of the last when a problem arises.

I have seen a number of similar cases where councillors have been able to push to keep trees where the council's team of tree officers are revving up the chainsaws. An example is on the path between Crowland Way and Campkin Road; North Area Committee where a path was resurfaced over tree roots after months of tree officers insisting the tree had to go.

It cannot be beyond the wit of man to come up with road surfacing options which would allow the trees to be retained. I would like properly considered and costed options to be presented to councillors (and the public) which involve keeping the tree so that a balanced judgement can be made. We need to know what keeping the tree would involve – how often it is expected any resurfacing or plinth structure would need to be renewed or repaired and what kind of cost would be involved.

As trees get older and more established roots rising above ground level is a common occurrence, it is something we have to accept and deal with if we are to have mature trees in the streets of Cambridge. I value the presence of mature trees within central Cambridge.

I think the West/Central area committee has been historically far too happy to accept things council officers say are impossible are impossible (eg. Mounting a streetlight at Butt Lane or fixing the wall at Round Church Street wall).

I note the proposals state having trees of different ages on the street is good in terms of planning for the future to ensure a continued presence of substantial trees. I agree, but would suggest this can be achieved by planting new trees and is not dependent on felling two existing trees.

I am sending this response in on Wednesday the 19th of October; the council's HTML webpages stated, and infact still states just "Wednesday the 19th" as the deadline; however I have now seen that deep within the downloadable documentation a deadline time of noon is given. I suggest this was not given sufficient prominence and therefore this representation and any others sent in after noon on Wednesday ought be accepted.

I also note I tried a number of different PDF readers which could not open the council's electronic form for responding.

Regards,

–

Richard Taylor
[Full address]
Cllr Julie Smith, as previous Executive Councillor for Green Spaces, introduced a policy of only allowing tree felling proposals to be put to the public when an Executive Councillor had approved doing so. This was to reduce the number of fellings proposed by council officers and being put out to consultation despite councillors not having any likelihood of supporting them. It's not clear if this policy has been continued and if the currently proposed fellings are a serious proposition which some councillors are supporting, or just the work of an over-staffed, tree team within the city council looking to create some work.
Cambridge City Council has 4-5 tree officers, who don't do any tree work themselves, they just write reports and hire others to wield the chainsaws.