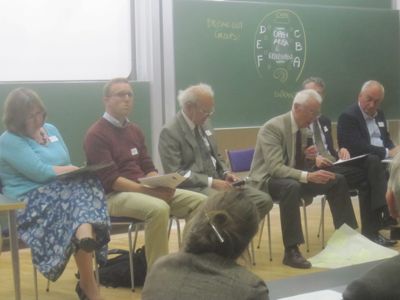 CPPF Localism and Planning Event
On the evening on the 14th of July 2011 I attended an event run by Cambridge Past Present and Future on localism and planning.
The focus was on the Localism Bill.
The key points I took away were:
The "Neighbourhood planning" provisions in the Localism Bill are democratic in relation to areas with parishes (typically rural areas) but appear undemocratic for urban areas, especially as in urban areas many different communities tend to occupy the same geographical areas. Section 61F (5)(C) of Schedule 9 of the Localism Bill says that a group of just 21 unelected individuals may be designated a neighbourhood planning forum where there is not a parish. (There were concerns even in relation to rural areas that some parish/town Councils are controlled by "factions" of residents).
Attendees, including me, struggled to come up with any solid benefits of the proposals in the bill. The bill was certainly not something the group of people, all keen to get involved in thinking about the future of Cambridge, were eagerly awaiting becoming law. In summary the hope was simply that the changes might prompt councils to do what they ought already be doing, consulting with and engaging people, particularly in relation to the local plan – but doing it better.
Examples were given of areas where Cambridge planning were considered to have recently failed were raised; for example lack of provision of infrastructure such as shops and internet on new development sites. The Liberal Democrat's policies on so called affordable housing were criticised. The point was made that even in the award winning Accordia development the affordable housing and million pound plus houses were not planned in such a way to create a cohesive community (as is found across much of the established city).
There was hope that one area increased local involvement in planning might help is with engagement with local people helping planners get things right, and ensure residents' voices have a greater influence where currently commercial interests, particularly those of developers and banks, appear to be those given most weight.
Patsy Dell – Head of Planning, Cambridge City Council
Cambridge Past Present and Future has published Patsy Dell's slides (PDF).
The main message from Patsy Dell's presentation was that there is still a lot of uncertainty about how planning might change following the enactment of the localism bill, as the bill is expected to change dramatically as it continues its passage to becoming law. The history of Cambridge planning was briefly outlined, we were told a "restraint agenda" had been followed since the 1950s to protect Cambridge as a university town. In the late 1990s (when Dell had stopped working for the council for a period) due to pressure of house prices and increased commuting into the city the policy of "restraint" was abandoned in favour of expanding the city. Patsy Dell said how in the 1990s when the expansion was first being discussed there was a mature debate and some excitement about "building the city of the future".
On subjects other than expanding the city, Dell spoke about protecting pubs and the Mill Road independent traders as other planning matters which the public in Cambridge clearly took an interest in. She suggested that pubs could be protected via the local plan.
On how the planning environment had changed, she said the driver was no-longer top down housing targets, but "housing need".
Dell spoke about how it was hard to define a neighbourhood in a city, she said she lived in Cherry Hinton and that she saw her street as her neighbourhood. She appeared to suggest that neighbourhood planning forums within the city would be democratic.
The intense debate of what localism should look like in Cambridge was mentioned, with Dell referring to the "great history of area committees". She then shared that she was thinking about how they would "play for real"; before adding that "play for real" was a phrase which she wasn't really allowed to say (perhaps that's a bit of planning professional's jargon?). She said she expected the localism bill to result in greater community engagement and for the role of councillors to become that of "place leaders" doing "place leadership".
Dell said that the new post-localism bill planning environment would be all about a partnership, with the planning authority helping, supporting and facilitating. She said there was a need for innovation and to "make it fun". She called for "more competitions" and to move away from the "traditional and standard ways".
Dell spoke about encouraging residents associations, and groups such as friends of green spaces.
Turning to safeguards, Dell said that planning policy would still be "tested" by independent people.
Speaking about pilots of localism and neighbourhood planning, she said that "project management", "clashing with the statutory development plan" and "the boundaries of the neighbourhood area" were problems which the early-adopters had faced.
Sean Traverse-Healy
Mr Traverse-Healy, a parish councillor, speaking on behalf of CPRE (Campaign to Protect Rural England) shared his views with those present. He said he was a devout localist, but pointed out the potential pitfall of a consultation and community based system which might not involve a significant fraction of the population:
If you're not there you're wrong
He too raised the point that people would be constrained by existing local plans.
His advice to those considering working on neighbourhood plans was "don't waste your time"; he suggested waiting to see what the new legislation looked like first.
The most interesting part of his presentation was a summary of how local councils in Cambridgeshire are preparing:
Huntingdonshire: Considering a template to give out to those wanting to make neighbourhood plans.
East Cambridgeshire: Has sent a questionnaire to all parishes (which don't have a parish masterplan) – the questionairres contain maps with suggested proposed sites. Mr Traverse-Healy said that drawing lines on a map was sure way to get people interested!
Peterborough : No response to Mr Traverse-Healy's enquiry about what they're doing. Rumoured to have abandoned a plan to ask all their rural parishes to unite and come up with one plan between them.
South Cambridgeshire: Deferring any action on the grounds the legislation hasn't come out
Fenland: Saying that no consultation on localism was planned as they'd already done it, but then coming out with a consultation to be run for six weeks from the 24th of July, a timing which Mr Traverse-Healy said suggested they didn't want responses.
Mr Traverse-Healy highlighted that the mechanisms in the bill cannot be used to stop allocated development; but could propose more development, and might be able to tweak design/direction of what would happen already.
He said the key document remained the local plan. He expressed the view that the important thing is dialogue with the local authorities about their local plans, he suggested parish councils and others considering neighbourhood plans as proposed by the localism bill ignore those and focus on lobbying their local planning authorities to modify their local plans. He did say though that a neighbourhood plan might be one route to doing that, and what is proposed in a neighbourhood plan might be incorporated into a local plan.
He raised the concern of judicial review overturning neighbourhood plans if rigourous and onerous due process was not followed, and could not be proved to be followed.
Mr Traverse-Healy spoke about government funding, saying £20K payments had been made to groups wanting to make neighbourhood plans, but there had been no applications from Cambridgeshire for the first slice of the money.
Parish plans will be put to a referendum; he said this was an important safeguard as "local factions can get into parish councils".
Discussions
After presentations there were small group discussions.
One problem was that the first question was "How can Cambridge citizens take advantage of the planning provisions of the new Localism Bill?" some people simply echoed what they had been told during the presentations and it wasn't clear if the question was asking what the opportunities the bill might offer, or how people might like to use those opportunities.
In my discussion group we focused on possible opportunities for local energy infrastructure, such as community photo-volatics, or community combined heat and power. We also discussed other types of infrastructure such as internet.
There was general agreement that the main thing it was important to influence was the local planning policies contained in the local plan. One particular concern was that many local plans are old, and have been written in an environment of top-down housing targets, there was a question of if they could be reviewed rapidly.
There was a concern that the new provisions in the act might increase the divisions between the "community" and "local government planners" as the latter stuck to their "does it comply with policy" view of the world rather than being responsive to what people were asking for.
Turning to the next discussion points of obstacles and challenges, and how to overcome them again the focus was on planning officers. Those present, some of whom were planing professionals, questioned if planning officers would be able to change the way they work and really turn into people who could facilitate effective community consultation.
The problem within a city of many overlapping communities, or even people living in an area with no, or little connection to it other than being a place where they slept, was discussed.
Concern about the lack of democracy in the government's proposals (which allow any 21 people in cities to get together and come up with a neighbourhood plan) were raised, the referendum safeguard not being considered strong enough due to the fact turnout could be very low. The opportunities for niche groups such as political parties to unduly influence the outcome was raised as a concern. (That latter point wasn't introduced by me!)
The problems of enforcement, and standing up to developers who didn't want to put facilities in new developments, and just wanted to make as much profit as possible were raised, with examples of where this hasn't happened in Cambridge.
David Farmsworth from the Bristol Neighbourhood Planning Network was present. When I described the current devolution of planning decisions to Cambridge's Area Committees, explaining the Liberal Democrat run council's view was that anything bigger than a couple of flats/houses was considered to have city wide impact and had to be considered by the central planning committee he was surprised. Even Cambridge residents appeared surprised by relatively small degree to which planning has been devolved to area committees already (given the significantly larger degree localism proposed in the localism bill).
In the summing up by representatives of each discussion group points I noted included:
It's currently much easier to object to a planning application than to get involved in positively thinking about the future of an area; hopefully this will change.
There is currently a mismatch between the well resourced actors, including supermarkets and even local councils, and groups of residents.
Concern about the presumption for development in the localism bill was again raised.
Encouragement of involvement in the existing (local plan) process was highlighted as a possible positive outcome.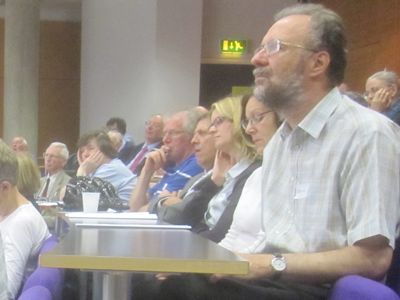 Foreground: Cllr Tim Ward, Cambridge City Council Executive Councillor for Planning Policy and Growth of the City
Councillors
Orchard Park Community Councillor Clare Blair was present; she was very loud during the discussion session, some of her contributions to her group could be heard by everyone. She was, for some reason, in a group of district and county councillors and officers. She was selected by them to present the results of their discussion, on what their role would be in the new landscape. (I suspect Nigel Bell of CPPF who organised the groups may not have realised the residents of East Chesterton have kicked her out of her city council seat). She said our councillors' views and ideas were:
Give clear information to everyone on what is and is not possible.
Concentrate on the local plan first, and encouraging people to contribute to its production, taking part in the local plan review either as private individuals or as representatives.
To take "very close soundings" from all the different groups such as residents associations and parish councils.
To ensure there is easy and open access to the full evidence base for the local plan, which can then be used by communities for their own purposes.
To consult and establish a "community assets register" which will enable people to think about the "community right to buy".
To provide dedicated "neighbourhood planning officers"
To advocate the formation of community groups, residents associations, friends groups for open spaces, churchyards and all different areas where people have interests.
That we [the council] and the local community must engage with more than the usual suspects and vested interests.
There is a community development aspect to localism and planning which is separate from the planning process itsself.
To try and "build capacity" within the communities themselves
Cambridge City Council's Executive Councillor for Growth, Cllr Ward, was present but he did not make a contribution during the plenary sessions. A number of councillors, including council leader Sian Reid, registered to attend but did not turn up.