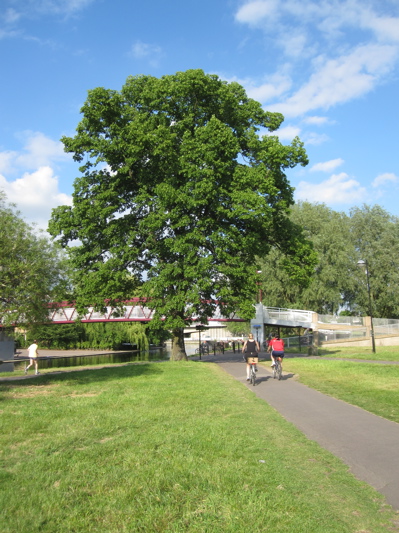 Would this tree be facing the city council's chainsaws if a proper decision making process had been in place?
I have responded to Cambridge City Council's consultation on how it makes decisions with respect to tree works. The consultation closes on Friday 5 June 2009.
Mr Payne,

I am writing to respond to your current consultation on the decision making process for tree works.

I welcome what I believe are the main thrust of the proposals in the draft protocol which has been published:

to ensure that democratically elected and accountable councillors, rather than officers, make decisions on major tree works.
to improve the amount and accessibility of information relating to the council's tree works proposals so that those who have an opinion on them can make representations.

I would like to make the following comments and suggestions relating to the draft protocol:

The protocol doesn't address how the council will consider petitions. This is a major omission. Is every petitioner considered an objector?
The proposal not to accept email objections obviously needs to be rejected; the council can't be allowed to require a paper signed copy of objections, that's totally against the idea of e-government and will make the process less accessible. How a council officer was able to come up with such a crazy new policy idea ought be investigated so it doesn't happen again.
Public speaking rules at meetings of the planning committee are very strict. With respect to agenda items relating to the new tree works decision making protocol I would like to suggest the public speaking rules are relaxed in-line with other council committees.
I would like to suggest decisions on major tree works be made by councillors, rather than officers, even if there are no objections. This new protocol relies on members of the public or their representatives spotting proposed tree works and objecting in-order to prompt a councillor, rather than an officer, decision.
Tree planting proposals ought be included in the new protocol; currently references to planting are limited to replacement of felled trees and the very brief section nine. Major decisions on tree planting, like other major tree works, ought be made by councillors following a period of consultation.
When will the Executive Councillor's decisions be made following advice from the planning committee? Will the chair of the planning committee immediately ask the Executive Councillor (if they are present) if they agree with the committee's opinion? How will Executive Councillor's decisions be communicated to the public? I would like to suggest notices of decisions be posted as soon as possible after the decision has been made on the council's website. I would like to see an assurance that the Executive Councillor's decisions will be made in public.
If the relevant Executive Councillor is not present for the planning committee's discussion, how will they be made aware of what was said and what advice was decided upon?
I would suggest expressly clarifying the planning committee and executive councillor are free to split a proposal up and make different decisions with respect to different trees.
If there is extensive delay following a decision, particularly while notices inviting comments remain on trees (as they have for a few months on Midsummer Common) then the chances of people or groups objecting after the decision has been made and feeling disenfranchised will be increased. Planning permission "expires", perhaps a decision to allow tree works should also have an "expiry" period.
Having decisions potentially go to both a planning committee and a scrutiny committee means objectors have to attend twice; having the tree officers giving their presentations on each individual tree to both the planning and community services committees doesn't appear very efficient. Paperwork has to be produced twice. Two sets of councillors have to get themselves up to speed on each case. Its not efficient and desirable from anyone's point of view. (If work does not go-ahead rapidly following a decision it is possible the relevant scrutiny committee will meet before work has started and members of the public will use that opportunity to question the Executive Councillor, if that occurs it would be worth clarifying that the decision can be reversed at that point).
There is a lot of reliance on officers determining what's significant or major. There ought to be a route for councillors to change the designation from minor to major if they believe officers have made the wrong judgement.
There is not enough detail on what is meant by posting a schedule of work on the council's website. I would like to see an easily accessible, user friendly, section of the council's website explaining the council's plans and making it easy to submit comments on them. There ought be a mechanism for people, or groups, to sign up to be alerted to proposed tree works in areas they are interested in. Such alerts could be by street / postcode or by other groupings such as "all major tree works" or "all tree works on green spaces" etc. RSS feeds enabling various groups to carry tree works proposals on their own websites would be useful. The posting of the proposed works could be combined with the opening up of the council's tree database to make it accessible online. Where available, photographs, tree ultra-sounds, and detailed reasoning from the council's professionals ought be made available.
In order for meaningful comments on proposed tree works to be made it would be useful if links to relevant council policies were included on consultation documents. A summary of the council's approach to managing the risk from trees would be of use. As Cllr Howell put it when speaking at the Community Services Scrutiny Committee on the 22nd of April: "What exactly is the criteria we are applying? What constitutes a tree which is so risky we've got to take it down?" I suggest explaining any pressure the council is under to fell trees; for example from its insurers. Does the council have a current Arboricultural Strategy?
Major tree works ought be planned well in advance, so that objectors are not pressured by being told that by objecting they are delaying works.
The new protocol states: "Where appropriate, a detailed report or meeting may be provided to explain the proposals". Consultation on Major Tree works on the City's Green spaces ought always include a presentation to a public meeting; either an area committee or an open meeting of a relevant organisation such as, in the case of trees on Midsummer Common, the Friends of Midsummer Common.
The scope of this protocol appears to me to be too narrow, restricting itself to trees on council owned land. Intent to expand this protocol, with the cooperation of the county council to highways trees has been indicated already. What about trees in the Local Nature Reserves and other trees in the "public realm"?
The idea of a "considerate developer" scheme encouraging specific consultations on tree works relating to major developments has been floated by the leader of the council, perhaps the new protocol ought to make reference to such aspirations from its launch?
When the trees in front of Addenbrookes were felled it was reported that the City Council's tree officers had been involved in giving advice on the felling and on the replacements. Elements of the new protocol ought be followed should a similar circumstance arise again. This protocol ought be followed wherever the city council has influence.
Could the Conservators of the Cam be asked to follow a similar procedure? Could City Council representatives on that body be required to follow parts of this protocol before approving works?
Site / Tree notices have to be clear, internally consistent, and accurate (unlike the one posted at Vicar's Brook recently).
Deadlines for objections ought not be on public holidays; officers ought not be able to sneak tree-fellings though by holding consultations over Christmas or Easter.
Currently proposed major tree felling plans ought go through the new protocol, including the notification and consultation stages.
See also