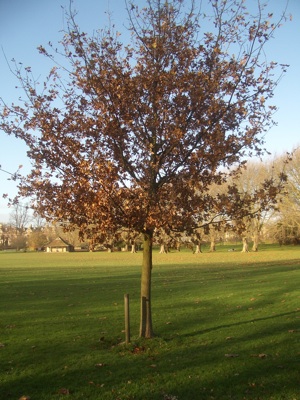 Cllr Tim Ward has written a letter to the Cambridge Evening news which has been published today (13th December 2008). He is responding to Bronwyn Hipkin who recently wrote:
Having read with alarm of the fate of 59 trees on Jesus Green which Cllr Smith tells us are all diseased and dangerous, I rang the council's tree department.

Imagine my surprise when they knew nothing about the scheme and told me it was being handled by outside contractors.

What is going on? The council has an excellent department, full of experts on trees and landscape. How can they afford an outside agency?
Read Mrs Hipkin's full letter here on the Cambridge Evening News Website.
Tim Ward, who signed his letter: "Chairman, environment scrutiny committee, Cambridge City Council" responded saying:
Bronwyn Hipkin is surprised the city council uses outside contractors to carry out some tree works.
He has totally mis-understood Mrs Hipkin's point, she was not talking about contractors carrying out tree works, but about the outside consultants who came up with the plan to fell fifty nine trees on Jesus Green as part of the recently submitted lottery bid. Many of the trees it is proposed to fell have been planted relatively recently by the council's own arboricultural service, who were surprised to be sidelined during the development of the lottery bid.
Cllr Ward is the second Liberal Democrat councillor now to have revealed a serious misconception about the Jesus Green proposals. At an open meeting of the Jesus Green Association on the 2nd of December Councillor Julie Smith publicly withdrew comments she had made in a letter to the Cambridge Evening News in which she had stated all the fifty-nine trees to be felled were "old and frail, poorly formed or diseased". She said she had been misled by council staff, and had wrongly assumed that these trees had been identified by the council's own tree officers as needing to be felled.
Councillor Ward (Liberal Democrat City Councillor for Arbury) ought to have ensured he and his fellow councillors were properly briefed on the development of proposals for the Jesus Green Lottery bid.
Cllr Ward's letter went on to make reasonable points about councils having to make judgements about when to do work in house and when to engage outside contractors. He supported making such decisions on a case by case basis, rather than having a presumption that either outsourcing or keeping everything in-house was the best route. While I agree with him on that; I, along with Mrs Hipkin disagree that it was the right judgement, in this case, to ignore the council's in-house expertise.
Other articles on the Jesus Green proposals: