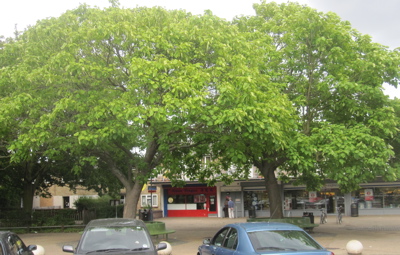 Cambridge City Council is Considering Felling Two Trees in front of Tesco on Campkin Road in Cambridge.
At Cambridge City Council's North Area Committee on the 27th of August 2009 I observed councillors receive an update on plans for the area infront of Tesco on Campkin Road. The roots of the trees are making the pavement uneven and councillors are in my view over-reacting by considering felling the trees.
Tree felling was not mentioned in the July North Area Committee meeting when councillors agreed to run a public consultation, but it is now included as one of the options in that consultation. The decision to consider felling the trees appears to have been made by the project's lead councillor, Mike Pitt, between public meetings of the North Area Committee. While I have repeatedly suggested it would be a good idea, in the interests of openness and transparency, for councillors to report actions they have taken between meetings to the next meeting, this does not happen.
The more sensible option of resurfacing is however still on the table. Councillors considered the item in a matter of seconds, and did not clarify key points such as who would be consulted or make clear what would happen after the consultation ie. if the matter would return to councillors or if as sometimes happens the action will be taken on the basis of the outcome of the consultation. A consultation letter, dated the 17th of August (which may have been a draft, or it may have been sent on that date) was appended to the committee papers. The papers themselves though referred to the consultation as something which was to happen in the future: "two options will be put forward in a public consultation".
I have not received a consultation letter through my letterbox, and the consultation is not listed on the council website's consultations page.
Outside the meeting I asked the council officer who had presented the report who would be consulted. I was told the aim was to consult the users of the store, and I was offered details of a proposed consultation area to be sent to me by email. I have also written to the council's tree officers asking for clarification of the process for making a decision on these proposed fellings.
Councillors at the North Area Committee have been told before that felling trees is the best or only way to deal with tree roots making a pavement uneven. Recently, after months of protestations from officers, they eventually decided to resurface a disrupted stretch of path between Crowland Way and Campkin Road and that worked fine. There are paths throughout the city which have been successfully repaired following damage caused by tree roots.