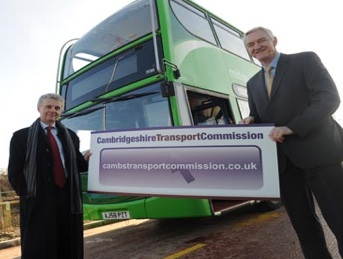 I used the opportunity available to members of the public to ask questions at meetings of Cambridgeshire Police Authority to ask the following question on the 30th of April 2009:
My Question – TRANSPORT COMMISSION
Will the Chairman of the Police Authority and Chief Constable be giving evidence to the Cambridgeshire Transport Commission? How will the police be represented?
Answer
Cambridgeshire Transport Commission has been set up by Cambridgeshire County Council to examine and make recommendations on transport improvements in and around Cambridge to help ease congestion. These important issues are local to Cambridge and its immediate environs and the Authority considers it appropriate that engagement by the Police with the Commission should be through the local senior police commander. In that way any issues for operational policing can be effectively communicated to the Commission.
Response and Comments
I was permitted to make a brief comment. I said that I disagreed with the answer. Clearly the Cambridgeshire Transport commission is not considering something which is only relevant to "Cambridge and its immediate environs".
As an example of an aspect I wanted see the Police Authority commenting on I raised the issue of access to information on people's movements which will be recorded by the congestion charge system. This will be very intrusive in Cambridge as the proposals require for cameras throughout the city, not just on the periphery. I noted that in London at first the police and security services did not have access to the data, then a year or so after the scheme started they were given access to all of it to trawl/data mine.
I have no problem with information being obtained in response to a court issued warrant, I do not think the state ought be able to use any system to track everyone's movements.
Mr Wilkins, a County Councillor for a Cambridge ward and member of the Police Authority told me after the meeting that he agreed with me that the authority ought be having an input into discussions, particularly relating to the police's access to data from any system.
Clearly there are many other issues relating to the congestion charge on which it would be useful to hear from the Chief Constable and Chairman of the Police Authority, such as their response to the fact the current plans don't exempt the police from charges (Government guidance is apparently not to exempt anyone).
I oppose the congestion charge, and will continue to oppose it for at least a decade.