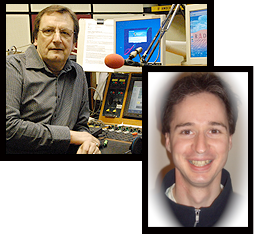 On the 2nd of June 2009 the Andie Harper show on BBC Radio Cambridgeshire interviewed the leaders of the three main parties currently making up Cambridgeshire County Council.
I submitted a question, which was put to the councillors:
Conservatives in the City of Cambridge are opposed to the Congestion Charge, however Conservatives ruling the County Council have not put a stop to the idea.

Cambridge City Labour are opposed to the Congestion Charge but the Labour Government is pushing it.

The Lib Dems' national leader opposes using Cambridge for a Congestion Charge experiment, but locally party members are giving the proposals conditional support.

Given the inconsistencies in the party's positions at different levels of government I don't think party politics is adding any value at all to the election process. It is confusing things rather than making it easier to work out who to vote for.

At least in the county elections we're voting for individuals so we can try and find out their views; unlike the European elections where we can only vote for a party and have no say about the particular individual.
I have transcribed what followed:
Andie Harper: I think he's hit the nail on the head there, but just to add weight David has called to say: "Are you all saying where you stand on the Congestion Charge for Cambridge when you are out canvessing?" Paul [Paul Sales, Labour Candidate Abbey] are you coming up front and telling people where you stand? And how once more do you link the thinking of the local party as mentioned there by Richard as opposed to the Labour Government?
Paul Sales: "Erm. Full Frontal Nudity. If you'll excuse the phrase. We are opposed to the congestion charge, it is in the literature and I'm opposed to it. I view it as nothing more than a tax on the worst off in the community, the low paid, people who have to get up and around and about early in the morning. They're going to be much worse off as a result of a congestion charge so we're opposed to it. It is not necessarily a government policy it is a government requirement as part of the funding initiative; so don't confuse it with a government policy. And that does confuse things, I quite understand that but I'm against it. "
Andie Harper: " So if the government is offering money for somebody to do it, it is not necessarily a policy it is just that they want them to do it? Why else would they offer them money?
Paul Sales: "Well come on, there's a difference between a policy and a funding initiative. They want the congestion charge as part of a broader transport strategy and I think that's a mistake. If they want to put up money for a broader transport policy they should do that without making people worse off".
Jill Tuck (Conservative, Leader of Cambridgeshire County Council and Candidate): "Hear Hear".
Andie Harper: "Richard says: 'Conservatives in the City of Cambridge are opposed to the Congestion Charge, however Conservatives ruling the County Council' (That's You) 'have not put a stop to the idea.' If not. Why not?"
Jill Tuck: "Don't forget this goes way back, and there was, on the table over £500m for improvements to transport. I don't think anyone can kick that out without giving it thought. What we are still working on and I know you've had Matt Bradney on here earlier, actually talking about the work he's doing with government ministers now, and I have to say what I think will be the next government, a Conservative government we are working with them as well. We know that growth is here. We know we have congestion now and it is going to get worse. We must do something about it. I'm not going to pre-empt what the commission comes up with. The options will be there and we will make the decisions but fundamentally we are against congestion charging.
Andie Harper: "Is it fair to ask people who live in the city to pay to get out, or for people who work in the city to pay to come in? There may be serious problems in the centre of Cambridge, we all appreciate that but to charge people who have no option is not the way forward. surely?
Jill Tuck: "That's what I would say. It isn't fair. We have to look at the fact we've been underfunded as a County for years. If we had had the right amount of money that we deserve and we've been working on that for some years then we could do the improvements that are necessary so that everybody benefits. "
Andie Harper: "Thank you, I'll turn to David (David Jenkins, Liberal Democrat) and ask him the same question, I'll just mention Richard's comment on the Liberal Democrats: 'The Lib Dems' national leader opposes using Cambridge for a Congestion Charge experiment, but locally party members are giving the proposals conditional support.' Are You?"
David Jenkins: "We do give it conditional support. And it was interesting to hear Jill say 'we're against it but we're still letting the transport commission continue its deliberations'. I think we've got to keep open minds on what is actually right here. We've also noticed the underfunding of transport systems in this part of the world and we're somehow or other expecting that we can magic up some extra money in the future without co-operating with any government schemes. Given the economic situation we've got today and for the next ten years of a government deep in hoc there won't be any spare money around so it'll be up to those council's who are smart and can take advantage of schemes to be able to go for that and they'll be able to invest locally. We don't interpret congestion charging quite as narrowly as other people do. Congestion charging is in fact traffic management for the City of Cambridge. You don't just get the ability to charge people you get the ability to move traffic round intelligently in real time. Then if you've got congestion charging on top of that you've got money you can re-invest in more transport systems going forward. We would not go ahead with any congestion charge without investment in a network beforehand. We would not shut the door on what is an attractive amount of money which otherwise the county would have no chance of getting its hands on"
At the time of writing the full interview can still be listened to on BBC iPlayer (starting at about 2 hours in)