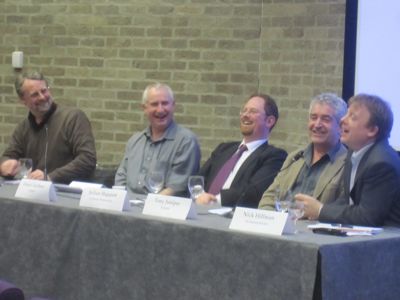 Hustings at Clare College. Left to right: Martin Booth, Cambridge Socialists; Daniel Zeichner, Labour; Julian Huppert, Liberal Democrats; Tony Juniper, Green Party; Nick Hillman, Conservatives.
In Cambridge we are lucky that there are a large number of hustings events at which it is possible to hear from our parliamentary candidates in person. The below upcoming events are all free and open to all. Do let me know in the comments if there are others which I have missed.
Tuesday 20th April
Parliamentary Hustings.
21.00 – Peterhouse College.
Details
Thursday 22nd April
Election Question Time run by Cambridge No2ID, Amnesty International Cambridge and Cambridge Oxfam Group.
20.00 (doors open 19.30) Emmanuel United Reformed Church
Chaired by Andie Harper of BBC Radio Cambridgeshire in the chair. Open to all, and free (but donations are appreciated).
Details
Sunday 25th of April
King's College hustings organised by CUSU Ethical Affairs
19.00
Details
Wednesday 28th of April
What kind of Britain? – Visions of a sustainable economy.
20.00 Emmanuel United Reformed Church
Parliamentary Hustings with four of the candidates
Organised by Transition Cambridge and the University of Cambridge Geography Department.
Thursday 29th of April
Democracy Club and Power2010 Parliamentary Hustings.
Chaired by Prof. Andrew Gamble of the University of Cambridge politics department
19.30 for a 19.45 start
Unitarian Church at 5 Emmanuel Road, Cambridge, CB1 1JW (Map)
Friday 30 April
Church at Castle Hustings
St Luke's Church, Victoria Road
19.45 doors open 20.15 event begins
Sunday 2nd of May
General Election Hustings
St. Barnabas Church, Mill Road
20.00
Details
Tuesday 4th and Wednesday 5th of May
A BBC Radio Cambridgeshire debate with the Cambridge Candidates will be recorded on Tuesday 4 May from 6.30pm-7.30pm in front of a live audience. Andie Harper will host the debate and it will be broadcast on the Mid-Morning Show on Wednesday 5 May from 10am-11am.
96.0 FM and on BBC iPlayer
Cambridge City Council Elections
While I am not aware of any hustings events for the local election there is a full council meeting in the Guildhall at 18.00 on Thursday the 22nd of April this is a public meeting at which sitting councillors will debate. Members of the public (including candidates) may address the meeting during the public speaking section. There is also a North Area Committee on Thursday the 29th of April at which sitting councillors can be observed in action, and I expect questions from the floor during the "open forum" will be lively.
Previous Hustings Events
I have a number of articles on previous hustings events: