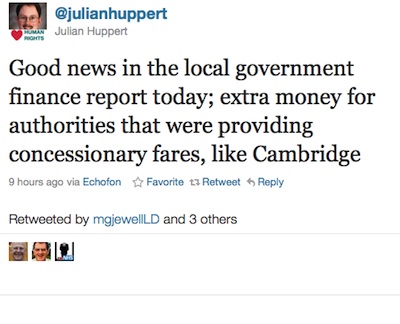 Was Cambridge's MP Julian Huppert Too Hasty to Describe the Local Government Settlement as Good News for Cambridge City Council?
On Monday the 31st of January 2011 the amounts to be paid to local councils from central government for the 2011/12 financial year were announced. Cambridge's MP Julian Huppert welcomed the settlement in a tweet saying:
Good news in the local government finance report today; extra money for authorities that were providing concessionary fares, like Cambridge.
£10m of extra money for councils in Cambridge City Council's position was announced; but Julian Huppert appears to have enthusiastically welcomed it prematurely based on a bullet point in a press release. The devil is in the detail. The problem for Cambridge is that the government has shared out that £10m according to reliance on the central government grant and as Cambridge City Council receives only ~50% of its income from central government it has been allocated a tiny fraction of the concessionary fares funding.
In fact Cambridge has been allocated just £64,000 out of the £10m; a paltry 0.64% of the funding announced.
Cambridge City Council was hoping for around £600,000 but has only received around a tenth of that. The total financial burden on Cambridge City Council for the concessionary fares scheme is anticipated to be £894,000 in 2011/12.
At the November meeting of Cambridge City Council's full council Council leader, Liberal Democrat Sian Reid, said she has no influence on national concessionary fares policy. My comment on that statement was that it was surprising and disappointing given Cambridge having a LibDem MP and the LibDems being in Government, I would have hoped that the LibDem city council leader would have more influence with respect to issues such as this.
While Julian Huppert is clearly doing a fantastic job in many respects; I think it would reasonable to view this settlement as a failure of our MP to stand up to Government in the interests of Cambridge.
Was Julian Huppert's Tweet Excusable?
As for commenting prematurely; while I would expect our MP to be better informed than I am, at the time Huppert described the settlement as "good news" there was no detail available to the public on either the Parliament or Department of Communities websites. What was known at the time did look like good news – minister Robert Neill's written statement said:
I have decided to help compensate shire district councils for the loss of what they used to spend on concessionary travel. To address this, a further £10 million has been added to formula grant—for 2011-12 only—in order to mitigate the impact of the transfer on shire districts.
Only later in the day was the Excel spreadsheet containing each authority's settlement locatable on the Department for Communities' website, and even that didn't separate out the additions to the formula grants taken from the newly announced £10m concessionary fares fund.
It's notable that Julian Huppert had Cllr Stuart, a member of Cambridge City Council, with him in Westminster on the 31st of January so one might have hoped he would have been particularly well briefed on matters relating to the city council, however I've never observed Cllr Stuart make any comment on finance related items.
Presumably Mr Huppert will retract his initial statement that the settlement on concessionary fares is "good news" once he has an opportunity to review the details.
Cambridge City Council's Overall Position
Overall Cambridge City Council's central government "formula grant" for 2011/12 is to be £9.515m; this is just above worst case scenario amount planned for by the council. The council had anticipated the possibility they might not get any compensation for their disproportionate spending on concessionary fares, the difference between the formula grant published in that planning scenario and the final confirmed grant published today is the £64,000 from the new fund.
Background to the Concessionary Fares Scheme
Those aged 60 and over, and some others, get free travel under a the government's concessionary fares scheme. Local councils where journeys start have to pay for these. As a centre to which lots of people come Cambridge has to pick up the bill for many people to get home again. As of its November 2010 Full Council meeting Cambridge City Council estimated that it faced a shortfall in funding of approximately £600,000 in 2010/11 as a result of the concessionary fares scheme.
Will Money be on a Convoluted Journey?
Despite having dug into this in some depth now there's still one core point I've not understood; from 1st of April 2011 responsibility for the administration and funding of concessionary bus travel moves from the Cambridge City Council to Cambridgeshire County Council so why does this whole issue affect the city council finances significantly for the year 2011/12? I can only presume that "administration and funding" of the scheme isn't as all encompassing as it sounds and perhaps omits something like "liability". Only local government could have me contemplating questions like: "perhaps responsibility for responsibility isn't being shifted" but I that does at least appear to be one of the options that was considered when the move was consulted on. Perhaps someone can add a comment explaining?
Links for More Detail