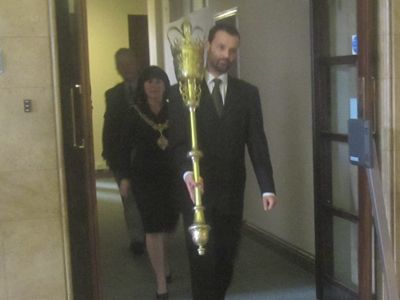 Cambridge City Council's Mayor and Deputy Mayor Process into the Council Chamber Before the Councillor Allowances Debate
On the 7th of April I observed a Cambridge City Council meeting. Despite many important items being on the agenda, including the future of the NHS and setting the city wide police priorities the item to which most time was devoted was councillor allowances. The minor changes being proposed to the expenses and allowances scheme for councillors produced more speeches, more passion, and more raised voices than anything else which was before the council. The debate lasted the best part of an hour.
Councillors have budgeted £263,880 to spend on their allowances in 2011/12; they have also approved a scheme which allows them to claim expenses on top of their allowances.
Liberal Democrat policy was stated to be: No cuts to councillor allowances, unless their responsibilities have changed.
To their credit a couple of councillors did express their exasperation at their fellow councillor's behaviour. Cllr Marchant Daisley tweeted during the debate to say:
Too long on members allowances @camcitco #fullcouncil
FGS! Is there no conception of the total irrelevance of this issue to those who elected us?
Liberal Democrat Executive Councillor Neil McGovern responded, apparently agreeing with Cllr Daisley but perhaps also indicating a keenness to get his teeth into the taxpayer funded sandwiches :
@GailMDaisley Yup. Can we take a break soon? The allowances are some of the lowest in comparison to other districts anyway.
Cllr Benstead, speaking in the chamber, rather than via Twitter, warned his fellow councillors that if they carried on the way they were going the debate would be reported with the headline: "Councillors Jostle to Get Snouts in Trough".
The Main Proposal Debated
The council's independent renumeration panel had made a proposal:
That ungrouped councillors be paid a special responsibility allowance equivalent to one fifth of the basic allowance to reflect organisational requirements, correspondence and administrative costs.
The amount of money in question was £640 per councillor. At the moment Cllr Hipkin is the only ungrouped councillor on the council; though when Cllr Howell was present as the lone Conservative he too would have been eligible had the scheme been in-place then.
This had been approved by the council's civic affairs committee; however the council was told that the Liberal Democrat members on that committee were split on the matter.
Many decisions about running the city are effectively taken by the Liberal Democrats in secret group meetings and not in public. It appeared that the Liberal Democrats had in private decided to scrap the payment for ungrouped councillors between the civic affairs committee and the full council.
Independent councillor, John Hipkin, accused the Liberal Democrats of making a personal attack against him and attempting to "embarrass" and "diminish" him. He said their decision not to give a special responsibility allowance to un-grouped councillors would be seen by the public as "petty and vindictive". I thought this was an over-reaction to what was being done.
Liberal Democrats Saunders and Swanson rebelled against their party whip and refused to vote for their party's proposals, though they did not offer any amendment themselves, or make any contribution to the debate, so we do not know what they would have preferred.
Points of Principle Discussed
Who should set councillor allowances? Labour said the Independent Renumeration Panel should set the rates, and that the Liberal Democrats were wrong to, yet again, over-rule them. Liberal Democrat Cllr Boyce dismissed the panel's proposals as nonsense, saying they clearly had no idea of what councillors actually did and said they'd approve the panel's recommendations if they came up with something sensible.
Labour complained that there was too much weighting towards executive councillors, with them getting by far the greatest share of the funds allocated.
Allowances or Pay
Cllr Rosensteil made a speech saying that he saw the allowances as recompense for working councillors who lost earnings as a result of carrying out council duties during the day.
Cllr Boyce said he saw the allowances as being payment for work councillors carried out "for the council" as opposed to as representatives.
All councillors appeared to support the idea that there was a some connection between the allowances and "pay", with councillors and reports to the meeting, mentioning the "minimum wage" and calculating how many hours various allowances would equate to if paid at the minimum wage.
My View
Councillor allowances are simpler and cheaper to administer than an overly complex expenses scheme. Being a councillor does cost money and to make the role accessible to all I think it is right that there is some support. A fairly flat rate of allowances, with some extra allowed expenses for things like child care and travel plus a cup of tea and a sandwich at the occasional long meeting at the Guildhall is I think reasonable. That would allow councillors to buy and maintain some decent IT kit, a computer and printer, cover extra phone calls.
The aim of the allowances scheme shouldn't be to recompense people for lost earnings, or the value of their evenings lost to the council chamber, or in committee meetings. People aren't becoming councillors for the money. I do wonder why all the largely silent backbench Liberal Democrats are there, but many councillors are clearly in the role because they have ideas for running the city better which they want to try and get put into action. The reward isn't monetary, it's seeing individuals benefit and the city and the country change, ideally for the better, as a result of the decisions taken. Being a councillor is a role, a position, a vocation, not a job.
I think the payments, for the leader of the council of around £14K /year and other executive members of £11.5K / year are far too high; and agree with the Labour, Green and Independent members that there should be more fairness and the distribution ought be more equitable. I don't know what work the members of the executive consider they do "on behalf of the council" rather than as elected representatives, but I don't think they should be doing it.
I'm quite concerned by the new payments (hourly wages!) for co-optees, presumably the likes of the tenant reps on the housing management board, and perhaps even members of the independent renumeration committee, I can't see how these are justified at all. Surely people volunteering for these roles have some kind of desire to serve the public interest and don't need to be paid to do so. I don't know how long these have been in place, but I came across them for the first time while reading the papers for last night's meeting.
The Independent Renumeration Panel
The members of the panel slated by Cllr Boyce for coming up with nonsense and over-ruled by the full council were:
Mr Michael Arnold – Retired. Lifelong resident of City. Financial background, most recently working for a biopharmaceutical company. Community Governor for Castle School. Volunteer Rowing Coach who looks after the schools section of a local rowing club.
Mr Graham Humby – Qualified Barrister and Solicitor. Currently a Law Lecturer at Anglia Ruskin University. LEA School Governor. Member of the Courts Board for Cambridgeshire.
Mr Geoffrey Kirkness – English degree from Cambridge University. Works for local company that looks at data provision for access by the public sector.
Mr Tobias Paul – Presently an undergraduate reading law at Robinson College. Other voluntary commitments include work for the Scottish Government advising on alcohol policy and various collegiate and university-based secretarial posts.
The panel heard from councillors; according to the report to the meeting one of the things councillors reported to them was that they are doing less work now than they used to. They used to say they spent 12 hours a week on typical ward councillor work, but now they only spend 7.
Expenses
Some of the expenses claims made by councillors in 2009/10:
Cllr Dixon made claims of 40p and 60p for public transport. Those were his only non-milage claims for the year.
Cllrs Taylor and Hipkin each billed the taxpayer £2.57 for use of their bikes in 2009/10
Cllr Cantrill made a £54.75 expenses claim in relation to public transport.
Cllr Blair claimed £232.07 for use of her car.
The Liberal Democrats have refused calls, mainly by Labour's Cllr Dryden, to proactively publish more details so the public can see the basis on which these claims are made. Cllr Dryden claimed £322.79 in relation to his 2009-10 motoring; he wants that figure to be presented along with details of where meetings were held (eg. if they were out of the city such as joint meetings with other authorities, and what time of day they were held – indicating the likely availability of public transport).
It appears to me that some of the claims are for trivial amounts, and councillors cannot have considered the costs to the public of administering their claims. I would suggest a minimum level below which specific claims would not be permitted. (Costs below the minimum could be considered covered by the allowance).
Councillors get free unmetered use of a hot drinks vending machine (which I think is fine – I'm not calling for publication of a statement of how many cups of tea are consumed by each councillor) though I think councillors' use of free passes to the city's car parks should be released in greater detail.
Funding Political Parties
Cllr Boyce said party political activity should not be paid for by the public purse (They're apparently all unaware of Short Money). Cllr Hipkin said that when he was a Liberal Democrat the party had charged a levy on the allowances which went into, among other things, paying for a party political press officer. He asked if this still happened.
Cllr Boyce said that allowances weren't paid in relation to party political work but what people did with them once they had them was up to them.