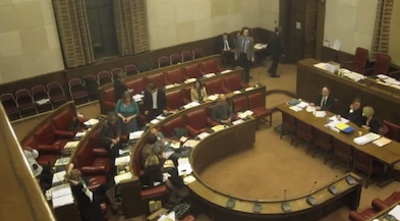 Cambridge City Councillors in the Council Chamber During a Suspension in the 17th February 2011 Full Council Meeting.
I observed Cambridge City Council's full council meeting on Thursday the 17th of February. I have written a previous article about disruption at the meeting.
The main item on the agenda was the approval of the council's budget for 2011-12 and its plans for forthcoming years. The Liberal Democrat ruling group put forward their proposed budget; and the Green and Labour groups proposed alternatives. Independent councillor John Hipkin gave a budget statement.
The Liberal Democrat budget was introduced by their leader Cllr Reid who told the council it could expect to receive an additional £738,000 "new homes bonus" following an announcement by central government that day. The headline position is well reported as the cutting of £2 million of spending and of 41 jobs. Cllr Reid explained the plan is to dip into the council's reserves to mitigate central government's front-loading of their cuts, but to pay that back in the near future. Out of total committee spending of ~£23m and ~£4m of the council's overall spending will be funded from reserves. Cllr Reid passed over to some of her executive councillor colleagues allowing them to comment on their areas. Cllr Cantrill announced that a new tree works protocol and strategy would be developed in consultation with the public. Cllr Bick reported that changes to the crematorium would result in more choice for users and that his part of the council would be funding more street pastors.
There was no mention specifically of one of the Council's biggest proposed savings which will arise from re-organising the way the Corn Exchange is run; though a consultation on the council's Art's strategy had closed only the week before.
Effectively the budget proposed the continuation of business as usual. It was a world away from the page after page of significant cuts to services which will adversely affect some of the poorest in society which I observed being voted through at the County Council the week before. While this is clearly generally a good thing; what we're not seeing within Cambridge is any significant shake-up, re-organisation and streamlining which other councils under more pressure are undergoing. Hopefully Cambridge City Council will watch and learn from those which are able to make their operations leaner and more efficient and adapt at its own unstressed pace to what I hope will be an era of new lighter, cheaper local government under which the bins are still emptied and there's still an annual bonfire on Midsummer Common.
Debate on the Lib Dem budget was brief. It was noted that the city's car park income is greater than its central government grant. The Liberal Democrat's focus on its architectural show-piece toilets was questioned, given that 60% of those using public toilets in the city use the Lion Yard toilets and they're very cost effective to run; only: "6p per pee" Labour leader Lewis Herbert had calculated.
Mike Todd-Jones (Labour, Arbury) spoke about the 60% cuts to housing officers based out and about in the city. He explained passionately and clearly what these people did and why they were needed; and explained tenants with complex problems really want to meet someone they know face to face and the provision of the council's customer service centre doesn't offer the service they want.
Labour's Cllr Newbold spoke about the litany of poor consultation exercises the council had run recently, particularly with respect to tree works. He pointed out the Liberal Democrats were not getting value for money from their consultations. Shockingly the Liberal Democtats jeered at him, suggesting they thought they've been doing a good job.
A Green Budget for Cambridge
The star of the show was Green Cllr Adam Pogonowski because he, along with his fellow Green Margaret Wright, had actually produced what amounts to a Green party alternative budget. In recent years the main Labour opposition have not produced such a detailed alternative, instead just proposing a series of relatively token amendments, on the grounds they didn't have the time and officer support required to do anything more. With the Greens producing a substantive alternative, Labour would have been ridiculed if they hadn't upped their game too, which they did.
The Green proposals were short termist and involve spending the council's cash reserves; the only money raising measure was a proposed very small increase in car parking charges. The Greens perhaps surprisingly cut the new tree planting budget, and would have scrapped plans to install photo-voltaic cells on council buildings, describing the latter as a "token Green gesture"; something the Liberal democrats responding readily admitted it was, but defending the spending. Liberal Democrat Executive Councillor Smart said they wanted to be seen to be doing something and photo-voltaic cells were "very visible".
Liberal Democrat Cllr Cantrill described the Green budget as "Red" because it involves spending [almost] all the reserves.
The Green Party proposed spending half a million pounds a year on the "Cambridge Green Deal", that's a huge chunk of the council's discretionary spending; given how they proposed funding it one could say it is well in excess of what the council has to spend. A vote of the full council was held on the proposal, which Mayor Stuart refused to read out on the grounds it was "lots of text". The proposal stated:
Cambridge's Green Deal is an insulation and energy efficiency project for households in the City conducted and carried out by Cambridge City Council's workforce, to reduce residents' energy bills, and at the same time reduce Cambridge's carbon footprint thus meeting Cambridge's sustainable city objectives. The expertise of Cambridge's scientific community, will be drawn on via an energy audit of households, to asses the areas of the City in most need of such upgrading so as to determine an equitable starting point for the project.
This is un-targeted state support and in Cambridge would result in many relatively rich home owners substantially benefiting from public money being spent on their properties.
The Green party would also have saved £20,000 a year by ceasing to determine planning applications at area committee meetings and returning them to the guildhall. Cllr Pogonowski told the council he didn't feel competent to do planning, which prompted Liberal Democrats to remind him he was a reserve member of the planning committee.
My view is the city council does hold excessive cash reserves (it basically has a self-insurance fund for all sorts of things that could possibly go wrong); while I wouldn't recklessly spend this as proposed by the Greens; I would like to see more of it invested within the city in projects which would promote economic growth and facilitate the city's knowledge economy.
Cllr Smart defended the council's approach saying that once her car had been crashed into and her boiler broke in the same week. (She's got the right idea but the council are holding enough funds to deal with the roof collapsing, the washing machine breaking and a flood too!)
Labour's Budget Proposals
The Labour group's budget proposals involved:
Re-jigging the Liberal Democrat's "Climate Change Fund". This is actually a Liberal Democrat success story, they have a fund which they invest (and here invest really means invest) in energy saving upgrades to the council's buildings which over a couple of years pay for themselves. The problem is they've found it hard to spend the money they've allocated, and appear distracted by what they appear to think is a vote winning name for this and therefore keep putting money in they can't spend. Labour proposes to stop adding to the fund every year, to take some of the accumulated funds out, and to make the fund self-financing.
Labour proposed (and I the Liberal Democrats I think accepted, at least they sounded very keen on the idea) funding a series of touch screen kiosks to be placed around the city to give people the kind of advice they can get at the citizen's advice bureau on subjects such as debt, benefits and employment. My view is this scheme sounds bonkers; what can a touch screen kiosk offer that an internet connected computer and Google cannot? I can't imagine anyone with a substantive problem in these areas is going to gain any real insight or help from a few prods on a computer monitor. Labour wants some of these devices to be placed in supermarkets. Following my cynicism it has been suggested I go into the Cambridge Citizens Advice Bureau on Devonshire Road and look at the device they have there, which I will do.
Street cleaning; Labour proposes "targeted blitzes on dirtiest residential streets tackling one ward every month in rotation"; this is something they didn't mention in debate this year particularly but focused on last year.
Gritting – Labour members pointed out the Liberal Democrats had failed to fulfil in any practical way their promise to make grit available to individuals and community groups and proposes budgeting for 2,000 25Kg grit bags to be distributed to the public.
Labour proposed scrapping the council magazine 'Cambridge Matters', which I understand is now under editorial control of the council leader Liberal Democrat Cllr Reid. Liberal Democrats were not joking when with straight faces they said they believed the city's re-cycling rates depended on the publication.
The Labour budget proposals contain many elements showing they're listening to residents who attend area committees. Once such item is a sum to repay stair lift charges to disabled tenants, currently people are paying excessive charges for the provision of, often old, equipment such as stair-lifts in their homes.
Labour would double the Environmental Improvements budgets which the Liberal Democrats are proposing to cut to just £50,000 per year per area committee. Labour gained Green Party support on this when it was put to the vote.
Labour would change the city's "toilet strategy" and focus on the heavily used Lion Yard
Labour, as the Greens did, proposed the return of Area Committee planning to main Planning Committee
Independent Cllr Hipkin's Budget Speech
Cllr Hipkin expressed effectively unreserved support for the Liberal Democrat budget; which prompted cries of "take him back" from the Labour members. (Cllr Hipkin was thrown out of the Liberal Democrats for suggesting that high density flats shouldn't be built round the edges of the city). Cllr Hipkin joined Labour in calling for the council to make more from the property it owns. Cllr Hipkin praised the Liberal Democrats for getting the restaurant into the Guildhall, but said they could go further and that he'd like to see the whole building become a hotel.
Cllr Hipkin said the council was lucky to be in the position it is – not in debt – putting it in a good position to cope with cuts to central government funding.
Cllr Hipkin voted with the Liberal Democrats in favour of their proposed budget. The Green and Labour members abstained. (There had also been a number of votes on specific Green and Labour amendments, all of which were voted down by the Liberal Democrats).
Adjournment
Partly due to the disruption the council's budget was debated and passed on the Thursday, but most of the motions to the meeting were deferred to Monday the 21st of February.
Background Information