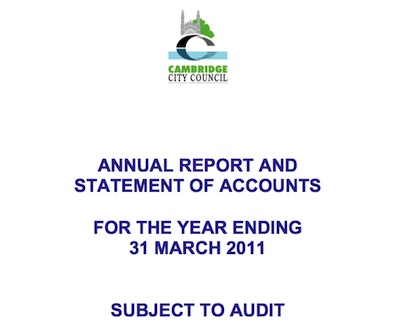 Cambridge City Council Draft Accounts 2010-11
I have written to Cambridge City Council to make an appointment to "inspect the accounts":
Dear Cambridge City Council,

I would like to make an appointment to visit the council offices and inspect the accounts as I am entitled to do during the open period which is currently running.

I would like to come in at 14.00 on Wednesday the 27th of July though I would be happy with any time of your choosing on Wednesday.

The specific areas, and documents I would like to look at are:

The transactions relating to the operation of the Blue Bin (Mixed Recycling) contract; including, for one invoice/bill, the documentation supporting it. (I am interested in the recycling contract only, so not items relating to the collection of waste or the provision of bins).
Transactions with Sports and Leisure Management Limited (SLM) and the SLM contract extension documentation under which some of the transactions will have been made.
Transactions with Scudamores Punting Company Limited and the lease relating to Quayside under which some of the transactions will have been made.
Payments to property owners/occupiers/insurers in relation to alleged damage to their properties caused by council owned or managed trees. I understand some of these payments will have been made by the council's insurers on the councils behalf, but there may be excess payments, associated with documentation indicating the full sum paid and any conditions attached.
Transactions relating to work on the city council's website. Specifically I'm interested in the transactions, and contracts, relating to the online petitions system, and the upgrade to the system for accessing planning applications online.
Transactions relating to the management of the city's green spaces, including events charges, tree works, grazing etc.
Transactions with Cambridgeshire Police.
Transactions with Love Cambridge (Cambridge City Centre Partnership Limited).
Transactions with Cambridgeshire County Council.
The most recent (under the period covered by the accounts) "Bank Statement" or letter from Landsbanki and Heritable Bank Limited showing the position in relation to the council's investments.

If it would be possible, like last year, to have an electronic copy of the transactions in the areas listed that would be appreciated.

Again as last year I would also like to briefly discuss why: "Why isn't everything just published online?" is seen as silly question.

Regards,

–

Richard Taylor
Cambridge

http://www.rtaylor.co.uk
If anyone would like to join me, do let me, and the council (on finance @ cambridge.gov.uk) , know. If you were coming along it would be advisable to let the council know of any additional areas or transactions you were particularly interested in so they can prepare.
Using The Open Period
Regulation 9 of The Accounts and Audit (England) Regulations 2011 issued under the Audit Commission Act 1998 allows electors to inspect the accounts of bodies which cover the area where they live. The inspection has to take place during twenty working days per year known as the "open period". The open period is timed to follow the publication of the body's draft accounts and before the conclusion of the audit of the accounts. As accounting periods generally end in April the open periods tend to be in July/August/September.
The bodies which the legislation applies to are listed in schedule 2 to the 1998 act. They include councils of all sizes including parish/town councils, fire and police authorities, most elements of the NHS, and other bodies including National Parks authorities and probation boards.
The best place to start if you are considering inspecting your local council, or another public body's accounts is the published statement of accounts. These may well be described as the "draft" statement of accounts until they have been audited. Often these will be on the body's website, but if they've not been proactively published you may have to ask for them. The right to inspect the accounts during an open period is limited to the period the particular set of accounts which are open for inspection cover; this means only historical information can be obtained.
A significant amount of information can be accessed relating to the accounts for the period covered; s15 (1) of the 1998 Act states:
any persons interested may—

(a)inspect the accounts to be audited and all books, deeds, contracts, bills, vouchers and receipts relating to them, and
(b)make copies of all or any part of the accounts and those other documents.
While s15(3) says there is no right to access personal information relating to staff of a public body other exemptions which apply in relation to other access to information laws do not apply when inspecting accounts in person during the open period. Information requested under FOI which has been refused, for example due to commercial confidentially ought be made available to inspect as should information previously contained in closed council meeting papers and discussed in secret session.
In my experience of my own local council it has not been possible to simply make an FOI request for all the information which would be accessible on inspection, also when I have gone into the council to "inspect the accounts" I have not been shown into a room containing all the accounts and the supporting documentation but instead asked what it is I would like to find out about. It makes sense to contact the public body in advance of your visit, to let them know what you'd like to view, and to make an appointment, my local council invites those interested in inspecting the accounts to phone or email them first to "discuss their requirements".
Some people might well have a particular area, or even a particular transaction in mind when they inspect the accounts; others may be taking a more general "armchair auditor" approach as encouraged by Local Government Minister Eric Pickles. Inspecting the accounts is an opportunity for people with all sorts of interests and motivations, from business people and entrepreneurs interested in how their competitors are working and possibly seeking to offer the public sector a better deal, to those interested in transactions relating to projects in the area where they live, such has how much particular works cost. Even elected councillors might find themselves getting better access to their council's information during the open period than they would usually.
One way an general inspection could start is by pointing to a figure in the published accounts and asking where it comes from. A council's published accounts will contain few, if any, lines which are based on individual transactions. In order to get down to the details of individual payments and receipts it will probably be necessary to ask for reports to be obtained from the council's finance system, for example showing:
Transactions with a particular third party, such as the police, another council, or a particular supplier.
Transactions under a particular "cost centre" (Budget area) – you could ask for a list of those which relate to a particular department, or area of activity.
Once a particular transaction of interest has been identified within the accounting system you can ask for the documentation which backs it up. When I visited my local council this involved the member of central accounting staff phoning her colleague in the relevant department and getting them fax the invoice requested through. As well as invoices contracts can be requested too. I was rather surprised when one contract I requested turned up in five hefty volumes which filled a legal archive box, that one wasn't faxed through!
Councils, and some other public bodies, often now publish their expenditure over £500, this data may now be used as a starting point to pick up transactions for which the full supporting documentation may be viewed during the open period.
My council has a policy where it doesn't charge residents for photocopying / printouts of documents up to a reasonable amount; other bodies' policies may vary. I took along my digital camera to enable me to easily take photographs of interesting elements of documents provided. At my most recent visit the council was able to supply an electronic copy of the output of the various reports from the council's finance system which had been run for me.
One of the purposes of allowing the electors to inspect the accounts is so they can point out any problems to the auditor. There is an opportunity for members of the public who find problems to arrange to meet the auditor and formally object to the accounts. An example of how such a complaint was raised and dealt with by auditors can be seen on the New Alresford Town Council audit webpage.
Open Period for the Accounts for Bodies Local to Cambridge
Local councils are now required to publish the dates of their open periods on their websites, but other public bodies still don't have to.
See Also
My articles based on information obtained during the 2010 open period: