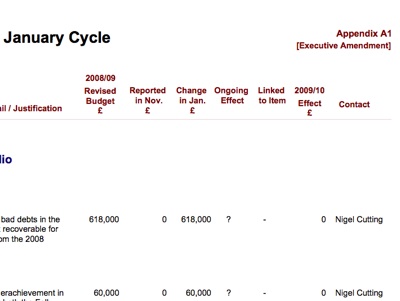 I observed a meeting of Cambridge City Council's executive on the 29th of January 2009 at which a report on proposed savings required to balance the 2008/9 budget in light of strains (which I have detailed in a separate article) was presented.   Council Leader, Ian Nimmo-Smith described the situation  as a "perfect storm", factors contributing including money taken online for Folk Festival not being passed to the council, and the loss of interest from investments in Icelandic banks which are now insolvent.
The Liberal Democrats, who are the ruling party on Cambridge City Council, are claiming that they can introduce the required savings without any impact on council services. This raises the questions of : "how?", as well as if this is possible, "why have the measures not been introduced before?" and also if the Liberals are being open and honest by saying services will not be affected. The meeting started by discussing the saving of £250,000 on cycleways described in the report as being "reprogrammed", I have written a dedicated article on this line in the report.
The opposition councillors had only had just over a day to read the document, so the council leader extended the 13th February 2009 Scrutiny meeting to allow it to look at the detailed amendments to the budget being proposed. This was welcomed, and Cllr Herbert leader of the opposition Labour group suggested it should happen every year, to avoid the situation of: "greater scrutiny of the opposition budget than the official budget".
Liberal councillors Reid and Nimmo-Smith said that the council's budget had been scrutinised in detail at a series of committee meetings. Cllr Herbert said that the council has only one budget, and that it had to be looked at in overview saying that to claim that scrutiny of the budget as a whole could be achieved by a series of meetings looking at little chunks is a nonsense.
Conservative Cllr Howell decided to illustrate the problem he had with commenting on the budget cuts proposed by pointing to the £90,000 in 2008/9 and £125,000 in 2009/10 to be cut from staff training budgets. He said he did not know the total training budget, or what exactly it was being proposed to cut within that.
Independent, Cllr Hipkin, said that he would be spending the next two weeks, before the 13th February meeting meeting with council officers and discussing the details of the proposed cuts. Liberal Democrats suggested the other opposition councillors do the same.
The Leader of the Council returned to the pressures the Council was under. He said there had been only a 0.5% increase in central government support, which in absolute terms was in fact £360,000 less than inflation. He said that the proposed budget amendments were the result of extraordinary work by council officers in locating savings. He said the aim of the budget amendments was to: "Avoid service impacts" and ensure residents got good services in return for their council tax.
Councillor Herbert asked:
Why are the proposals infront of the committee not aiming to balance the budget in 2010/11?
Why are the levels of reserves dropping, from £15 million to £8 million, to £1.5 million? He said there needed to be a link between the capital and revenue budgets, and said there was a need to make clear to the public what the purpose of the £80 million investments were for
The Council's Director of Finance, David Horspool responded to the first question by saying: "A balanced budget is whatever you define it as". He gave the example of setting the target level for reserves, if you set a higher reserve target you need to fund that. Cllr Nimmo-Smith joked that anyone proposing budgeting for a higher level of reserves would be suggesting a policy of "taxing not to spend". Surely this "tax not to spend" policy is exactly what the council, under his leadership, has been pursuing in recent years as it has amassed substantial investments and maintained significant reserves.
On the second question of the investments and the capital budgets the director of finance said that revenue contributions to capital had been scrutinised. He also listed some of the purposes the council's investments were allocated to, including repair and renewal, S106 projects and pensions.
Cllr Herbert said that he was aware of a proposed £188,000 savings on proposed vehicle purchases (a capital item) he asked if that had been considered by a scrutiny committee of if it was to be taken directly to the full council. He asked if this £188,000 was the only expenditure saving being made in the capital budgets or if there were more.
Cllr Rosenstiel interrupted to ridicule Cllr Herbert's question, suggesting he ought know better than to try and look at the big picture and consider the interplay betwen the revenue and capital budgets. Cllr Rosenstiel said this was the 32nd budget he has had sight of as a Councillor. He said: "Local Government budgets are complex, it has been said that only two people understand them and one of those has gone mad".
Cllr Herbert defended his question saying he was asking a question along the lines of one his son used to ask him – : "Is this a balanced meal?" he was asking: "Is this a balanced budget?" saying: "it might be a juvenile question, but it actually has considerable merit. "
Raid on S106 Accounts
A major area of cuts is in "Section 106″ accounts which hold money paid to the council by developers lieu of the developer providing community, social and recreational facilities within new developments. While the council can't redirect the developers' funds, these accounts have been accruing interest which was available to be spent on improving Cambridge, it is this interest derived element which is being redirected to the "general fund".
Cllr Herbert said that it was clear a decision had been made to take considerable amounts money from S106 funds which had been raised on premise that they were to be used for the public good. He said that to change accounting practices within a year was very odd and questioned its appropriateness. He asked: "How can this be dressed up as having no impact?".
He said there was a removal of £0.5 million this year and overall £1 million, again asking: "how can that have no impact?"
The council leader Ian Nimmo-Smith said there had been a change in policy, he said Cambridge was the only council in Cambridgeshire which accounts for earned interest in these accounts in the way it was doing. He pointed out that no S106 funds had been paid back to developers and said there was a concern we got close to it under Labour.
The Director of Finance responded on the accounting policy change saying: "We're not taking money back from s106, we invest surplus on cash flow basis, we get a choice of how to treat that, and that decision is not taken until end of the year. Officers are currently working with balances on s106 accounts which will not change." What he was stressing was that this wasn't really a retrospective change, because the allocation of interest to these accounts had not happened yet, so it was better described as a decision not to do something it had been intended to do.
Cllr Cantrill asked: "What are the opposition proposing as alternatives, I look forward to those on the 13th". There was some discussion on when the opposition budget had to be "handed in", with the opposition thinking they had until 4pm the next day, to be corrected by the Liberals to say they had a whole week.
Green Party Councillor Wright started her only contribution to the meeting by saying that she found: "the whole process complex". She questioned: "how many hopes can we pin on s106 in the current circumstances. It is a failing source of income – how reliable is this strategy?"
Cllr Reid replied saying the council were very successful at collecting s106 money. This prompted laughter from her fellow Liberal Democrats as they joked that they were "not quite so good at spending it". It's true, but not a laughing matter. Cllr Reid said the council will keep negotiating high s106 payments, and would not be reducing them to encourage development.
Consideration of Consultation Results
Cllr Hipkin asked: "Did you take account of the budget consultation when considering the spending cuts? If you did – what has been the impact on CCTV and Arts and Entertainment – which were areas where the public, when consulted, said they were prepared to see considerable savings?"
Cllr Hipkin also noted that Ian Nimmo-Smith had said the council had budgeted for a worse case scenario. Cllr Hipkin said that they had in fact budgeted for a bad but by no means the worst case, and asked: "Are you preparing a real worst case situation? Are you really right to say front line services will be maintained?" Cllr Hipkin suggested that realistically in a worst case situation even those will be under threat. He appreciated there "may be cautions" about announcing strategy for that possibility but said he would be reassured if Ian Nimmo-Smith assured him that he was considering a genuine worst case.
Ian Nimmo-Smith responded to say there are no secret plans.
Cllr Smith replied to Cllr Hipkin on the subject of Arts and Entertainment. She said there is to be a review of the corn exchange. She said she was going to spend the weekend reviewing tenders from consultants who wanted the contract to conduct that external review. She said the review would consider if it ought remain in-house, become a trust, or be run externally. She said that while the public consultation had indicated events were OK to cut, responses had also said people were not so keen for events for children and young people being cut. Cllr Smith said of Arts and Entertainments: "It is a front-line service".
On CCTV the leader of the council directed Cllr Hipkin to page 166 of the budget setting report which says £148,000 per year has been taken out of the CCTV budget through restructuring staffing. The leader said "moreover the Strategy and Resources Scrutiny Committee looked at a report a couple of weeks ago on the CCTV service and policy and has agreed further reviews of the CCTV service in particular looking at the effectiveness and necessity of individual cameras. The aim being to review value and through that the overall cost of the CCTV service.
There was then a bizarre interlude where the Leader of the Council, Ian Nimmo Smith, called Cllr Hipkin "Colonel Hipkin" saying: "You do pontificate", Cllr Hipkin responded to Ian Nimmo-Smith saying: "that would make you Pope." I think this exchange was prompted by Cllr Hipkin picking up the Cambridge News article about the cuts which had been published that day. Liberal democrats had criticised the report claiming it was inaccurate. Cllr Hipkin put the following to the Leader: "The Cambridge News may be at fault, but if you were required to write a pithy short piece about how the council was going to meet the crisis it has identified what would you have written?".
"The report talks of cuts to the environmental improvement budget, saying it is set to lose £646,000 – that's a lie" said Ian Nimmo-Smith. "Well if its a lie where are the cuts?" asked opposition councillors. Cllr Nimmo-Smith went on: "…also £250000 from the cycleways – that's a lie". "£100K cuts to computer system – that's correct". "£218,000 on staff training and reducing its range of glossy publications by £75,000 – yes. "
Cllr Hipkin asked his question again: "What would you have written to inform the people about what you are proposing?" Cllr Nimmo-Smith began his answer with: "Since Cllr Reid and I briefed the newspaper …. Cllr Hipkin interrupted asking: "What did you tell them?".
Cllr Reid said that it was "trivial to bring this article to the meeting" and accused Cllr Hipkin of "wanting to reduce this meeting to a discussion about how we would turn the report into a press release".
Cllr Hipkin persisted asking: "What would you say are the principle means through which you are proposing to make the reductions?"
Cllr Reid's reply was: "I regard that as a completely out of order and irrelevant question. I have no intention of answering it".
I think Cllr Hipkin was asking a reasonable and necessary question about both the Liberal Democrat's principles and approach as well as pointing out the requirement for clear communication with the public. The Liberals responded arrogantly in my view.
The Council Leader said: "Cllr Hipkin wants to have his cake and eat it. On February the 13th he can go down into the detail". Ian Nimmo-Smith then addressed Cllr Hipkin directly saying: "You've been set homework, and you want teacher to give you the answers, that's not the game we're playing."
I don't think Cllr Hipkin was playing any game, he was asking reasonable questions, the Liberal Democrats were responding arrogantly, and are not prepared to aid opposition councillors and the public's understanding of what they are proposing. They are being secretive.
Accounting for Iceland
Cllr Howell said: "At the moment we have accounted for the fact we are not receiving interest on the Icelandic investments but have made no adjustment whatsoever for the £9m capital currently sitting in insolvent institutions. I do not believe this a prudent view of the economic situation. Loss of interest only is optimistic."
Cllr Howell also said that there were other, as yet unaccounted for risks to the council's financial position, such as the Folk festival, ticket sales for which last year were not as quick as previously – he said that there was serious risk of not selling out in 2009. Other possible reductions in council income he was worried about included: Car-parks revenue, income from selling recycling materials and effects on pension fund investments. "How can you possibly say this is prudent and represents worst case scenario?" asked Cllr Howell.
Cllr Rosenstiel interrupted angrily waving his arms in the air. Ian Nimmo-Smith, who was chairing the meeting restored order by shouting: "Colin. Down Colin", which was effective.
The Director of Finance responded to Cllr Howell saying that the section of the report which states: "The budget position indicated above is felt to represent a relatively prudent view
of the Council's projected future economic position" is designed to identify the fact the council is following appropriate accounting practices. He went on to talk about the existence of a draft of exceptional regulation by a minister which would recognise there is insufficient information available about the possibility of getting money back from Iceland. He said that the report was not intended to be misleading and presented a position in line with draft legislation which the government had stated their intention to "take through the full process" by 31st March.
Cllr Howell asked how £4.2m had been taken off budgets without "smoke and mirrors". Cllr Herbert warned Cllr Howell that using that phrase sounded critical of the staff (it has prompted a debate in previous meetings), Cllr Howell made clear that he thought the accounting was impeccable. However he said the accounting doesn't reflect to what postponing into another year is achieving. Were the savings were being achieved by shifting items into another year, or if that's not the answer: "How are such big savings – worth £4.2m being made with no cuts to services" he asked.
Ian Nimmo-Smith said the headline figures of £4.9m and £4.3 didn't account for the fact that underlying factors such as the bulk of strain caused by the concessionary fares were already in the projections. The same was true of the loss of real value in revenue support grant – that again was already factored in. A large amount already accounted for within Medium Term Strategy said Ian Nimmo-Smith, additional items had been accounted for subsequently in the budget setting report and amendment and that's where the additional savings are to be found.
Cllr Cantrill – said that contrary to implied assertions made by Cllr Howell – in previous years the budget has not been easy to achieve. Cllr Cantrill said that maintaining and enhancing the front line services – reengineering Customer Access Strategy (CAS) resulted in efficiencies which are not expense of residents and service users. Cllr Cantrill considered potential future unknowns, he said that in 6 months time the council might find itself capped at 1%. "We can't predict what will happen , but we can respond, we have demonstrated we can react, we respond to quite large external impacts".
Answering a point raised earlier about where the training savings were being made, Cllr Cantrll said he had ring fenced CAS training and: "there had been quite a large underspend in the training pot". Cllr Cantrill is also responsible for the council's commercial property, he said he had looked at each tenant and looked at robustness of their covenant. Running with the leader's perfect storm analogy he said we were currently in a "perfect storm hurricane 2″ and could end up at "hurricane 5″. He said "we are going to lose some of our tenants"
Speaking on the opposition complaints about lack of detail he said – "We're not going to be your fact finding component." Cllr Reid, realising perhaps that this was getting a bit too party political and confrontational said that in the same way the Liberals responsible for various areas had been though savings with officers; opposition councillors need to come in and do the same saying: "information is yours for the having".
Cllr Smith then spoke on what she correctly described as the: "big ticket item on her profile" – the folk festival, she said she had discussed issue with officers, and had decided to keep the ticket price increase more modest this year. She said there was a slowdown in market for festivals in 2008.
By this point in the meeting things were starting to go round in circles, with Cllr Howell asking again: "In simple terms how have you cut so much without affecting front line services". Cllr Nimmo-Smith replied giving the examples of "freezings of posts" and "reassessments on repairs and renewals". He said: "These are all part of the bread and butter of ensuring that the council is not budgeting for monies that are not required."
Cllr Nimmo-Smith said there had been in addition – "serious meaty reviews which have been through scrutiny committees eg. CCTV and Car Park reviews which have made major contributions". Cllr Nimmo-Smith said: "these are the areas Cllr Howell needs to looked at to understand what has been achieved – not without pain".
On the training budget and publicity, Cllr Nimmo-Smith said these were disaggregated / distributed areas of activities he said that a view had been taken (based on a consultants report in the case of publicity) on what could reasonably be achieved, this perhaps implies the details are not yet worked out.
Cllr Nimmo-Smith questioned :"how much of that do we need to bring into a four sentence summary?" and said "A £150m turnover business can't encapsulate in the shortness of words being asked for – the many principles of its budgeting process – both financial and political objectives and priorities". Cllr Nimmo-Smith repeated his priority of maintaining frontline services
Given the repetition Cllr Nimmo-Smith asked if there were: "any additional substantive contributions to be made".
Cllr Howell asked about the S106 policy change, asking it was the difficulties the council had in struggling to spend the money in recent years that had resulted in the area being looked at for savings.
The Director of Finance said : "What our papers don't show is the turnover and throughput in relation to the s106 books", though he did note the beginning of year and six month position were presented in the Budget book (p.170). The Director of Finance said it is an area where there are opportunities for increased visibility. He agreed there may have been at times a lack of clarity in this area. He also surprisingly claimed that he didn't think comments along the lines of "we're not very good at spending this" "100% reflects the realities" He suggested opposition councillors talk to officers about the s106 funds.
[I realise this is a very long article, but I felt what went on ought be shared. ]