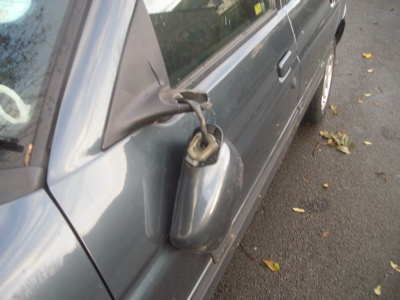 I am concerned Cambridgeshire Police are not recording the costs of criminal damage like this.
During Sgt. Wragg's update on North Area policing at Cambridge City Council's North Area Committee on the 2nd of July 2009 he said he had received no suggestions on ways to improve the police's regular reports. When he invited me to ask my questions at the end of his presentation I noted had I had in fact suggested a number of changes. At the previous North Area Committee meeting I had suggested the police ought record, and report on, the costs of crime better. My primary reason for doing this is to try and ensure that magistrates have the proper information in-front of them when they sentence offenders so they hand down appriopriate sentences and also so that those who have suffered damage to their property have a chance of being awarded compensation. Additionally I believe having better information on the value of damage may result in the police, and councillors, appreciating various problems more. Damaged wing mirrors, windscreen wipers and aerials on cars are all relatively minor, but can be more expensive to put right than they sound.
When I raised this in March Cllr Blair expressed support for my idea, during the July meeting however she told me I was getting no-where and wasting the committee's time with my questioning of the police on this tack.
At the July 2009 North Area committee no councillors took my suggestion forward, none even made any comment on my suggestions. Though on a city wide basis Conservative Cllr Howell is trying to improve the way the police record crime. The North Area Committee is made up of almost entirely of Liberal Democrats, who appear to me to be reluctant to use their positions to influence policing.
One reason for councillors not taking action was Sgt. Wragg's denial that there was a problem. I am aware of a number of cases of damage to cars in Arbury where the police have recorded the incident, but have not sought to find out the value of the damage. In March, in response to my question, he had told the meeting that the police had a form for recording the costs of crime, and that sometimes it got used. He said this again, and I made clear that what I was calling for was for such records to be made as a matter of routine, in all relevant cases. Sgt. Wragg appeared to suggest that he did not believe there were situations where appriopriate information was not gathered and the police were already recording such costs when appropriate. He explained why they did this – so that the full information was in-front of magistrates, and I told him that that was exactly why it was important it was routinely collected.
As Sgt. Wragg denies the police are failing to record the value of such damage I have used the freedom of information website WhatDoTheyKnow.com to ask the following:
At around 0400 on the 15th of November 2008 a large number of cars were damaged in the Arbury area of Cambridge. Could you please let me know:

i/ According to your records how many vehicles were damaged?

ii/ For how many of those vehicles have the police been made aware of the cost of repair?

iii/ What do the police believe was the total value of damage done during that incident? On what basis has this figure been calculated?

iv/ Has anyone been put before the courts with respect to this incident? Was any compensation awarded to those whose property had been damaged?

Incident number 15/11/08-144 was issued in respect of at least some of the damage done on the occasion I am referring to.
My request, and any response, can be viewed via WhatDoTheyKnow.com.
I believe about twenty cars were damaged that night; I am concerned that no effort was made by the police to find out the costs of the damage. If the answer to my request reveals that the police did in-fact manage to determine the costs of the damage I will continue to press for figures to be reported to councillors. If it reveals the police are not recording either individual instances of damage, or the costs of that damage then I will pursue that.
Councillors at the North Area Committee on the 2nd of June followed the recommendations of the police, and prioritised Criminal Damage in Arbury and Vehicle Crime in King's Hedges; in light of these priorities I think my suggestion of recording, and reporting on, the costs of these crimes is relevant to the current problem areas as identified by the police and agreed by councillors.
Alcohol Related Injuries
Cllr McGovern and Cllr Nimmo-Smith drew attention to a new data-set released by Addenbrookes Hospital, this plots incidents which have resulted in people going to Accident and Emergency at the hospital on a map; it also notes the type of incident they have been involved in. Councillors thought that this could also be used to highlight where there were particular problems in the North of the City and asked those preparing policing reports for future meetings to consider incorporating information from it.
Burglary
I should note that I see violent crime against people, and burglary of homes as the major crime related problems in the North Area. I was pleased to see Cllr Pitt request that North Area councillors keep getting updates on the police's progress in tackling burglary.