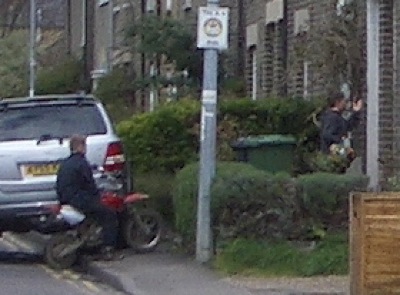 Youths with an off-road motorbike look for more youths with similar vehicles on French's Road, Arbury.
On Thursday the 20th of August I attended Cambridge City Council's West/Central Area Committee. Part of the meeting was dedicated to allowing members of the public ask questions of the police.
PC Simon Railer gave the police presentation, this was the first time I had seen PC Railer since he visited my house to try and stop me taking photographs of those mis-using mini-motos in Arbury. When we first met, on the 2nd of April 2007, PC Railer tried to deter me recording evidence of the problems saying: "You might have to go to court to explain why you've taken a photograph".
When I was given the opportunity to ask a question I decided I would start by congratulating Cambridge police for finally starting to work with, rather than against, the public in their efforts to tackle youths, and younger children riding mini-motos on the roads. I chose this topic as this was the first time I had come across PC Railer since he visited me, and in light of an Ecops email sent by PCSO Luke Upcott on the 12th of August 2009 stating:
Once again we are receiving a few complaints regarding mini motos. We are stepping up patrols around certain areas to try and tackle this. If you see mini motos riding in your area please make sure you call us so we can be alerted to the problem, if possible take photos of the offender on the bike so we have hard evidence and know who we are dealing with.
During my question I referred to both the recent Ecops email and a clear statement I obtained from Chief Constable Julie Spence, on BBC Radio Cambridgeshire in September 2007 in which she expressed her support for people photographing and even videoing anti-social behaviour. The Chief Constable expressed her opinion that showing such images to their parents can be a very effective way of putting a stop to the problem. I asked PC Railer if he could confirm that message had now reached him, and his colleagues, and if he now accepted that there was nothing wrong with people taking photographs as evidence of problems.
PC Railer did not answer my point at all, he just stood there in silence looking into space. I am concerned that PC Railer might be one of a number of officers in Cambridgeshire Police who believes he has the power to demand people do not take photographs.
It wasn't just my questions PC Railer was unable to answer, he had to hand over to a police sergeant to answer all the questions put to the police by councillors and the public.
Since 2007 I have been ordered not to take photographs in public by Cambridgeshire police on two further occasions (Once when taking a photo of a PCSO, and on the other occasion when taking a photo of youths with a motorbike); it appears that such behaviour by the police is a serious nationwide problem. I have raised the matter at numerous area committees in Cambridge, and in May 2009 asked a public question at a Police Authority meeting.
What's The Problem With Mini-Motos?
I am generally quite a liberal person in that I'm happy for other people to get up to whatever they want if it isn't adversely affecting others. However when young children, some who look under-ten, are riding bikes on the roads and pavements at up to 30 mph around where I am living I thought I ought to do something.
Primarily I was, and still am, concerned people are going to get injured. There has already been a very serious injury when a youth riding a mini-moto in the south of the city collided with a bus. It is only through luck that there have not been similar incidents in Arbury and no-doubt when one does occur it will be immensely traumatic, disruptive and expensive for the unlucky car / van / bus driver who is involved as well as painful for the rider. In the North of the City those on these motorised bikes come into conflict with pedestrians on the paths and pavements. For elderly people, those who are deaf or blind, or those who are walking with their own children the presence of the bikes being recklessly ridden is a particular concern and danger.
With respect to the younger children (rather than the youths); they aren't in a position to make a rational assessment of the risks and understand the danger they're putting themselves in by riding these vehicles on the roads, (almost always without helmets). I think their parents, and failing their parents – wider society, ought be taking action to protect them.
On a less altruistic note, given the speed they ride on the pavements, and the fact riders often appear unable to cope with the power of the bikes, I am concerned my own and other people's cars may get damaged.
Even after councillors in various areas of the city have prioritised dealing with mini-motos, scoooters, off-road bikes etc. a number of times some police officers don't accept the problem. Some in the police appear to believe the problem is primarily one, not of potential for serious injury, but merely a minor noise nuisance so dismiss it.
The current system of dealing with mini-motos in the city is not working. Those caught riding them are not dealt with under the same law as I would be dealt with if I drove a bike without a license, insurance, MoT or helmet, but under their own special law, the Anti-Social Behaviour Act, which instead of fining them or banning them from driving when they reach seventeen, merely warns them. When they are caught again their bikes can be confiscated, but they are able to get them back after paying a small fine. A further problem arises due to PSCOs generally not having the power to stop moving vehicles; as well as Cambridgeshire police being notorious for not knowing what powers they have on private, but publically accessible, land such as car-parks and school premises where many problems occur.