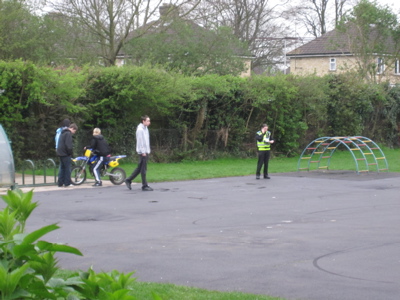 Youths with a motorbike on the playground at St. Luke's School in April 2009. A PCSO is shown to the right of the photograph.
St Luke's School, French's Road, Arbury, Cambridge has posted a letter dated the 22nd of May 2009 on its gates announcing it is no-longer going to allow the public access to its grounds after school hours. This follows repeated vandalism. The closure will prevent local children from being able to access the football pitches and play equipment on the school site out of hours, it will also block off a footpath.
The posted letter states:
Dear Parents, Carers, Staff, Neighbours and fellow Governors,

We have decided that the school can no longer operate an open-site policy. The reasons behind this decision are:

persistent vandalism of the building, including frequently broken security cameras, broken lighting, [and] climbing on roofs;
breaking and entering, with some incidents of theft;
setting fire to objects on the site;
anti-social behaviour, including abuse of neighbours and trespass on their property;
evidence of drinking alcohol with broken glass left behind;
riding of motor-cycles and mopeds, including at the end of school
persistent use of the site by dog owners who fail to control or clear up after their pets.

We acknowledge that the vast majority of people who visit our site use it responsibly, and remain committed to serving our community as best we can. However our primary concern must be the welfare of the children and staff who attend the school. We would also prefer to be good neighbours and feel obliged to respond to the concerns of local residents.

In the short term, we have decided to close the site completely outside of school hours. Gates will be closed from 5.00pm in the evening until 8.30am in the morning during school days. Access to after school clubs and evening activities will be via the small gate nearest to the main school entrance.

However we invite your feedback, which will be considered when deciding the long term policy for the site at the next meeting of the Full Governing Body. Please send your comments to the school marked for the attention of the premises committee.
Lawless
It is sad that this area of Arbury has become so lawless that the school is having to become a fortress out of school hours. The school has however become a magnet for vandals and antisocial youths and this has also had detrimental effect on the neighbouring streets. The closure of the site, and blocking off the cut-through might well reduce this problem.
For a couple of years now there have been lots of problems on French's road itsself, with burglaries and a number of households with mini-motos and motorbikes being reported to ward based policing meetings and the North Area committee. Vandalism of cars parked on the surrounding streets appears to be an almost daily occurrence, just yesterday evening I came across one elderly resident struggling to attempt to effect a temporary repair to her vandalised wing mirror so she could drive her car. I have attended the North Area committee and asked for our local police to record the value of such damage, which they don't currently do, both so they can gain an appreciation of the scale of the problem and so if those responsible do end up in court they are punished appropriately and the magistrates are able to award compensation. While no local councillors in the North Area were prepared to support my suggestion, Conservative Cllr Chris Howell has been using his position to push for better recording of crime on a city wide basis.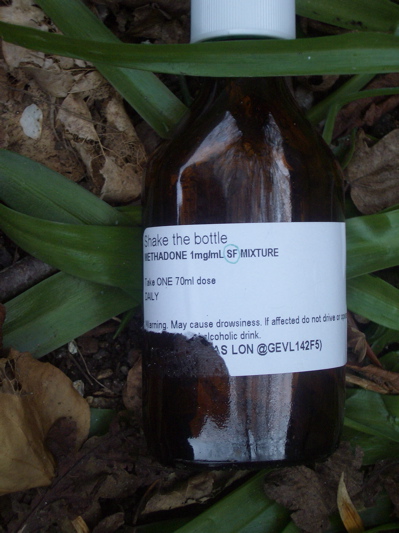 There have also been problems with people drinking and using drugs on and around the school, particularly when the police were aggressively using their draconian dispersal powers elsewhere in the city. Those drinking and using drugs are generally totally irresponsible and leave broken glass and drug related paraphernalia where very young children can come on their way into school.
Mini-Motos
Youths riding mini-motos and motorbikes are attracted to the site, as well as churning up the grass in the school they ride on the local roads and pavements. Police officers appear unwilling to take robust action, and PCSOs lack the powers to stop those they have warned for using their bikes on the school field from riding off down the road. PCSOs have no relevant powers with respect to moving vehicles on the roads. One problem is that there is one law for these youths and one law for the rest of us. If I drove an untaxed, unlicenced, unroadworthy vehicle on the road, or in the case of a motorbike without a helmet I would expect to be fined and possibly banned. I would also expect my insurance premiums to become astronomical. These youths are not dealt with under the Road Traffic Acts, but their own law, the Anti-Social Behaviour Act, which has pathetic penalties. They need to be caught twice before their bikes are confiscated, and even then they can pay a fine/charge and get them back.
The police appear much more interested in behaving aggressively towards those recording and reporting dangerous mini-moto use than those on the bikes. There has already been a very serious injury when a youth in the south of the city collided with a bus. It is only through luck that there have not been similar incidents in Arbury and no-doubt when one does occur it will be immensely traumatic, disruptive and expensive for the unlucky car / van / bus driver who is involved too.
The PCSOs do appear to be getting better at using the powers they do have, for example issuing warnings to all the individuals involved, and "the vehicle" allowing confiscation if either the individuals or vehicle are caught again. A major problem appears to be the youth's lack of respect for the law, or PCSOs as they are very aware they are not going to be effectively punished. With respect to the very young children riding these bikes (sometimes those clearly under ten are riding them on the roads) their parents need to be dealt with in order to protect their children.
I presume a right of way has not been established over the school premises, but this would be worth verifying before a closure goes uncontested. As the city changes, and perhaps as policing improves with a new government, the path could be reopened.