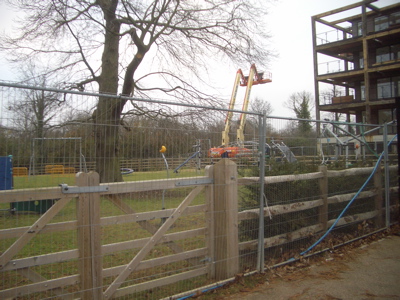 On Saturday December the 6th 2008 in the weekend edition of the Cambridge News carried an article headlined: "Now it's poison berries stopping the start of play" about the fact the large Playground on the Accordia development off Brooklands Avenue in Cambridge has been closed since December 2007. The playground is closed as yew hedges with poisonous berries have been planted next to the play area. It would appear to me to have been as easy to pull the newly planted yews out as to put up the temporary fence.
I have written previously about the debacle which has seen Cllr Lucy Walker, the Labour Councillor for the Petersfield ward in Cambridge repeatedly question Liberal councillors about the delays in getting the playground open. The Executive Councillor responsible Cllr Julie Smith passed responsibility for answering questions on the playground to Cllr Clare Blair. The 6th December article reported that Cllr Blair had said the council was working tirelessly to open the playground by Christmas. My first reaction to this was to ask "Which Christmas?". She did continue to say: "It is a fantastic play area and we hope to have it open in the next couple of weeks", clearly indicating she was aiming for Christmas 2008.
Cllr Blair's deadline which she set herself has now been missed. The above photograph, taken on the 28th of December 2008, shows the playground still fenced off, and the yew trees still in place. Now I congratulate her for setting herself a public deadline, but she has to expect that attention will be drawn to it now she has failed to meet it.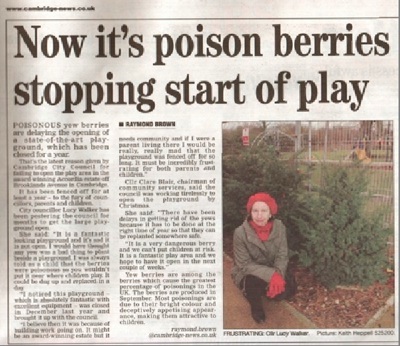 I believe the above article was not made available online, so I cannot provide a link.