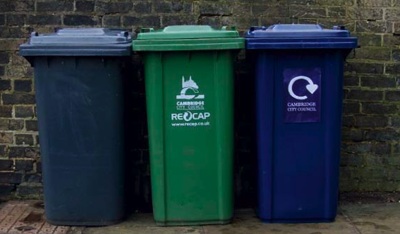 Cllr Pit reports the amount of waste the city sends to landfill has decreased and that compostable material is being extracted from Black Bin waste.
At Cambridge City Council's annual meeting on the 27th of May 2010 Cllr Ian Nimmo-Smith put the following oral question to the Executive Councillor for Environmental and Waste Services, Cllr Pitt:
What progress is the city making towards reducing the amount of domestic waste that is not recycled but goes to landfill.
Cllr Pitt responded to say the amount of waste from the city going to landfill had fallen last year despite an increase in number of households. He gave the credit for this decrease to householders who he said had made more efforts to reduce the amount of waste going into their black bins. Cllr Pitt said that moving to two weekly collections and the provision of a larger container for recyling (the blue bins) had contributed too as had the adding the ability to recycle tetrapack cartons and batteries.
The executive councillor rattled off a lot of figures including "70Kg" and "12%"; which he said he would submit to council officers as a table for inclusion in the minutes. Cllr Pitt made a point of asking for his answer specifically, and the answers to oral questions generally, to be minuted but both the Mayor and Chief Executive stayed silent and didn't respond with any assurance this would be done.
Cllr Pitt also said the council was promoting: "waste prevention", and said that a plant to "reclaim" black bin waste was being commissioned at the moment. He said that compostable material was already being extracted from black bin waste but at the moment – during the commissioning – it was still being landfilled but he hoped that would change in the near future.
Cllr Ian Nimmo-Smith, who earlier in the meeting had been elected Deputy Mayor, so was speaking from the dias wearing a gold medal on a blue ribbon round his neck, thanked Cllr Pitt for his answer and asked if the executive councillor agreed that the percentage of domestic waste going to landfill should be given less prominence than the absolute amounts.
Councillor Pitt agreed, and to point out the problem with the percentage statistic being taken alone – he noted, in an example he pre-emptively described as absurd, that if he went out to buy paper to put in his blue bin that would increase the percentage of his waste which was being recycled.
As there has been a case of compost even from Green bins ending up being contaminated in such a way that affected people's ability to use it on their gardens I wonder what is to happen to the compost derived from the black bins which surely inevitably will be even less "clean". If it's not going to be used as compost but left to rot somewhere else – what's the real difference between doing that and letting it rot in the landfill – other than it being avoiding landfill tax? Is this a scheme which only makes any sense at all due to an oddity of the tax system? One possible benefit is capturing methane being released during composting more efficiently than is possible in a landfill and generating energy from waste. [Update: I've added some more material relevant to these points in the comments]
More Q&A
See the other oral questions asked at the May 2010 full council meeting.