On the 2nd of May 2014, in St Ives, Patrick O'Flynn was one of the warm up acts for UKIP leader Nigel Farage. O'Flynn is the top ranked candidate on UKIP's list of candidates for the Eastern England region which includes Cambridge. The full list of candidates and parties has been made available by Tim Green on YourNextMEP.com.
In his speech O'Flynn said:
"the issue of the European Human Rights regime, that criminals' charter run from Strasbourg. It's a separate entity increasingly now it's being written into the rules of EU membership. We have to be under the jurisdiction of the European Court of Human Rights and that means we struggle for decades at a time to throw out people from this country who have come to persecute the British people and spread messages of hate, it also means that we'll either have to give prisoners the vote or compensate them with large amounts of taxpayer's money for not having it. Well I'm not having that and I don't think the British people are. UKIP would remove us from the jurisdiction of that court.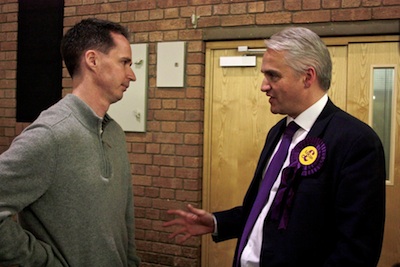 I spoke to O'Flynn after his speech. I raised three points with him:
Which of the articles of the European Convention on Human Rights does he want to amend or remove?
If he had joined UKIP wanting to be an elected representative; or if his prime interest was his role as Director of Communications.
How he, or anyone, can be an effective elected representative given the size of the constituencies. I asked him what he was going to do to enable me to have the kind of direct relationship with him that I have with my MP and my communicative councillors.
On the first point O'Flynn told me he was broadly happy with the European Convention on Human Rights. I thought it was rather inconsistent to say that to me in person after the impression he had given in his speech. He told me that he thought there might be a need to make an amendment, or add a supplement, to the convention limiting its scope. The example he gave me was:
the right to a family life being applied to a foreign citizen who has come to the UK, committed serious crimes, and can't be deported because they've hooked up with someone and had a child they've never really taken much interest in.
He also added that he didn't consider prisoners have a fundamental human right to vote.
O'Flynn told me that it was elected office which drew him to UKIP and not the prospect of the role of communications director.
On the question of connecting with voters, and the remote nature of MEPs O'Flynn said "it's not UKIP which has drawn up the system. We don't believe in the European Parliament at all". "It's impossible to believe in a direct link between individuals and their representatives when you have these enormous regions".
I don't think it is impossible for committed representatives, to publicise what they are doing and to provide routes for interested people to discuss their views and make them known to their representative. I was unimpressed with O'Flynn's answer on this point.
My Views
While I'm not particularly impressed with Patrick O'Flynn as a candidate. I did feel there was a difference in how what he said to me individually came across compared to what he said in his speech.
I don't think he's someone with a significant enough body of published positions and opinions to be able to support. Perhaps if I was a Daily Express reader I'd have a different view on that point; but from what I can see he's a reporter, not a really a commentator sharing his own views.
During the campaign we've seen O'Flynn managing the party's public affairs, acting as one of Nigel Farage's minders (reportedly dragging Farage out of a difficult radio interview) and not focusing on his own constituency.
I agree with UKIP on a number of key points:
I want the UK to be a self-determining sovereign state. I don't want to see us subject to laws handed down from the European Union; created via a system where there is not as effective and direct democratic input as we have in the UK Parliament.
Peace in Europe is clearly a top priority when it comes to considering how society on the continent is run. I don't think pursuing an increasingly integrated superstate is the best way of assuring peace. I don't think the EU has been key to the relative peace we have seen in the last 60+ years; that credit goes to NATO. To the contrary I think pushing nations with very different economies and cultures towards closer union risks creating conflict, creating unfairness, disempowerment, and discontent.
I want to see the UK making the greatest contribution to global human endeavour, we can. To do that I think we need to take a global approach to trade and free movement of people and not tie ourselves too closely to the EU. I want the UK to be open to any student from anywhere in the world a university in the UK wants to accept, anyone an organisation in the UK wants to employ from anywhere in the world.
I don't want UK taxpayer's money (and money our Government is borrowing to spend) being spent via the EU in less transparent and accountable ways than it would be if we spent it ourselves. Sending money on a trip via the EU benefits no-one. I want to see at least the scale of the EU dramatically reduced, if not abolished.
I don't want decisions on if the UK state is going to take away someone's liberty, or have any other state sanction imposed, being taken by anyone other than the UK courts (or in the case of an arrest a UK police officer being satisfied an arrest is proportionate and necessary).
Trade with European countries; movement of people within the continent and, collaboration on managing our seas, are all things which can, and will, continue with our without the existence of the political behemoth of the institution of the European Union. Opposing the political institution in its current form is in no way "anti-Europe".
A dramatic renegotiation of the UK's place in the EU and our relationship with it is one option I'd be happy with. I think a significant vote for UKIP might influence the Conservatives in the UK Parliament to get serious about their promised renegotiation which as yet isn't being put into effect. I think UKIP will effectively oppose the expansion of the EU bureaucracy, and moves towards greater integration.
If I do vote UKIP it will be solely on the basis of their policies in relation to the European Union; and no endorsement at all of some of their bonkers policies which have appeared in past UK general election manifestos.