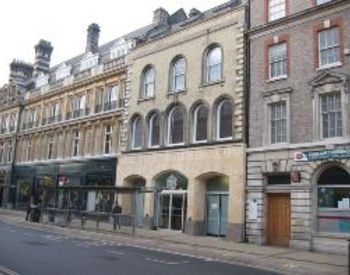 On Monday the 12th of August 2019 I attended Cambridge Magistrate's Court where Raymond Brown, who served as Cambridge's crime reporter for many years, was due to face trial following an allegation of possession of a controlled substance.
I thought it was worth seeking to observe the hearing as I was interested in seeing if, given his role, Raymond was treated fairly by the police and justice system. I thought it may well be an interesting case with elements of public interest.
What transpired was a very quick hearing, it was all over in ten minutes or so (that's including a few minutes of in-court deliberation by the magistrates). Raymond pleaded guilty to the charge and was ordered to pay ordered to pay £400 costs, a fine of £1,211 and a £121 victim surcharge.
We didn't learn why Raymond was in possession of a controlled substance, and magistrates didn't ask any questions to find out.
I was left thinking that it was quite possible that Raymond had ended up in possession of the substance as a result of good, moral, well intentioned, actions. I would have liked to see magistrates probe further to seek to extract and discover more possible mitigating factors.
Raymond Brown was representing himself, and appeared alone in court, but I didn't see any evidence of the clerk or magistrates taking steps to ensure justice was done in-light of the fact he was acting without professional advice.
The reasons for Raymond's decision to represent himself were not questioned, and there was no offer made of free legal advice (though such an offer may well have been made out of court). The defence solicitor awaiting the next case didn't leap up and offer to provide a bit of free support.
Would things have been different had Raymond been represented or if he had access to independent legal advice in court? Could a more rounded picture of Raymond's character have been presented to the magistrates? Would there have been an option to present "special reasons" to the magistrates and argue that while Raymond was technically guilty of the offence they should decide to take no action?
I am not an impartial reporter here. As a local resident interested in policing and justice matters, and other civic issues, I have regularly featured in Raymond Brown's articles and I have often encouraged him to write articles on matters which I felt deserved wider public attention.
While this is a report from court. I am also sharing my own views and thoughts.
What Happened
I found out about the impending case following a Cambridge News article published on the 9th of July 2019: "Cambridge journalist to appear in court on cocaine charge. Over the following few weeks I thought carefully about attending to observe the case and eventually decided to do so. If our local magistrates court published their court lists I suspect I might identify more cases of interest to observe, report and comment on. Even a well focused, textbook, request for court listing information has been refused though. Observing court isn't something I do lightly, the courts are an oppressive and unpleasant (though fascinating and educational) environment even if you are just observing proceedings.
I arrived outside the court at 0910. Cambridge Magistrate's court is a foreboding maze, with an entrance from St Andrew's street for the public, an underground entrance to the cells off Downing Street, and an entrance for magistrates from within the Grand Arcade shopping centre. The courts themselves are, I think, just below the top level of the Grand Arcade car park.
Raymond Brown's case was listed on the noticeboard as the second of three cases set for 10am in court three.
I requested a copy of the full court listing for the court and for details of each alleged offence but all I was told in relation to Raymond Brown's case was that it was a case of possession of a controlled drug and that Raymond had previously pleaded "not guilty". I have written separately on the Basic Failure of Open Justice at Cambridge Magistrates' Court which I believe occurred due to failure to share the information requested.
At 10am I entered the court which was was staffed by a clerk and an usher. There were two lawyers at the front of the court, a prosecution lawyer and a defence lawyer. They were discussing some technical difficulties relating to case 1. There were two people sitting at the back desks of the court, I suspect one was from the probation service, and the other was probably a journalist. (Journalists sometimes take a desk in the court and that often appears to go without comment – perhaps I should try it one day and see what happens!). I, and one other member of the public, were sitting in the public gallery. The public gallery is two rows of seating at the back of the court, at the same level as the floor of the main courtroom, where no desks are provided.
At 1005 the usher said: ~"please stand" and the magistrates walked in through their special door leading to their raised dais at the front of the court. It appears the magistrates had windows and natural light above them but otherwise the court was an enclosed room.
I obtained the names of the magistrates orally from the usher later, they were, phonetically:
Sarah Vallance-Good
Jacob Power
Kim Clegg
Case two was called, which was a slight surprise, but I was aware of the discussion of the technical difficulties with case 1.
The usher left the court and returned with Raymond Brown and directed him to stand in-front of the dock.
I asked the usher if I could address the clerk [in order to request the full court listing information which I had not obtained following my request to usher]. The usher appeared to perhaps relay my request to the clerk, and it appeared to be ignored.
None of the magistrates mentioned that they knew Raymond Brown and none withdrew from consideration of the case. I had thought that Raymond Brown might have to face trial in another region in-order to obtain a bench of magistrates who were not familiar with him, and his work. Perhaps Cambridge magistrates are drawn from a wide area and arrangements had been made prior to the case to obtain a bench with no conflicts of interest. Even if this particular bench of magistrates were unaware of Raymond Brown their fellow local magistrates would surely be. I thought given the circumstances a statement from the bench on this subject would have been appropriate.
At around the same time as Raymond Brown entered someone who I believe was the Cambridge News' Chief Reporter, Chris Elliott, walked in and sat in the back-row of the public seating. I got the impression he was there to support and accompany Raymond rather than to report on the case, though a journalist is of course never really "off-duty".
The clerk announced that Raymond Brown was to represent himself.
Details of the charge were then read out. The charge was described as the possession of cocaine on the 20th of September 2018.
Raymond was asked if he wanted to change his plea, he said he did, and that he wished to plead guilty because a friend had advised him that as he did have cocaine on him he was, he understood, technically, guilty of the offence.
The prosecution told the court that on the 20th of September 2018, at Parkside Police Station in Cambridge Raymond Brown had been found to have five wraps of crack-cocaine weighing [a total of] 0.83g in the inside pocket of his jacket. The court was told the material had been tested and confirmed to be as described.
The court was told some statistical information on Raymond Brown's past history of convictions. This is a very difficult area to report especially as I don't think that very very old, presumably spent, convictions (and the history presented all came well into that category) should have been raised in-front of the magistrates at all. There would I think be a journalistic defence to sharing more than I am. I was personally surprised to hear of Raymond's "qualifications" to serve as our crime reporter. The submission was not ruled inadmissible by the clerk or magistrates though. The court was told that all but two cases were unrelated to the matter before the court.
Raymond Brown spoke to say that the only two cases which had any relation to the charge were in relation to "cannabis when I was 16".
The clerk interjected to assure Raymond Brown that given how old his offences were the magistrates would consider him to be "of good character".
I think we need to improve the way evidence on previous convictions and other related history is presented in court. Hopefully Raymond won't mind me reporting what happened in this way with a view to informing public debate and seeking fairer treatment for others in the future.
Raymond went on to speak to the court, in mitigation, he explained that on the day in question he had been due to travel to Malta but had received what he thought at the time was a devastating medical diagnosis – he gave details which I don't think it is necessary to report and said it was "quite upsetting".
Raymond told the court that his wife had died three years ago. While Raymond didn't say anything more than that in court the death was widely reported in the national media, based on an essay written by his wife, Lisa Steen in which she shared her struggles to get help from medical professionals in our health service.
Raymond was quoted by the Telegraph as saying:
She was just so angry and frustrated that she didn't get a diagnosis and seemed to be hitting a brick wall with every doctor she went to see.

"They didn't seem to be taking her too seriously particularly because she had been diagnosed with health anxiety, she was being looked at as a hypochondriac.

"She spent a lot of time on her own investigating what was wrong with her. She was probably right in the beginning, it was to do with her previous history of having a body tumour [which was benign] but they didn't seem to want to investigate it.

"She just wants doctors to be aware when they are treating doctors to give them really good treatment and they have to be aware they are a patient and they don't know everything. They need to be treated like a patient, not like a doctor.
Raymond told the court that he had been left alone with his young children. He explained to magistrates that it was that context which had made what he described as a "potentially fatal diagnosis" so very upsetting.
Raymond then spoke about his current partner's health, again while it was shared in open court I don't think it's necessary or fair to report on. Raymond explained what transpired and the upshot was that at the end of this highly distressing day emotions ran high and the police ended up being called to Raymond's house and he ended up in the police station where the drugs were found.
Raymond said that while he admitted possession he had no intent to use the drugs.
Raymond told the magistrates that he used to work for the Cambridge News, and that the charge had already had a significant impact on him as he had lost his job. He described himself as a "retired crime reporter" and said he was trying to pick himself up.
After the highly emotive statement in mitigation Raymond addressed the magistrates and said: "I ask for you to be lenient, please".
If the magistrates were hearing of the tragic circumstances Raymond had ensured for the first time during his mitigation statement I'm not sure the weight of misfortune he has had to deal with would have come across.
Raymond was asked to give details of his income, which the clerk explained to him was to enable magistrates to set any fine at the appropriate level. Raymond offered details of his pension.
The prosecution made a request for costs of £620 and Raymond immediately interjected to say he was happy to pay those costs.
The clerk spoke to explain to Raymond that: "the state has incurred costs in preparing the case for a trial".
The clerk asked if the magistrates (who hadn't yet substantively participated in proceedings) had any questions, they didn't, and they began to deliberate in court.
After a few minutes the chair of the bench announced their decision, ordering Raymond to pay a fine of £1,211.00 and a victim surcharge of £121.00. The magistrate said the victim surcharge would "go to victims of crime". The magistrate said they had reduced the costs from the requested £620 to £400 making the total to pay £1,732.00
Being aware of the amounts lawyers charge the £400 costs sounded cheap to me.
Raymond was asked if was able to pay that sum "today", to which he replied: "no".
Raymond proposed paying monthly, and suggested £150/month to start with.
The chair of the bench asked Raymond if he was sure he could afford that, he said yes but asked for his first payment to be in September. The magistrate repeated the payment terms, and ordered that the drugs be destroyed, and that was that. Raymond walked out of court.
The next case was called.