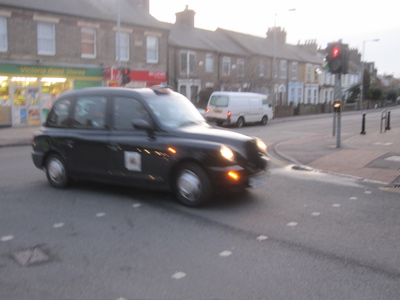 Cambridge Taxi
Cambridge City Council is currently running a consultation on how it licences taxis and taxi drivers in the city.
The council has a webpage on the consultation which includes the new draft policy and guidance as well as a set of questions and proposals for amendments. Responses can be sent in by email to the council. There is no online system for viewing others' responses and debating the proposals.
The consultation closes on the 11th of September 2011. I expect the council's licensing committee will then be made aware of the consultation responses when it considers the policy.
I have responded to make the following points:
I understand the council has some, perhaps informal, practice of ensuring that staff involved in taxi licensing and inspection are impartial and not allied to particular taxi companies. I suggest making this part of the formal policy to ensure impartiality and to give confidence that current or previous connections between staff and a taxi company have no impact on decisions taken. Perhaps an openly published register of relevant interests, including past employment in the sector, could be considered?
I would like to see more spot check inspections of licensed vehicles being carried out by, or on behalf, of the council. Perhaps as well as the council's vehicle inspectors doing their jobs, others such as PCSOs, traffic wardens and taxi marshalls could be encouraged to point out, and report, obvious defects such as non-functioning lights both to drivers and the council. The council could then monitor those vehicles generating lots of reports (perhaps via the points system proposed). I note many taxis operating in Cambridge are registered outside of the city so having a policy of establishing a good relationship with neighbouring licensing authorities and sharing information with them would be a good idea to ensure fairness.
I would like the council to consider how it can, via taxi driver licensing, promote the safety of all road users, but particularly cyclists and pedestrians in the city. Could information on the special characteristics of the city, (eg. the high number of cyclists) be provided to new drivers and specific advice given about driving safely in their presence? I think it would also be a good idea to draw attention to accident blackspots. Just as pilots get bulletins letting them know the causes of incidents relating to air crashes, why not obtain and circulate details of the circumstances of recent accidents to taxi drivers in an effort to prevent the same forms of accidents happening repeatedly? This information could also be made available openly online. This could be something the council could adopt a policy of encouraging the police to do.
I think the council should give consideration to how, through the licensing policy, it can reduce the instance of taxis speeding and driving dangerously in the city. I think speeding taxis, particularly in the early hours of the morning where there are lots of cyclists and pedestrians on the streets but there are few motor vehicles on the roads creates an environment which feels unsafe. I note county council officers have been used to assess bus speeds, reporting drivers exceeding limits to their companies. The idea of removing transponders for opening the city's bollards controlling access to certain streets from drivers has been suggested as a penalty for speeding. I would like to suggest this idea be explored, and suggestions made of how it could operate in a fair manner. I think any sanctions ought apply at least to South Cambridgeshire District Council registered taxis as well as Cambridge City registered taxis and so would require close co-operation between the councils. Could the council consider some sanction for any speeding / careless driving offence even if the penalty is below the current criteria for disbarment?
Item 10 on the list of reasons for disbarment states:


"If at the time of application for grant, renewal or during the life of an existing licence have more than nine (9) points attached to their drivers licence."

I think the council should consider if it is clear what "life of an existing licence" means in this context. When/how can an individual get a new licence (presumably the council doesn't mean simply by changing address or renewing a photo)?

I suggest the policy should make clear how the council ensures it is notified if a driver becomes ineligible to be licensed eg. if it is notified by the courts or DVLA when points are put on licences. The current policy indicated the council relies on drivers to report their own licence endorsements, convictions etc. I suggest exploring how the council could improve the system by working more closely with the courts and DVLA.
I note an increased use of "anti-social behaviour" laws and other "out of court" "disposals" by Cambridgeshire police in relation to motoring offences and suggest the council considers the impact of such changes in police policy and practice on its taxi licensing policy.
The council's policy on internal electronic advertising screens should be incorporated in to the policy document and guidance. Is section 13.6 up to date? I see it doesn't explicitly mention electronic screens.
Can the council adopt a licensing policy which ensures drivers are reminded/informed that they shouldn't drive on the city's commons and green spaces unless picking up or dropping off a passenger who would otherwise be unable to walk to their destination or to their destination?
The proposals for a penalty point system are not detailed enough to enable me to comment on them. Even simple questions such as what would the consequence of totting up lots of penalty points be are not addressed .
Could Cambridge blue ought be added to the permitted colours for taxis, alongside the manufacturer's standard colour (which presumably means the original, non-custom, colour) of the vehicle?
I think the council's licensing policy ought encourage innovation; for example if novel forms of transport were proposed, eg. something evolving from the driverless pods along the lines of those seen at Heathrow. I think the council should make clear in its policy it is open to approaches from those interested in bringing novel transport solutions to the city and has a process for considering licensing them.