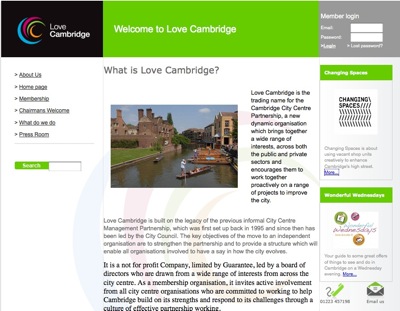 At Cambridge City Council's Strategy and Resources Scrutiny Committee on the 29th of June 2009 a paper was made available to the public containing an email from Andy Campbell, the Managing Director of Stagecoach Cambridgeshire. The Sustainable Communities Act 2007 has prompted the City Council to consider, and make central government aware of, what powers it would like in order to be able to better serve its residents and Mr Campbell's letter was in response to what the council had come up with, they are proposing to seek powers to regulate buses in the city and to take control of transport policy in the city from the county council.
Cambridge City Council had, as is typical, consulted a narrow group of people on its proposals – residents associations, a few interest groups, and a small selected, nominal, group of "young people" aged 11-18 (who were paid £10 each and given free food and drink at the CB2 cafe), but had not obtained the views of wider residents and those running businesses in the city.
Mr Campbell's letter was addressed to Trevor Woollams, Head of Strategy and Partnerships at Cambridge City Council, it was sent on the 17th of June, and resent 29th of June, he wrote:
Subject: Sustainable Communities

Trevor

I attended a Love Cambridge meeting this morning and was asked to respond to you on the subject of your proposals for sustainable communities.

I have grave concerns that a small number of people (40) from what I would describe as groups with specific objectives are deciding the future of Cambridge. These people are hardly a representative common view of the 110,000 residents of Cambridge City. I can't think of any other business that would be under the threat of public ownership when it has delivered a 100% increase in footfall and sales in a seven year period.

99% of the the bus operations in the city are on a commercial basis, what you are proposing is effectively a confiscation of the Stagecoach Cambridgeshire business. Would you please outline how you are going to protect the employment rights of staff (including pensions). The transport act does include provision for quality contracts where the operators and the local authority are failing, however this is not the case in Cambridgeshire where we are seen as an exemplar in partnership working. Please feel free to contact me if you wish to discuss this in more detail.

Andy Campbell
Managing Director
Stagecoach Cambridgshire

100 Cowley Road
Cambridge CB4 0DN

T: 01223 420544
F: 01223 420065
E:andy.campbell -at- stagecoachbus.com
The city council meeting agreed to take a position that:

The government should give joint powers over all aspects of Transport Policy and Planning within Cambridge to Cambridgeshire County and Cambridge City Councils. These powers to include regulation of all public bus transport within Cambridge.
A letter from the Chairman of Love Cambridge, Ian Sandison, was also circulated, this highlighted that the Love Cambridge board (notably not its membership) would like to be the conduit through which the council consults "key stakeholders in the city centre" in the future. Love Cambridge is the city centre management organisation for Cambridge, city council responsibilities were handed over to the new organisation on the 1st of April 2009.
Love Cambridge meets in secret, its membership is more restricted than councillors were told it would be prior to its launch, and records of its meetings are not publically accessible. In March 2009, I spoke at a city council meeting and received an assurance from the executive councillor responsible, Cllr Cantrill that the new organisation "would operate to the council's standards of openness", this commitment was not minuted by officers and the organisation has failed comply with it. I think it is odd that this organisation believes it is in a position to broaden consultation and input.
Recently the city council used Love Cambridge to facilitate a Taxi Workshop this meant that a major discussion relating to number and location of taxi ranks in Cambridge and the over-ranking in St Andrews Street, matters of substantive public interest, where discussed by selected councillors, council officers and others in secret without the press or public being present. Neither Love Cambridge or the council have published any details of what was discussed.
Even more oddly and the local government association, a body not subject to Freedom of Information legislation is being used as an conduit to collect council's responses and pass them onto Government. However the LGA have said that in areas such as Cambridge where there are two tiers of local government they will not put forward proposals on which there is disagreement between the tiers. As the county council wants to keep control of transport, there is unlikely to be any change. Another reason there is unlikely to be any direct consequence from these proposals is the impending general election. The Conservatives "Control Shift" green paper outlines their own proposals to do away with many of the anti-democratic "regional" decision making bodies and to and more power back to local councils. Both Labour and Conservatives support giving local councils the ability to charge a business rate supplement. Amazingly Mr Bridge of Cambridgeshire Chambers of Commerce told the Cambridge Transport Commission his members were likely to be in favor of such a tax, though judging by the number of people searching for his comments in my article on the session in which he made this statement I suspect that might not really be the case. In relation to the council's sustainable communities proposals, for which a local business rate supplement was shortlisted, but not eventually adopted, Robert Hallam, MD John Lewis Cambridge wrote:
It would be extremely difficult if a retailer trading in many cities and counties was faced with disparate proposals driven by local authorities.
I share that concern; I'm very much in favour of decisions being made at the appropriate level of government, and think it is very important that there is consistency across the UK enabling people and businesses to operate wherever it makes the best commercial sense.
There is a motion on openness and transparency to be taken to the full council meeting on the 16th of July 2009, but it does not go anywhere near far enough. Neither publishing tabled documents or opening up Love Cambridge is on the agenda. The councillors proposing this motion are discussing it in the comments to another article.