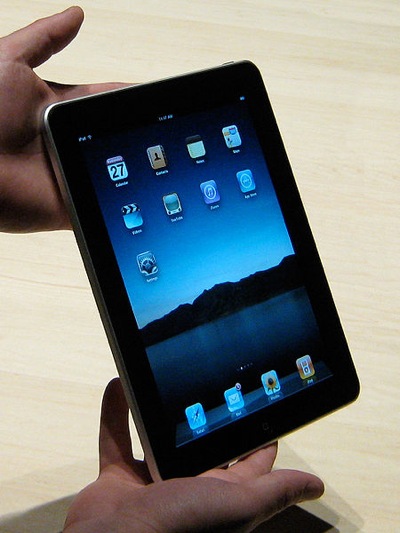 Cambridge City Councillors are eyeing up the iPad and asking us if we'd like to buy them one. Photo derived from image by:
Glenn Fleishman
(
licence
)
It looks as if Cambridge City Councillors have been so impressed by the launch of the iPad, the latest desirable consumer electronics gadget from Apple, last week that they're considering using our money to buy themselves a tablet computer each.
Writing on her blog, Liberal Democrat ruling group member Cllr Amanda Taylor says:
Along with other city councillors, I have been asked if I would like to have my council agenda and papers on a 'tablet', with the aim of saving paper.

We frequently have agenda papers of 500-1000 pages for some of our meetings, particularly the one I chair, where we scrutinize twelve different departments of the Council. An electronic tablet would certainly be lighter to carry, although I would still want to be able to scribble notes in the margin and use Post-It notes as navigation markers.
I'm all for councillors having access to the technology they need to do their job effectively. I'm not sure a tablet device is the way to go though, and certainly not if we're paying. I'd worry that some councillors wouldn't know what to do with it and it would be money wasted. I would have thought cheap laptops / netbooks would do the job councillors need done better than an iPad. I'd have thought it'd be faster to search and annotate documents using a device with a keyboard.
Conservative Councillor Chris Howell often takes his laptop to council meetings and uses it effectively during proceedings to search meeting papers (and news articles, and blogs) not only from the current meeting but from previous meetings. This certainly appears to assist him in being one of the more effective councillors on the council. A number of other councillors spend huge swathes of meetings playing with their smart phones.
Councillors already get an allowance, in 2009/10 the standard amount is £2,782 plus £417 for being a member of an area committee (as all councillors are). The leader of the council (Nimmo-Smith) gets an additional £10,443 and Executive Councillors (Blair, Reid, Cantrill, Smith, Smart and Pitt) each get an additional £8,346. I think the Executive councillors in particular are very generously remunerated for what they do. In addition to the allowances councillors can also claim expenses (which currently run to computer consumables, but not as-yet computers themselves). Councillor expenses are fairly minimal in Cambridge, amounting to just under £1500 for all forty-two of them to date for 2009/10; though the costs of perks – such as the car park passes, council purchased travel warrants, and refreshments at meetings are harder to get a grip of.
I think councillors ought be free to choose the technology which suits them best; be it pen and paper, a laptop, or even a tablet. I would expect councillors to equip themselves with the tools they need for the job out of their allowances, or independently. A decade or so ago it was commonplace among councils to allow councillors who wanted them to obtain computer equipment on expenses; I think that as the cost of equipment has come down such general schemes are no longer required. I don't see any more reason why we ought buy our councillors tablet computers than we ought buy them suits or smart shoes! If any councillor was in real difficulty I wouldn't object to the loan of some equipment from the council – we mustn't make it so only the rich can afford to take part in running our city; but I really don't think there's a risk of that happening if we don't buy our councillors the latest gadgets.
If you want to try and influence councillor's allowances then you could respond to the current advert for members of the Independent Allowances Panel; I wouldn't suggest you waste your time though as I've only seen the council ignore the panel's advice.
I would like to see more council information available electronically; one particular problem currently is the fact planning applications are often decided at area committees by councillors who've not seen the full details of the applications. As councillors become more IT literate we might see more demands for financial information to be released in spreadsheet form; allowing our representatives to more easily get to grips with how they're spending our money. The council ought focus on making information accessible; and not worrying about the particular device on which it might be read.
I'm concerned this suggestion of buying tablet computers is yet another example of public sector splurging on a last bout of excessive spending before public spending is eventually, as it will have to be, reigned in.
Cllr Amanda Taylor is using her blog to ask for advice on what she should do, having been asked if she'd like a tablet computer.