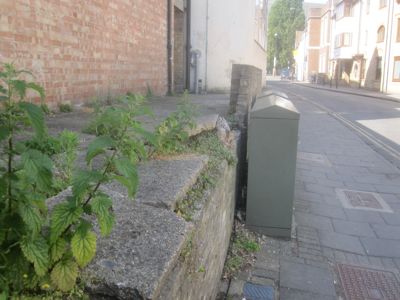 Cambridge City Councillors have given up trying to sort out this wall.
The committee of councillors who've spent years trying, and failing, to get a single streetlight put up have now found themselves outwitted by a wall.
The Cambridge West Central Area Committee on the 21st of June 2011 declared it "impossible" to get the weed ridden, crumbling, wall on Round Church Street in the centre of Cambridge fixed and decided to strike it from their to-do list despite no action having been taken. Cllr Colin Rosenstiel was the only councillor to object to this lack of resolve and competence; he asked his colleagues what what they were doing as councillors if they couldn't get something so simple sorted out.
Council officer Andrew Preston had told councillors that a project to sort the wall out was "unachievable".
Cllrs Hipkin and Kightley accepted the officer's statement and were keen that no further time be spent debating what they considered the impossible.
Cllr Rosensteil said that as the City Council had built the wall; while creating Round Church Street it had some degree of moral responsibility to sort it out, even though it is currently not owned by the council.
The section about the wall in the officer's report to the committee states:
This scheme to improve the appearance of this privately owned wall is proving difficult to progress. The owners of the wall have not shown interest in carrying out any work. The wall is assumed to be structural and, as it is privately owned, would require a legal agreement with the owner before any work could be carried out, for which the City Council would be liable. Due to the considerable amount of time legal agreements take to resolve and the risks associated with the proposed work, it is recommended that the funds currently allocated to this scheme be diverted elsewhere.,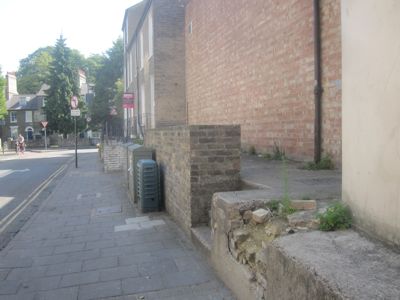 Tidying up this area is "unachievable" according to councillors.
My View
It appears to me that councillors have not considered the council's powers given to it by sections 215-217 of the Town and Country Planning Act 1990 these provisions, titled, "Land Adversely Affecting Amenity of Neighbourhood" are designed to cope with exactly this type of situation and are used by councils elsewhere in the country to deal with things like this.
I think these powers need to be used sparingly; but I'd rather they be used than the council simply spending public money to make the necessary improvements – which is Cambridge City Council's preferred way of operating and one I have used the public speaking slot at the North Area Committee to speak against.