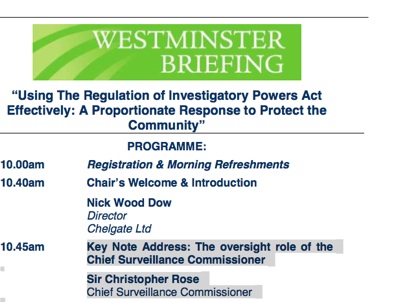 On Tuesday the 10th of February 2009 I attended a Westminster Briefing event on The Regulation of Investigatory Powers Act (RIPA). The meeting was addressed by:
Sir Christopher Rose – Chief Surveillance Commissioner
John Peerless, Head of Brighton & Hove Trading Standards and a member of the Management Committee of the National Anti-Fraud Network
Councillor John Shipley, Leader of Newcastle City Council
Tim Martin, Head of Legal and Democratic Services, Poole Borough Council
Those attending were primarily council officers (from legal and trading standards departments), along with a couple of central government civil servants.
Chief Surveillance Commissioner
Sir Christopher Rose read out a prepared speech, which is available at the Office of the Surveillance Commissioners' website.
He made a point of saying that what he does is open and transparent, and his annual report is a public document. I felt this was misleading as his organization's inspection reports on organisations such as police forces and councils are not made public as a matter of course. If the commissioner had stayed he would have heard others including Cllr Shipley suggest that the reports ought be public, and relevant councillors ought review them. Presumably in the case of Police forces, the Police Authority ought to routinely have sight of the reports, or elements of them too. The commissioner made a big point about the fact that he was appointed by the Prime Minister and Scottish Ministers and, like a high court judge, he could only be removed by the agreement of both houses of Parliament, he said this preserved his independence.
The Surveillance Commissioner said that the main purpose of surveillance and the regulation was to present evidence to the courts and ensure it is seen as fair and admitted as evidence by the trial judge.
While stating it was not his job to encourage or discourage surveillance he said: "Media criticism of Poole Borough Council was misplaced. The covert surveillance of fishermen, for example, led to pleas of guilty in the Crown Court.", he also justified the use of surveillance to tackle dog fouling. Later this comment was discussed in the context of the House of Lords Constitution Committee report released the previous week which had made a recommendation that covert surveillance ought not be used in cases where the crime was not serious enough to warrant a two year custodial sentence.
The Chief Surveillance Commissioner, an ex-judge, arrived late and left as soon as he had spoken, taking no questions. He was accompanied by two of his staff who walked behind him as he walked out, though the Chief Surveillance Inspector (apparently Sam Lincoln) remained, and did address the meeting.
National Anti-Fraud Network – John Peerless
The National Anti-Fraud Network is an association of local authorities which work together to tackle fraud. The meeting was told that the group had established a "national centre" and provides a service, via their website, for those council officers who can log in to look up information about individuals. Mr Peerless rather worryingly in my opinion stated the web based service was: "scanned for hackability four times a year", I would have been more reassured by continuous monitoring . He said that group was looking to expand the service provided and was planning to offer "live data from BT and Orange" once a connection to the police national network had been obtained. The major step change in online services available is expected in April 2009.
Mr Peerless gave some statistics on the use of RIPA by local authorities, and was in his NAFA role encouraging more use to be made of the services provided by the network. He said that too often councils just ask for subscriber details on a mobile phone number and get back the fact that it is a pay-as-you-go and leave it at that. He said they don't realise they can ask for details of the credit/debit cards used to top up and for details of where they topped up.
Statistics were presented saying that out of 474 Local Authorities approved to access communications data only 154 had taken up the opportunity and there had been only 1707 requests nationwide in the year ending in 2007. Mr Peerless's take on these statistics was that local authorities were not using the powers parliament had made available to them.
Mr Peerless revealed NAFA's ambitions to do more investigation, saying that "the national centre wants to employ investigators to produce intelligence product not just provide a service."
Mr Peerless expressed concern about the provisions of the Enterprise Act, which also allow for subscriber information to be obtained outside the the safeguards provided by RIPA. He thought this was introducing inconsistency. As far as I can see the element of the Enterprise Act referring to surveillance merely amends RIPA to allow the Office of Fair Trading the ability to conduct surveillance.
Related Observations
According to an article in the Telegraph, on the day of the meeting an order laid before Parliament gave councils the power to obtain the communications details of anyone suspected of a crime, this was implementing EU Directive 2006/24/EC. Can it be co-incidental that these powers come into force on the 6th of April at the same time as the new services provided by NAFN become available?
Councillor John Shipley
Cllr Shipley said that he, like the Surveillance Commissioner, did think that the people of his area wanted surveillance even in areas which have been criticised such as dog fouling. He thought that it was a fact of modern life that people's location be tracked via their mobile phones, and he thought most people in his area expect public areas and car parks to be covered by CCTV.
He said that he, in Newcastle, had never received a complaint or negative comment about the council's use of surveillance. The nearest he had had was an individual caught allowing his dog to foul a playing field questioning if it was reasonable for the council officer who caught him to have been using a pair of binoculars.
Cllr Shipley said that his council required RIPA authorisations for the use of DAT recorders to provide a measure of noise levels following complaints of loud music. He was aware that there was an inconstant approach between councils with some getting RIPA authorisations in such instances and others not. In Newcastle only the noise level was recorded, not the "noise" itself. Mr Peerless noted that it was important that such equipment did not pick up conversations and become intrusive surveillance which would be outside the council's powers (one delegate speaking over lunch admitted his equipment did record the "noise"). There was a discussion on the question of if a person had been warned that noise levels might be recorded then RIPA authorisation was not required because it was no longer covert; the legal advice received by Newcastle was reported to be that while an individual might have been warned in general, if they were not told the exact time and date of the recording in advance then the unknown timing of the measurement made the process covert and in need of RIPA authorisation.
Tim Martin – Poole
Tim Martin had been involved in Poole where there have been two uses of surveillance which had been criticised by the local and national press; one operation against fisherman involved in out of season shellfish fishing, and the spying on parents suspected of making a fraudulent application for school admissions. He said that he was surprised to have received letters complaining about his council's use of spying powers from people from across the country, not just in Poole, and from members of the public with no obvious interest or duty to write to him.
He said that in Poole a public meeting had been held, with representatives of privacy organisations and councillors attending. The council had now made a political decision not to use spying powers against those suspected of making fraudulent applications for school places.
Despite these high profile instances, Mr Martin pointed out that Poole had had less than 50 applications for RIPA authorisation since the Act was introduced.
Overt vs Covert
Both I and a council officer from Croydon both asked about the act's distinction between covert and overt surveillance with respect to CCTV. Most present, including Tim Martin from Poole thought that overt cameras could be used in a covert manner, if the person or group being monitored were not aware they were specifically being followed. This is contrary to Cambridge City Council's position which is that overt city centre cameras never require RIPA authorisation, though they have obtained such authorisation when they decided to track and count the city's beggars:
The use of the "overt" CCTV system does not generally fall within RIPA controls, as it is not covert surveillance – the cameras are visible. When we counted the number of people begging, we were not gathering personal information on them – we were doing no more than counting. We also had staff in the City Centre helping with the count late at night and part of what we were trying to do was ensure staff safety. However, this was a non-routine use of the CCTV system and so, to ensure that it was properly considered, we went through the RIPA authorisation procedure.
Cambridge City Council took a similar stance with respect to the monitoring of punters operating from Jesus Green, saying RIPA authorisation was not required because the cameras were, in their opinion, overt, though in that case they did not go through the RIPA authorisation procedure. Their report on the matter, which I prompted, states:
Given that the primary purpose of the cameras was to act as a deterrent and to monitor activity levels it was intended that it would be as overt as possible. To this end signs were erected denoting the presence of CCTV in the area and the cameras were clearly visible to the naked eye.

4.2 A request for Authorisation under the Regulation of Investigative Powers Act 2000 would only have been required if this had been set up as a covert surveillance operation.
I do not think the purpose of the cameras were clear; I couldn't see the cameras which were mounted behind grills and in holes drilled into the buildings. The signs present on the buildings would I think be expected to indicate CCTV coverage of the buildings rather than the riverbank.
In some councils it appears the police come to councils with their own RIPA authorisation which is considered sufficient to permit the council to conduct surveillance.
Even a number of professionals working with the act appeared confused by the definition of directed surveillance used by the act, quite a number argued that simply because the surveillance was directed it needed RIPA authorisation.
The question of if signage was required to make a camera overt was discussed, inconclusively. In the Surveillance Commissioner's statement he suggested that surveillance was covert if the subject was unaware of it.
In the case of street trading, council officers present at the meeting said that they took photographs using their phone cameras. They did this without RIPA authorisation, justifying it by saying that there is case law stating you have no expectation of privacy in a public place. Citing Naomi Campbell who lost her appeal in relation to a judgement in favour of the Daily Mirror over the publication of photographs showing her leaving meetings of Narcotics Anonymous. If council officers are using phone cameras covertly, then I think they should seek RIPA authorisation.
Cllr Shipley said that he didn't think the question of distinction between covert / overt CCTV had been clearly answered by the panel.
Children as Covert Human Intelligence Sources (CHIS)
There was a discussion about whether children used in underage sales investigations ought be considered as CHIS and require RIPA authorisations. One council officer said the Office of the Surveillance Commissioner had sat firmly on the fence on this issue. The Chief Inspector, who was present disagreed. He said the reason the act was ambiguous was that it was designed to cover such a broad range of circumstances ranging from underage sales investigations to what the security services do. This implies that there is a desire to have everyone operating under the same legislation and it is this which is blamed for the ambiguities in the law.
The "solution" recommended by the Chief Inspector was to have an adult present in the shop watching the transaction, the adult would be the authorised CHIS and only the adult would be called on to provide evidence in court.
The problem of ex. police officers training council staff was considered a problem by many, particularly in connection with questions like this.
Views of Those Present
The results of a series of polls conducted have been made available online at the Westminister-Briefings website.
No one there thought chief executives ought make decisions on RIPA authorisation, this would not in practice strengthen oversight as Chief Executives would simply take advice from those currently doing the authorising.
When asked the following question:

Do you think that the recent Lords Constitution Committee report was right to recommend that RIPA powers should only be used for "serious criminal offences which would attract a custodial sentence of at least two years"
97% of those present said no, this was all but one or two people.
One shocking explanation was – because trading standards ought tackle dodgy tradesmen defrauding elderly people of their savings. What is shocking is the professionals appeared to believe that such a fraud involving say £3000 would not result in a two year sentence. Others argued that it creates a bizzare two tier systems where we have some laws which we consider essentially not worth enforcing.
The Chief Inspector
The chief surveillance commissioner suggested authorities do adopt a precautionary principle and obtain authorisations if it is considered possible that they may be necessary. Recognising that council's can be under pressure to keep the number of surveillance authorisations low, or to avoid using their spying powers if possible he said: "If it is a choice of having the press or us on your back – choose the press". Many of those present had indicated that considering potential adverse press coverage did deter them from using their spying powers; I think this is generally a good thing, it is showing public opinion is being taken into account and the press are acting effectively.
The Chief Inspector didn't want to be directly quoted with respect to his opinions on the commissioners, but did comment on the drawbacks of having ex-judges who have a very particular approach and perspective that is disconnected from the reality of life. He also questioned how well the Office of the Surveillance Commissioner was not being particularly effective as a public regulator, as it was not communicating well with the public, not assuring people that it was doing its job well.