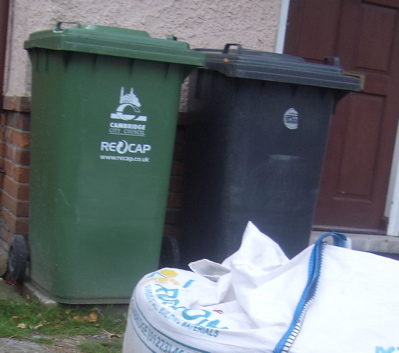 While reading though the list of new vehicles which Cambridge City Council is planning to buy in 2009/10 I came across two ""On-board weighing systems" at £6,000 each" along with the waste and recycling equipment. The Council publish on their website that the amount of waste collected by their refuse collection vehicles is weighed using a vehicle weigh bridge. The Council's What happens to your rubbish and recycling page states:
All of the rubbish that you recycle or dispose of is weighed.

This is done by weighing the collection vehicles on a weighbridge before and after they empty a load.
The use of on-board weighing systems suggests that perhaps the Council are considering gathering information in more detail about where waste is coming from. It is also possible that waste could take more direct routes, avoiding the current weighbridges. While it is likely that there are good reasons for using on-board weighing systems, I think it is important that the information collected is used carefully. I would be concerned if the City Council was introducing, by stealth, the technology required to implement pay-as-you-throw charges based on the amount of waste residents throw away. I do not think the Council should be weighing individual household's bins without their knowledge and without residents being aware of what the Council intends to do with the information they collect.
In order to find out why the Council is acquiring this equipment I wrote to Colin Rosenstiel the councillor responsible:
Cllr Rosenstiel,

I am writing to you in your capacity as Cambridge City Council's executive councillor for environmental and waste services.

According to the list of Vehicle Replacements 2009/10 to be presented to the Strategy and Resources Scrutiny Committee on 19th January 2009(1). The Council is planning to buy two "On-board weighing systems" at £6,000 each.

Could you please let me know what these are for. I am hoping you will be able to reassure me that the Council is not about to start snooping on how much individual households put in each bin, or start introducing the technology required for the City Council to introduce a "pay-as-you-throw" scheme charging residents by weight for the amount of rubbish they are throwing away.