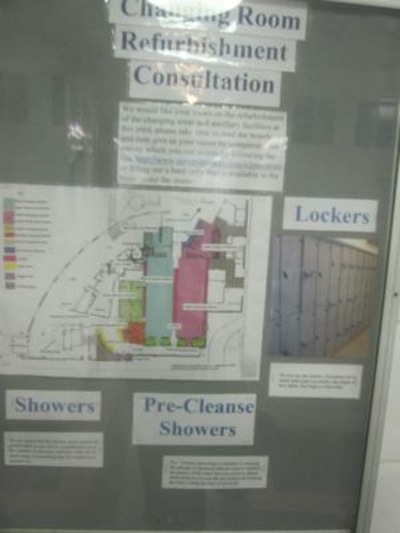 Noticeboard at Parkside Announcing the Consultation
Parkside pools are due to close in November/December this year for refurbishment of the changing rooms. A meeting of Cambridge City Council's community services scrutiny committee on the 17th of March gave the go-ahead to the work. Councillors were told the total capital cost of the project is estimated to be £350,000.
The refurbishments will be funded by the Cambridge City Council, which owns Parkside pools. Councillors agreed SLM, the company which manages the pools on the council's behalf, will get £10,000 in compensation for lost profits during the works, plus its usual management fee, plus extra compensation if the work overruns. In agreeing these generous terms councillors did not appear to consider either that the work will presumably make the pool more valuable/profitable into the future or that SLM will presumably incur lower costs while the pools are closed.
When councillors approved the refurbishment they also announced a consultation would be run to find out what people want to see from the works. Since then I have been regularly asking when this consultation will be starting. As yet though the consultation has still not made either the consultations page, or the Parkside Pools page, of the city council website. It is also not mentioned on SLM's webpage on Parkside Pools.
Last week after swimming at Parkside I noticed that the consultation was underway. A noticeboard outside the changing rooms at the pools states the work is to take place. It shows a coloured plan of the existing changing rooms and points people to a paper survey held at the pools' reception or an online version at:
http://www.surveymonkey.com/s/pspchrms
Nothing on the noticeboard really shows what's proposed, the best summary of that appears to be in the community services papers from March:
Wetside Changing Rooms

– Potential to reduce the number of cubicles overall and make better use of the space. To include more double sized cubicles for parent & child changing. (Similar cubicles were provided on the Abbey pool wetside refurbishment and have proved to be very popular with swimmers.) To provide more family changing rooms and spaces. Dependant on the public consultation to continue with male female segregation or provide a "village" style changing as at Abbey pool. Lighting, general decoration, floor tiling and the lockers will also be addressed.

Disabled / Family rooms

– To update the range of disabled provision in the rooms along with a redecoration of floor and wall tiling. Also possibility to relocate and construct new rooms nearer to the poolside for male and female users. This would improve access from the gender separated areas rather than the current provision where access to the rooms has to be through the designated male changing area.

Group Changing rooms

– General update of fixtures fittings and lighting, along with wall and floor coverings, with possibility of creating another room if the disabled rooms can be moved to nearer the pool side entry.

Male and Female Toilet areas

– Retile walls and renew laminate panels throughout. To remove and renew toilets, and cubicles. Improve ventilation, replace floor tiles and include new drain gully and falls to drain. Provide new doors and architraves and corian blocks to door frames and skirting tiles.

Shower Area

– Retile walls, renew shower heads and push button fittings, improve ventilation, replace floor tiles and include new drain gully and falls to drain. Provide new shower vanity screens and fit new disabled handrails and seat for one number shower.

Corridor and Vanity area

– To redecorate and update the areas to include new lighting, hair dryers and vanity area spaces. General redecoration throughout along with new floor tiling.

Tiling works on poolside

– To replace some areas of poolside tiling particularly around the main entrance from the pre cleanse showers and other identified areas on poolside along with the main pool up stands at each end.
It is notable there are currently signs up on the lockers in Parkside saying something along the lines SLM consider them fit for purpose but warning people about thefts of valuables from them.
Within the survey other ideas are raised including:
Using an area in the entrance corridor / vanity area and where the existing disabled rooms are to create a room with bench seating and lockers where shoes MUST be removed prior to entering the changing rooms.
A new entrance onto poolside, lined with showers on motion sensors.
No end date for the consultation is given.
My Views
Hot, powerful showers would be good. Perhaps with an option for users to control the temperature.
Could shower gel / shampoo dispensers be considered (would the cost of bulk provision become negligible?). I wouldn't want to see prices rise for this.
Clearer designation of the "no-outside shoes" area is needed. In Ely there is a clear boundary as you go through a glass door and move from a carpeted, to the tiled area. Another method is to have a bench blocking the corridor (with an openable section for wheelchairs) so you have to sit down and swing your legs across. I think either of these would be better than the proposal for a new room, possibly with shoe lockers, for removing shoes.
Blue overshoes for those observing swimming from the poolside could be dispensed not from the wall, but using modern hands free dispensers.
When it's wet and muddy outside more attention, via staff and signage, needs to be given to stopping people bringing mud in.
Making the new area easy to clean is key. All the tiles, furniture etc. needs to be chosen, and installed with this in mind. Building in pressure washing equipment for cleaning staff is another idea.
High-tech lockers, using electronic keys (like the Smartband RFID system) should be considered. Maybe using a PIN as an option?
I think the larger lockers are useful, myself, but see the smaller ones get used too.
The consultation ought go wider than current users.
How the health suite connects to the pool ought be made clearer.
The role of the centre at times of emergencies where large numbers of people might be relying on the toilet/shower facilities ought be considered.
I hope that the work done is of a high quality, durable, and provides good value for money.
Comments on other aspects of Parkside pools are also invited, I suggested more cycle parking, preferably secure at the front of the building, more information on open access clubs/events etc, and raised the idea of recognising ARU and Cambridge University student ID cards for student discounts rather than working via the Local Secrets Cambridge Card which is convoluted.
I also suggested reception staff need to be more helpful at explaining the various options for season tickets, discounts, etc. when asked by about student discounts (and certainly shouldn't say things like students don't pay council tax so don't deserve discounts, there are people more worthy of discounts than students etc…). Other discount schemes ought be clearer too.