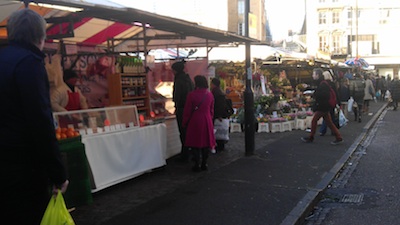 Cambridge Market
At Cambridge City Council's West / Central Area Committee on the 5th of January 2012 a member of the public, Edward Kerns, who claimed to be representing Christ's Pieces Residents Association made a number of contributions related to Cambridge's Market.
Firstly he passed on complaints from market stall-holders about the Made It Market held in the Guildhall on the 24th of November. His complaint, which he said was one raised by some market traders, was that the council was allowing competition, and that some market stalls were selling very similar items to those on sale inside the Guildhall during the event. The member of the public said that market stall holders expected, as part of their contract with the council, to have a monopoly in their particular area of trade, and were not happy at the council allowing competitors to operate. It was noted that on the day of the event the weather wasn't very good, further encouraging trade inside and away from the outdoor market.
I was astonished by the response given by Cllr Cantrill. Cllr Cantrill confirmed the council ran a no-competition policy and stated there were "no competing traders in the market". Observant Cllr Rosenstiel noted that there was often more than one fruit and veg stall on the Market; Cllr Cantrill didn't respond to this but instead laughed.
I was surprised to learn that the council aim to control market stalls in this way. I would prefer there to be a free market and free, unregulated, competition.
Cllr Cantrill said that the council had probably hired out the hall to someone to run the inside market and wasn't in-control of the individual stalls. He said that one part of the council probably wasn't aware of what another part was doing and the member of the public agreed pointing out that was pretty much the problem he was raising.
The same member of the public asked for "an update on the Market Square enhancements".
No councillors volunteered to respond and the chair offered to seek a written response from the executive councillor responsible. Cllr Hipkin said it was astonishing given the presence of ward councillors and the leader of the council that no-one present was able to reply to the question. In response the meeting decided to invite Executive Councillor Neil McGovern, the councillor responsible for markets, to their next meeting. I reported this live and Cllr McGovern responded: "@RTaylorUK news to me, but happy to attend!".
Lastly on the subject of the market Mr Kerns complained that the Christmas lights switch on event had had a negative effect on the market as it had drawn crowds which disrupted the normal activity of the market from 10am on the day until the end of the event in the evening.