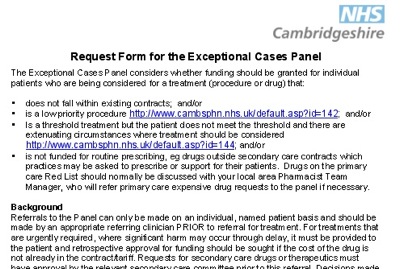 I have been looking into the performance of Cambridgeshire Primary Care Trust's "Exceptional Cases Panel".
The panel is tasked with deciding if public money ought be spent on a treatment which is not covered by existing NHS contracts and policies. The kind of requests which the panel deals with include high cost treatments for rare conditions, off-license use of drugs, and the use of expensive anti-cancer drugs which have not approved by the National Institute of Clinical Excellence (NICE). In addition consideration of necessary treatments generally considered cosmetic, sex change operations, IVF and often tonsillectomies go before such panels.
Imogen May of Cottenham, who lost the ability to speak following emergency surgery in July 2009, is currently raising money for a communication aid. On her webpage she addresses the question "Why can't the NHS help you?", it is an element of her answer which has prompted me to ask delve into this now:
The NHS provide a laminated alphabet sheet for immediate communication and while they do assessments. However, they have no budget for adult communication devices. The only way an adult can receive funding from them in this situation is by going through their Exceptional Circumstances Board who consider the case and then decide whether they can provide any money (not necessarily all) towards the equipment needed.

This process takes a long time; firstly gathering medical information, then waiting for the board to sit (once a month in Cambridge), obtaining quotes from various companies, and then finally waiting to make a decision. Once this happens it can still be a few months before the money comes through. The whole process takes up to 18 months.
Cambridgeshire NHS's Exceptional Requests Form, updated in July 2009 states that for routine requests, the least urgent classification, a decision is needed in four to six weeks. Clearly if requests are taking eighteen months to fulfil then something is very broken with the local system.
The board of NHS Cambridgeshire receives reports on the activity of the Exceptional Cases Panel but these are highly variable from meeting to meeting and do not contain the detail required for board members to scrutinise the panel's performance. Only snippets of information are released. For example in September 2008 a report to the board stated that £409,200 had been allocated for Exceptional Cases for 2008-9 year but in the first quarter of 2008-2009 (April – June 2008) the spending from this budget was £11,767. Clearly that's a hefty underspend (one would surely expect around ten times more to have been spent in that period if the budget was being spent evenly through-out the year). The board noted the report making no comment at all on the performance of the exceptional cases panel.
About a year later another isolated snippet of information was released in a report to a board meeting held in August 2009 (I attended that meeting and have published an article on it), the report contained the below section:
Activity report for the first quarter (Apr – Jun) in 2009-10:

There were 128 requests for procedures (non-drug) to the Exceptional Cases Panel; 72 requests (56%) were approved. 32 (25%) remain outstanding, awaiting further information. In addition there were 126 requests for funding of high cost drugs; 86 requests (68%) were funded. 21 (16%) remain outstanding. Thus, there were a total of 254 requests; 158 (62%) were approved and 53 (21%) await decision.
That is not particularly revealing; information like that doesn't alert board members, or the public, if there are problems with the system such as cases taking over eighteen months to get through the whole process.
To try and find out what the position really is I have used mySociety's Freedom of Information Website WhatDoTheyKnow.com to make a request for information about the Performance of the Exceptional Cases Panel. Using WhatDoTheyKnow.com ensures the response and correspondence are automatically made available online.
One major problem with the PCT is that there are no democratically elected and accountable members of the PCT board. Cllr Geoff Heathcock who chairs Cambridgeshire County Council's Health Scrutiny Committee asking questions as a member of the public is as close as we get. That isn't good enough, there's a need for much more democratic accountability within the NHS.
We have highly paid appointees who won't want to rock the boat and risk their well remunerated positions. There is one working GP on the board, he gets paid £125-130K a year for his work on the board. I've sat through a couple of board meetings and they generally appear very disinterested in openness and transparency, and I've not yet heard one challenging and incisive question asked of those reporting to the board. Public questions are only taken after the formal meeting has closed and after decisions have been taken and the overall impression is one of a set-piece meeting at which no real debate takes place and no real decisions are made. I addressed this further in my report on the August 2009 board meeting.
The area of making decisions on funding exceptional cases is one where openness and transparency in decision making is critical, but often not present. We need to know what the process is for making decisions.
My views; what I would like to see:
As far as possible decisions ought be taken by the clinicians treating a patient.
A key underlying problem is the prices drug companies charge for their products.

I would like to see more publicly funded research into areas of significant relevance to health in the UK and ensure that the outcomes of research paid for by the public are freely accessible to all.
We need to negotiate better with the drug companies; and use the leverage we have.

Every trust should publish the criteria it uses to make decisions. (eg. Does the trust consider life of a woman with children worth more than a woman without? Trusts have policies on these matters, and they are questions society needs to address – the information ought be published).
Details of cases, including the reasoning behind a particular decision, ought be released to enable public debate, promote consistency, and enable precedents to be set. If the patient (or family) agree then full details, including personal information could be disclosed; I expect many patients would agree in the public interest.
The aim should be to minimise the number of cases requiring determination by an exceptional cases board
Where possible exceptional cases should be used to trial and experiment with new approaches; that way greater spending can be justified as there will be benefits to both the patient and society generally through advances in scientific understanding.
Those democratically accountable for health policies ought be clearly identifiable; currently the system in the UK is too convoluted and confusing.
The NHS has a finite budget; quality of care isn't all about money. We have not got value for the huge sums of money the Labour Government have poured into the health service. Saving money on exceptional cases has been tiny with respect to the total NHS budget. All refused applications to exceptional cases panels in 2007 could have been met for a cost of £20m (In 2007, the NHS annual budget was around £90 billion.). While it's beguiling to look at that figure and say we can afford to give everyone what they want, we do need a system to control spending. If we didn't have a system we would need it as drug companies pushed up the prices of treatments. As personalised medicine expands we will see ever more cases where, if money and resources were no object, more could be done for an individual. There is a need to ensure that clinicians treating an individual patient have due consideration for the costs to the NHS, and society as a whole.
Often the best care, the most appropriate care, isn't the most expensive option.
Next PCT Board Meeting
The next PCT board meeting is to be held from 9.30am on the 16th of December 2009 at the Conference Room, E-Space North, 181 Wisbech Road, Littleport CB6 1RA. (Map). Members of the public can attend and ask questions.
See Also