On Friday the 9th of May 2014 Cambridgeshire County Council contractors removed the cycle symbols from the bus lane on Newmarket Road. It appears the markings which had been on Newmarket Road for a number of years were technically illegal as they used the word "LANE" where the highly prescriptive law requires the word "ONLY" to be used. (Update 13 May 2014, see
below discussion
, it appears "ONLY" isn't permitted in this context either).
The road marking which was in place on Newmarket Road was of a form which is only permitted on contraflow bus lanes (where buses are allowed to travel against the flow of traffic in an otherwise one-way road). On Newmarket Road buses travel in the same direction as the other traffic in the adjacent lane. For some reason MPs allowed ministers to introduce regulations requiring subtly different wording to be used in the different contexts; and this has I suspect confused councillors and their officers and contractors leading to the mistake.
The markings on the road were of the form: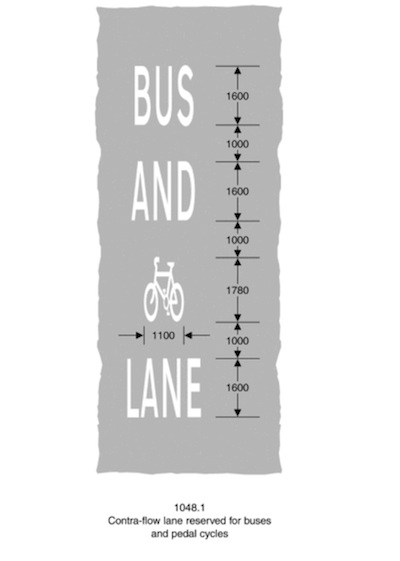 rather than: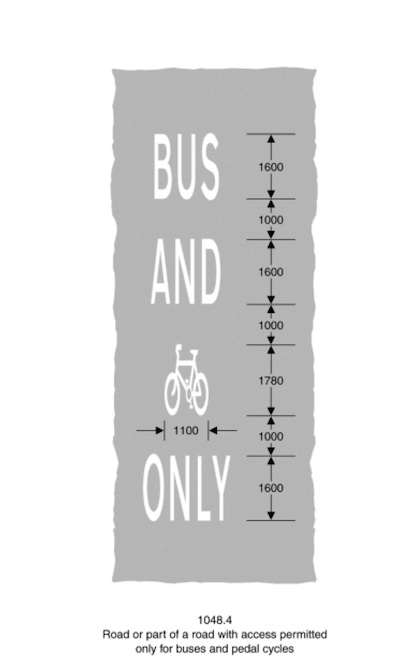 The County Council are attempting to bring their road markings on Newmarket Road into line with the law in advance of deploying bus lane monitoring cameras to catch and deal with those abusing the lanes.
The Cambridge Cycling Campaign have expressed concern that removing the cycle symbols from the bus lane will result in drivers not being aware cyclists are permitted to use the lane resulting in victimisation of cyclists:
@CambsCC @julianhuppert Cyclists WILL be victimised because of this!

— Camb. Cycling Cam. (@camcycle) May 10, 2014
There are a number of locations around the city where the word "LANE" is used illegally where the law only permits the word "ONLY" to be written. (One example is Milton Road)
The relevant law is The Traffic Signs Regulations and General Directions 2002, Schedule 6 of which contains diagrams of the permitted road markings. While I'm generally strongly in favour of consistent road markings across the country this case is utterly ridiculous.
My view is even if it is only Cambridge which has made this mistake it ought be easier to change the law to permit the use of the word "LANE" in this context than to change what is written on the city's roads. Alternatively all that needs to be done is to change the word "LANE" to "ONLY" there is no need to remove the cycle symbols.
Cambridgeshire County Council doesn't proactively publish its Traffic Regulation Orders, which set out what is, and is not permitted, on Cambridge's streets. Local resident Ben Harris has been attempting to publish the orders, obtaining them by FOI requests and when that route was closed by the council deeming his efforts to enable people find out what councillors had been up to vexatious, by visiting the council in person to inspect the orders. Mr Harris' website containing those Traffic Regulation Orders he has liberated is available at:
I don't know if there is anything relevant to Newmarket Road on Mr Harris' website or if someone would need to visit the council offices to find out what the relevant orders say.
Tweets
@CambsCC @camcycle @julianhuppert That explains what these fellas were doing parked in't way of the pram on Friday… pic.twitter.com/sOAT82o17I

— The Perambulator (@ThePeram) May 10, 2014
@RTaylorUK I think I am getting increasingly angry about how this type of crap between civil servants and lawyers costs taxpayers money.

— Chris Howell (@moufflon) May 11, 2014
Painting out 'and cycle' from 'bus … lane' will lead to bus and taxi drivers intimidating cyclists. Big fuss coming if u persist @CambsCC

— Camb. Cycling Cam. (@camcycle) May 10, 2014
@camcycle @CambsCC seems very bizarre. Never heard that before

— Julian Huppert (@julianhuppert) May 10, 2014