According to signs which have just been put up on Fraser Road in North Cambridge cyclists are now permitted to use the pavement there.
I suspect bungling council officers, or their contractors, have made a mistake and have put a new set of signs up in the wrong place. I plan to try and draw local councillors' attention to what's happened and hope they will investigate and get the signs removed.
One indication the new signage has been installed in error is that it has only been put up at one end of the road.
This newly signed shared use (cycling and walking) pavement appears to have been introduced with no consultation notices either on the street or sent to local residents; had it been legitimate and intended I would have expected to have seen notices.
The adjacent pavement on Milton Road is not a shared use pavement so this isn't a case of the signs being put the wrong way round on the pole.
I don't think the pavement on this road is suited to shared use cycling. It's not very wide and the road itself is relatively quiet as it isn't a through road.
The road does form part of a well used through cycle route though and I would like to see provision for cyclists improved on the road; perhaps including a clearer marking of the transition between Milton Rd and Fraser Rd. As a regular cyclist on this road the place it feels most dangerous is near the junction with Milton Rd where motor-vehicles often turn the corner quite fast. Drivers entering the road at speed don't give themselves much time to take in the position, and movements, of road users and the locations of parked vehicles on the road they're turning into.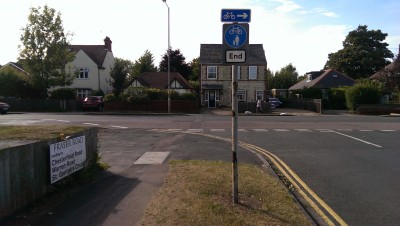 In February 2015 Cambridge's North Area Committee considered proposals to do some maintenance to some of the cycle signage in the area but no proposals relating to this sign, or Fraser Road, were included.
Making a pavement into a shared use cycleway would have required a Traffic Regulation Order. Councillors don't advertise these online, where they could easily be searched for, but only in small-print at the back of local newspapers. The council does publish information on recent orders and there is not one for Fraser Road there. A local resident, Ben Harris, does what the council doesn't and publishes information on some of the Traffic Regulation Orders.
Had anyone managed to find out about a proposed order, and objected to it, it would have been considered by the Cambridge City Joint Area Committee; I can say no mention of this newly signed shared use pavement in the papers for that committee either.
I have previously expressed concern about councillors prioritising police enforcement in relation to cycling offences in the area given the poor signage which doesn't always reflect the law.
As I live near this newly installed sign I feel a particular duty to investigate if it has been, as I suspect, wrongly installed.
Google Maps Streetview confirms that the signs are new since August 2014. I think they were installed within the last few days.