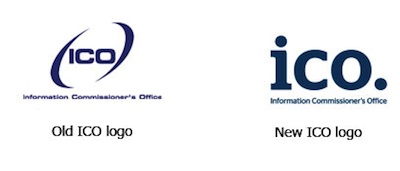 While using the Information Commissioner's Office website this evening I noticed that the ICO's logo had been changed. The ICO have published a document on their website revealing they have spent £38,399.83 on the new "corporate image". I am astonished at this shocking waste of public money, which has been spent while we are getting into ever deeper debt as a nation. I think it was utterly barmy to be borrowing money to fund hair-brained schemes like this.
£28,520 of the money was spent on:
Corporate identity design – research, concepts, proposals, design and production of manual
The new ICO logo, like the old one, essentially comprises the three letters "ICO". Personally I cannot see any need for the change as the old logo was established and clearly identified the organisation. All I can see the new logo doing is confusing recipients of correspondence from the ICO. Requests for renewal of data protection registration already had the feel of a bit of a scam as they demanded their £35 / year tax from organisations I expect the new, unfamiliar, logo as well as being very expensive may worry people receiving demands in the future – especially as Data protection registration has been target for scammers in the past.
I think the ICO has been getting its priorities wrong. The ICO have repeatedly over recent years been going to government and insisting that it requires more money to provide an acceptable standard of service. In 2009 the ICO was given an extra £500,000 intended to enable it to deal with backlogs which were leading to some complaints about Freedom of Information requests taking over a year to get addressed, this came on top of additional funding above its baseline amounting to £1.3 million paid to the ICO between 2005 and 2008.*
It appears the new logo was first brought into use during April 2010 and the ICO's website states that the changeover to the new image is still ongoing. During April 2010 a notice appeared on the ICO website stating:
The ICO has a brand new look to reflect our new mission, vision and values. Simple and colourful, it puts information at the heart of the design. To save cost and minimise waste, we're making a gradual change from the old design to the new one, so you'll see both designs around for a few months. We hope you like our new look.