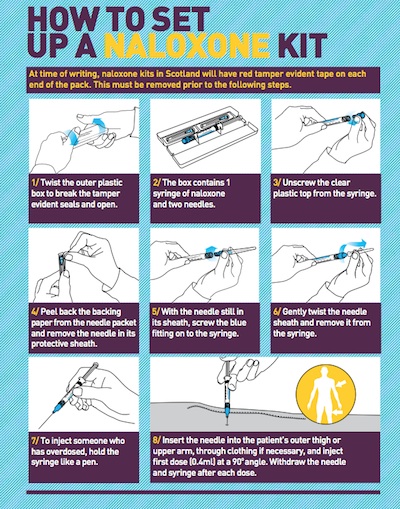 Users of opiates (eg. heroin) living in Cambridge's homeless hostels have been provided with naloxone injection kits, and have been trained to use them. Naloxone is a drug which counters the effects of opiates. The scheme aims to reduce the number of deaths from opiate overdoses.
The papers for the 29 October 2013 Cambridge Community Safety Partnership meeting (p68) state:
The 6 month Naloxone Pilot, to help safeguard people at risk of an opioid overdose, has commenced. Cambridgeshire Drug and Alcohol Action Team (DAAT), Cambridgeshire Constabulary, Inclusion Drug Treatment Service, East of England Ambulance Service, the hostels in Cambridge and with the support from Link – Up and Feedback agreed to run the pilot which is taking place in Cambridge city. It will run until February 2014 initially, at which time it will be reviewed. The volunteers who will be carrying the kits are residents of one of the hostels in the city.

Naloxone is a type of medicine called an opioid antagonist. It blocks the actions of opioid medicines such as morphine, diamorphine, codeine, pethidine, dextropropoxyphene and methadone. It rapidly, but temporarily, reverses the effects of heroin and other opioids. By providing a drug user with Naloxone it is hoped that this will lead to a reduction of deaths from an overdose.

Before an individual can carry a Naloxone kit it was agreed that they were required to undertake training relating to overdose, basic life support awareness and administering Naloxone. This training took place at the beginning of June 2013 to over 30 attendees who were both professionals and service users from the Cambridge city area, this training was then repeated with a number of service users in August 2013. Attendees were also advised about how to safely dispose of the Naloxone kit if it is administered.
The Cambridgeshire Drug and Alcohol Action Team's website contains further information:
The aim of the pilot was to provide service users with a mechanism to reduce the incidence of opiate overdose within the hostel substance misuse population.
The pilot is due to run for six months with clients who are residing in hostel accommodation and who are current opiate users (e.g. heroin, methadone).
Client's [sic] will be supplied a single use Naloxone kit through a Patient Group Directive.
The pilot also includes mandatory training (overdose, basic life support and naloxone administration), monitoring tools, advice on safe needle disposal and an Agreement of Trust with the client.
Training occurred on 4th June 2013. 20 professionals were trained from Police, hostel staff from 222 Victoria road, Jimmy's night Shelter and Winter Comfort.
17 Service users were also trained and out of the 8 packs available, 5 have volunteered to carry it for the 6 month duration.
It appears an injection kit is being used in Cambridge as safe needle disposal following use is mentioned. A nasal delivery system is also available (its use has been reported in Scotland).
The NTA overdose and naloxone training programme for families and carers produced by the NHS National Treatment Agency for Substance Mis-use document (Appendicies) is a report on a pilot starting in 2010 involving training people to administer naloxone in 15 sites across England. 18 overdoses where naloxone was used are reported; with a note adding:
Most of the incidents were 'opportunistic' interventions, where the carer used naloxone on somebody other than the person named on the prescription
It isn't clear to me what this means; in that pilot carers were trained and issued the kits; they are described as including "family members (parent, partner, sibling, son or daughter), housemates and close friends." I wonder if the statement that in most cases the drug was used on someone other than the named person suggests those who used the kits did so on someone they didn't have a close relationship with who had overdosed.
The NTA report on the pilot which began in 2010 doesn't include any clear conclusions or recommendations. It does provide the following background:
Even though naloxone is a prescription-only medicine, with the right training anybody can use it "for the purpose of saving a life in an emergency"
In addition to the naloxone pilot Cambridgeshire's Drug and Alcohol Action team has issued a "Heroin alert" dated October 2013 in which it provides advice to users on how to make their drug use safer, including advising:
Choose smoking or snorting over injecting heroin.
Questions I have
In what way is this a pilot and not simply a roll out of something which has been already been used elsewhere? If it is a pilot how will its effectiveness be monitored; will the "results" be published? It appears the scheme in Cambridge is slightly different to the previous UK (NTA) pilot which provided the kits to "carers". I would like to see pilots like this run with one clear aim being collecting evidence which can be used to assess if the scheme is effective or not; collecting as much information as possible to allow comparisons with different schemes run elsewhere. Where possible we ought have "trials" rather than "pilots".
Several UK NHS Ambulance Trusts carry naloxone. Does the East of England Ambulance Trust?
If it is drug users who have been given the kits and trained to use them what did the training given to the police and ambulance staff relate to? Will professional ambulance staff and police officers be turning to drug users to inject naloxone into someone they believe is suffering an opiate overdose? Was the training for the professionals just to make them aware of the pilot?
The injection instructions appear quite complex; with the directions being to inject a certain amount of the drug, not the whole syringe. I would be interested in reading detailed results from pilots/trials including on the usability of the kit.