On Sunday 9th March I saw youths on mini-motos on the green area between Daisy Close, St Albans Road and Arbury Road in the middle of the afternoon. A mini-moto was being ridden accross the circular play area and around the adjacent play equipment. Children were being denied use of the play equipment on a nice Sunday afternoon due to these inconsiderate mini-moto riders.
PCSO Streater and a colleague turned up by car and walked on to the field, as I have been lobbying for more PCSOs on duty at the weekends rather than on weekday mornings I was happy to see him. I was disappointed to see that they only took a few steps onto the field and watched from a distance for a less than a minute before driving off. I and other members of the public on the field approached the PCSOs, I asked if they were aware of the mini-moto and if they were going to do anything about it; they confirmed they had turned up due to the mini-moto but by this time were walking back to their car.
I told PCSO Streater of a nearby burnt out scooter, which in itself illustrates the danger of these bikes which often don't have the toughened fuel tanks which are standard on road going vehicles and result in people getting burnt when they crash them.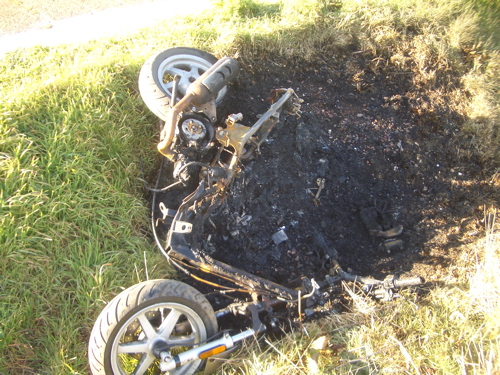 PCSO Streater wrote an Ecops email on Wednesday saying:
It seems to be the hobby for some people to ride their mini-motos / scramblers / old motorbikes across our green areas and on our roads at the weekend, particularly on a Sunday. We have been patrolling these areas, and have seen this occur. However, they have not stopped for us, despite all our efforts to get them to stop. We will continue to try and stop these vehicles. Not only are they a danger to themselves and residents, they are a nuisance. Once stopped, we will issue a Section 59 Warning. This is where we take their details, and if they are seen riding any vehicle in an anti-social manner again within the next twelve months, that vehicle will be seized from them. They pay a hefty fine to get it out within a time frame, otherwise the vehicle will be crushed.
I do not think what I witnessed could be reasonably described as an attempt to stop the mini-moto.
I do not support the use of the Anti-Social Behaviour Act powers, where the Road Traffic Act or the Police Act could be used. (PCSO Streater announced a change of policy to do just this at the Meadows Community Centre at on the 29th of January, but I can't see any evidence of it, his Ecops email mentions on the road use, but refers to "Section 59" [of the Police Reform Act].
We need an area where mini-motos and other bikes can be ridden legally.
I think the use of these bikes by very young children (under 10) on the roads of Arbury at high speeds is the most worrying type of mini-moto misuse in the area.
I would support the Police prosecuting on the basis of evidence from members of public rather than waiting for the rare occasions on which they are able to catch people on these bikes themselves.
Those under 18 should be in full time work, education or training; we have 14-18 year olds in Arbury who are bored as they can only access 2 hours a week of training, which in my view is appalling.